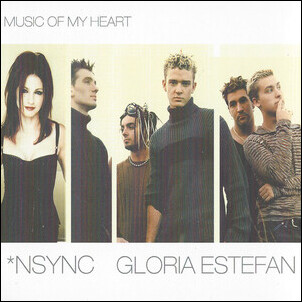 Released: 27th December 1999
Writers: Diane Warren
Peak position: #34
Chart run: 34-38-52
Billboard Hot 100 chart run: 66-56-52-52-41-41-2-3-6-13-30-50-62-70-80-86-85-92-X-93-98
---
Music Of My Heart offered up something of an unlikely collaboration. Still, with Gloria Estefan having successfully reinvented herself as a dance diva, and *NSYNC rapidly establishing themselves as a considerable pop force, what better time for the two acts to unleash…an adult-contemporary ballad.
The track was lifted from the Wes Craven-directed movie of the same name, and it feels fair to say that for many of the key players involved in the project, it was probably not what anyone expected – or indeed wanted – them to do. The movie is based on the real-life events surrounding the fight for public school music education funding in New York and remains Wes Craven's only non-horror related directorial endeavour. It was released shortly after Scream 2 and represented a puzzling change of pace following his successful revival of the slasher genre. Music Of My Heart also marked Gloria Estefan's motion picture debut. Again, perhaps in a slightly more serious role than many would have anticipated based on her musical legacy. And then there's *NSYNC, whose association with the project makes the most sense in the context of their success at the time, although ironically, they weren't the first choice. Music Of My Heart was originally offered to the Backstreet Boys, who declined to record it. And realistically, it would not have worked for them as a single sandwiched somewhere between I Want It That Way and Larger Than Life. *NSYNC, on the other hand, were on the cusp of their breakthrough as a major pop act and their greatest success in America to that point had been (God Must Have Spent) A Little More Time On You. Thus, as an interim measure between album campaigns, a song like Music Of My Heart firmly consolidated the group's radio airplay profile, even if they would wind up chasing a younger market with No Strings Attached.
Therefore, it's difficult to fault Music Of My Heart, because it knows exactly what it wants to be and the audience that it's chasing. The single has its sights firmly set on the Adult Contemporary charts in America; it was released in other territories – including the UK – but those were not the primary markets and it's difficult to see where it would've fitted on the radio.
Although billed as a collaboration, Music Of My Heart feels a bit more attributable to *NSYNC than it does Gloria Estefan, such is their presence on the track. Indeed, this feels like a very natural home for them in terms of balladry and gives a good insight into the way that they would handle similar sounding songs in the future. The track veers away from heaping on layers of gloopy production and instead focuses on more organic instrumental elements, like gentle piano melodies and electric guitar riffs. There's still a glossy, syrupy veneer applied to the finished product, but overall Music Of My Heart is more concerned with positioning *NSYNC and Gloria Estefan at the centre of the song and allowing them to do the heavy lifting.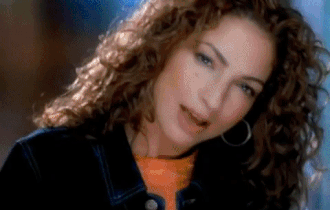 And that they do; Music Of My Heart is perhaps the best early example of *NSYNC's strategy when it comes to this sort of tender ballad. Justin Timberlake sits just below – and occasionally dips into – the falsetto range, while JC Chasez delivers the impassioned, fist-clenching emotion with a deeper tone. It's a successful partnership, but most notably here in particular, you get a real sense that the two are very different singers and it's that which would prove pivotal in making this sort of song work for *NSYNC in the future. Gloria Estefan's contribution is unusual in that it sounds like someone told her to go into the studio and sing like she's in a boyband. Her contributions sound like they were composed in a key intended for a male singer, and while she works well with what she's given, you may find yourself willing her to go a bit further and use more of her range, rather than play along as the sixth member of *NSYNC.
Lyrically, Music Of My Heart falls into that very '90s genre of self-affirmation pop that seeks to inspire the listener (and earn critical plaudits) by making profound statements such as: "Through the days ahead I'll think of days before, you made me hope for something better, and made me reach for something more". If you're into this sort of thing then Music Of My Heart is packed with statements that seek to inspire – or at the very least end up printed onto assorted knick-knacks and sold in gift shops. In the face of potential cynicism, *NSYNC and Gloria Estefan perform with such sincerity that it stops Music Of My Heart from descending into twee nonsense. And at its heart, there is a nice message contained within the song, particularly concerning the real-life story surrounding the film: "You taught me to run, you taught me to fly, helped me to free the me inside, helped me hear the music of my heart". And what better way to sell that message than tossing a key-change into the track; it's comparatively restrained compared to the earth-shattering, climactic moments more customary of the '90s. It does, nonetheless, throw up some great little ad-libs (JC's "The ME INS-I-I-I-I-DE" is so perfect) and draws Music Of My Heart to a stirring crescendo.  
Aesthetically, *NSYNC had been polishing up their image with their previous few releases, and thus the video for Music Of My Heart was a fitting continuation. However, for a UK audience who had skipped straight from Tearin' Up My Heart to this, there was a distinct jump in quality. The video is set in a high school and features Gloria Estefan and *NSYNC wandering the halls, before assembling in the gymnasium – underneath the basketball hoop, just to complete the cliché – and performing the song to assorted student musicians. It's a smartly realised concept because while thematically, the visuals link neatly through to the Music Of My Heart movie, they do so without referencing it directly. Indeed, you could watch the music video without any knowledge of the existence of the movie. Which is probably handy, because it's entirely possible that for many *NSYNC fans, that was exactly what happened.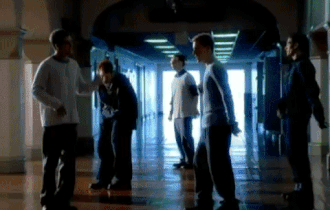 It's little surprise that Music Of My Heart experienced its greatest success in America. The song ended up reaching at #2 on the Billboard Hot 100, which at that point was *NSYNC's highest-peaking release. Indeed, only one of their subsequent singles charted higher, although the way in which the group's profile exploded the following year probably renders Music Of My Heart among their less remembered hits. Meanwhile back in the UK, the single peaked at #34. It's hard to imagine a circumstance where this would have been a bigger hit, but certainly, it didn't help that this was *NSYNC's first ballad here, and compared to the benchmark set by the Backstreet Boys, played to a very different market indeed. Music Of My Heart set something of a precedent for *NSYNC in that their mellower singles consistently performed worse than their uptempo releases.
The song is notable in the UK as the last charting hit (to date) for Gloria Estefan. And while Heaven's What I Feel was inarguably a better swansong for her, the message and values at the core of Music Of My Heart could barely be more fitting.
---