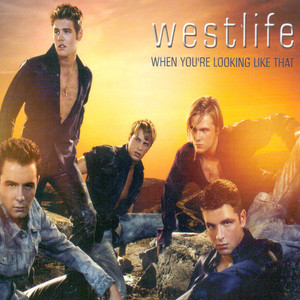 Released: 5th November 2001
Writers: Rami / Andreas Carlsson / Max Martin
Peak position: #188
Chart run: 188
---
We were always going to get to Westlife at some point. But there really is only one song we could discuss for their inauguration: When You're Looking Like That.
Forget any prejudgements you have about the '00s record-breaking, stool-perching balladeers because this song does not fit the usual Westlife mould. It's an essential bop that should be on every discerning pop playlist and played regularly as a reminder of how bloody brilliant the '90s/'00s were. 'Hang on…', you might be asking; '…if this song is so good, why haven't more people heard of it?' Which is a fair point. When You're Looking Like That wasn't ever (properly) released in the UK, but due to its popularity, the track was remixed and included as a B-side to Queen Of My Heart, the lead single from Westlife's third album. It was reasonably heavily publicised, and even had a music video. So, it was a single in every respect except for the fact that it was never officially credited as one.
When You're Looking Like That boasts some substantial pop credentials; the track was penned by Andreas Carlsson, Rami and Max Martin and recorded at Cheiron Studios, which explains rather a lot about how unrelentingly brilliant it is. The track was featured initially on Westlife's second album, Coast To Coast, and released in a small number of territories outside the UK and Ireland. Mid-2001 actually would have been the perfect time to release When You're Looking Like That here since there was a six-month gap between Uptown Girl and Queen Of My Heart. However, by the time the single had started achieving (modest) success, plans would already have been well underway for Westlife's third album. So, we can sort of see why at that point, the track was bundled onto the release of Queen Of My Heart and perhaps why it wasn't officially credited. After all, it would hardly be an endorsement of Westlife's new material if it was immediately overshadowed by a song from their last album.
Although it was recorded in 2000, When You're Looking Like That is evidence that Cheiron didn't just throw out the same song to every act who arrived on their doorstep. There are no thumping, squelchy beats here, although there is a buoyant little distorted keyboard synth that weaves its way through the track. Instead, the song has a comparatively organic production with thrashing guitars and juddering background riffs. It's far from 'serious' though, as evidenced by the line: "She's all dressed up for glamour and rock and roll", which is accompanied by an exaggerated crash of drums. This is still Cheiron delivering pop music with a cheeky glint in their eye. A lot is going on here, but it's never quite so all-consuming aa production as the material being delivered by Westlife's American peers. Sensibly beefed up from the original album version, When You're Looking Like That sounds huge; it's a towering behemoth among the sea of (mostly) ballads released by the group at that time. And there is absolutely no doubt that – even now – the element of surprise is a significant element in the song's success. Westlife did do uptempo, occasionally. But not like this. When You're Looking Like That is frenetic; we're talking Bye Bye Bye levels of energy here; it's an utterly relentless tour de force from a group who were generally not associated with anything of the sort.
As Cheiron compositions go, When You're Looking Like That never misses a beat. There are some slightly daft lyrics ("She's a five foot ten, in catsuit and Bambi eyes") alongside ponderances that are profound in the way that only pop music can be: "I should've known I was wrong when I left her for a life in pity but, they say you never miss the water until it's gone". But mostly there are hooks. Hooks. For. Days. The track is blessed with a meticulously crafted melody that is punchy during the verses and then builds into a flowing chorus that goes precisely where it needs to. As with many Cheiron efforts, it's never a question of whether When You're Looking Like That will deliver the goods, but how. In this case, it's with sheer relentlessness. The other crucial aspect is the triumphant performance from Westlife. They bring so much energy to the song. And their delivery is every bit as slick and dynamic as it needs to be, despite it being very much the antithesis to what they were known for. The final third of the song is one of the most glorious moments of pop music. Certainly, of the era. If not ever.
There's a great transition from the middle-eight into a deconstructed semi-chorus:
How am I supposed to leave you now, when you're looking like that
I can't believe what I just gave away (oh NO, BABE)
'Cause I can't take it BACK
I'm lost
I don't wanna live my life without you (LIVE MY LIFE without YOU)
Am I supposed to leave you now
It culminates with a fist-clenching segue back into the chorus proper: "When you're looking like THA-A-A-A-A-A-A-A-A-A-AT-oh-oh YEAH…oh NO" – and continues from there. Every time you feel sure that the track must have hit its climactic finale…it keeps going with exhilarating, carefree abandon.
Such is the giddiness of When You're Looking Like That that we'll even cut the music video some slack. For although it contains dreaded behind-the-scenes / tour footage, it is at least interspersed with Westlife performing the song in a studio. It was probably a sensible compromise; the group was not exactly known for their slick choreography, so rather than try and go down that route, they're instead left to their own devices. Whether you're endeared by Westlife's goofiness in the video or not, it at least allowed them to show a bit of personality. Certainly, it's a far cry from the more strait-laced aesthetic that had accompanied most of their ballads. It even raises the possibility that Westlife could be a tad rebellious (surely not!). It ends up working out quite well and considering When You're Looking Like That was only ever intended as a minor international release, in some respects, it's lucky we got as much studio footage as we did.
Queen Of My Heart debuted at #1 in the UK; although if we're looking at the chart performance of When You're Looking Like That in its own right, the single did reach the dizzy heights of #188 on import sales. It was a top 20 hit in several countries across Europe and Australia, which is impressive considering this was the tail-end of the Coast To Coast campaign. We almost daren't wonder what might have happened had this been released as a 'proper' single. Not that this has stopped When You're Looking Like That; since the group announced their comeback in 2018, it's been their most streamed song. Indeed, after being made available for the first time in Ireland this year, the track even peaked at #20 on the Irish Singles Chart. So, who knows what the future holds for When You're Looking Like That; it certainly wouldn't take much for the song to improve on that #188 peak, and it's endured in popularity ahead of many signature Westlife hits.
But either way, this track stands as a testament to the brilliance of Cheiron, and indeed, Westlife. It deserves to be remembered not just as one of the best boyband tracks of its time, but as one of the essential turn-of-the-century pop tracks.
---