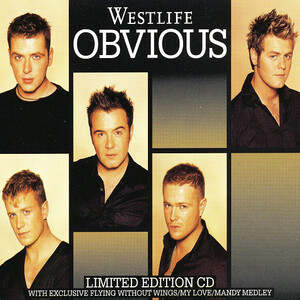 Released: 23rd February 2004
Writers: Pilot / Savan Kotecha / Andreas Carlsson
Peak position: #3
Chart run: 3-10-18-27-34-37-46-57
---
True to its name, Obvious meticulously hit every beat of a formula that had typified Westlife's success. But there was about to be an almighty twist when Brian McFadden quit the group just weeks after this single was released.
Shirking off rumours of a split that inevitably swirled following Unbreakable – The Greatest Hits Volume 1, Westlife's fourth studio album, Turnaround seemed, at first glance, to be very much business-as-usual. However, there was the faintest hint of an identity crisis. The soft rock lead single, Hey Whatever (a re-skinned version of Relish's Rainbow Zephyr), was personally chosen by the group but became their lowest-selling hit at the time. In response, Simon Cowell urged Westlife to record a cover of Barry Manilow's Mandy, predicting– quite rightly – it would restore their chart-topping prowess. Now back on something of an even keel, Obvious was picked as the third (and ultimately final) single from Turnaround.
In the past, the group's albums had been pretty evenly split with material from British and Swedish producers. However, that wasn't the case this time around. Instead, the group worked more closely with Steve Mac; so the fact that Obvious – one of only two songs written by a Swedish team, which included the ever-reliable Andreas Carlsson – ended up being released does feel like Westlife's record label had lost confidence and were attempting to furiously back-pedal. In principle, it wasn't a bad choice, but it certainly gives the impression of trying to project a status quo that didn't exist on Turnaround.
Which is to say, had it been released earlier in their career, Obvious would absolutely be regarded as peak-Westlife. The song is very much cut from the same cloth of soaring Swedepop balladry as songs like Fool Again, My Love and If I Let You Go. Basically, it's brilliant, with the group at their angsty, doe-eyed best having been firmly friend-zoned: "I've heard you talk about, how you want someone just like me, ooh, every time I ask you out, we never move past friendly, no no". Fittingly, the production is obligingly grandiose – and all the better for it – with dramatic strings and pounding drum kicks adding a real sense of melodrama.
There's no pretence by Westlife of playing it cool. This is a total hearts-on-their-sleeves confessional that doesn't so much verge on desperation as fall headfirst into it: "You are my very first thought in the morning, and my last at nightfall, you are the love that came without warning, I need you, I want you to know". Obvious might be unreservedly schmaltzy, but it's difficult not to get swept along by the chorus: "I've made it obvious, I done everything but sing it (I've crushed ON, you SO LONG, but ON and ON you get me WRONG), I'm not so good with words, and since you never notice, the way that we belong, I'll say it in a love song", which is positively brimming with hooks and really sells the sentiment. There are no surprises here, except, perhaps, for the absence of a proper key change. Everything plays out almost exactly as we'd come to expect. But when it's done this well, that's no bad thing whatsoever.
The music video for Obvious was filmed in India – a beach in Goa, to be precise – and confidently reinforces that feeling of this being a group whose formula was as slick and polished as could be. Moreover, it's every bit as bombastic as the song deserves. The group are mainly shown individually: Shane Filan is on the beach with lightbulbs hanging above him, Kian Egan is in a boat floating next to the moon(!?), Nicky Byrne has an array of beds arranged around him, Brian McFadden walks over a wooden bridge, and Mark Feehily is surrounded by televisions scattered on the sand. The aesthetic – particularly of the shots at dusk or night – provides a stunning backdrop to Westlife, who dutifully deliver longing gazes into the camera aplenty. As Obvious becomes increasingly climactic, lightbulbs and television sets explode, while the bridge, beds and boat catch fire, until finally, the group appear together while the ocean burns behind them. There's nothing remotely understated here; it's a hyperbolic, visual statement entirely and deservedly befitting the song.
From a commercial perspective, Obvious was almost immediately overshadowed when Brian McFadden quit Westlife during the song's second week on the chart. However, that was – in some respects – a welcome distraction because even the most ardent fan of the group would be hard pushed to deny the slight air of indifference that met this single. There's no disputing Obvious was a hit, peaking at #3 in the UK, but it did little more for Turnaround than keep the album hanging around outside the top 40 for a month or so. That's not necessarily a reflection on the quality of the song itself but more symptomatic of the timing (it could easily be swapped with one of the singles from earlier in Westlife's career). Even so, the frustrating thing is the message this sent after Mandy was such a calculated hit. Obvious may be considered somewhat passé, but it's a vastly preferable approach to making pop music and one that became utilised less frequently as the group moved forward.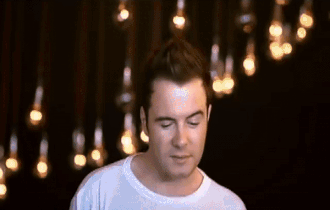 Some of this was already simmering in the background for Brian McFadden. His departure from Westlife was handed with rote diplomacy; indeed, it was presented so amicably that all five members appeared together at a press conference to make the announcement. The reason given was a desire to spend more time with his family, which wasn't entirely untrue. However, the broader context – which couldn't be discussed for obvious reasons – is that Brian McFadden disliked the group's cover of Mandy and evidently felt they were stuck in a bit of a rut.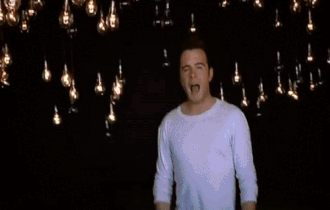 That wasn't an unfair assessment of the situation, either. For all that Turnaround showed a (slight) willingness to mix Westlife's sound up a bit; as soon as the lead single, Hey Whatever, was deemed to have underperformed (it peaked at #4…), they were handed a cover version to compensate. If – after three studio albums and a greatest hits that were all comfortable million-sellers – the group still couldn't explore new territory without immediately being reined in, when would they ever have been able to? The truth is, not for a long time. Brian McFadden leaving certainly forced a re-think, but it wasn't the impetus for change beyond a Rat Pack-inspired album the following year.
Obvious might not be the most immediately memorable Westlife single, considering it was their final release as a five-piece. However, it could scarcely be a more archetypical example of what the group did so well, making it an entirely fitting song to bring the curtain down on this era of their career.
---