Released: 19th August 2002
Writers: Kristian Lundin / Andreas Carlsson
Peak position: #17
Chart run: 17-26-28-40-55-69
---
Some things in life belong together: salt and pepper, spaghetti and meatballs, Angel City and Lara McAllen. But in pop music terms, one partnership has been more fruitful than any other: Celine Dion and movie soundtracks. Since the early '90s, her dulcet tones have featured as the credits rolled in many successful films…and Quest For Camelot. So, as Columbia Pictures prepared to release the hotly anticipated Stuart Little 2, they knew just where to turn.
During her career, Celine Dion has worked with many well-known producers. And in the late '90s, there was a (genius) decision to hook her up with Cheiron for That's The Way It Is. The track wasn't especially unique; a live performance with *NSYNC almost reinforced its transferability. What made the song very brilliant, however, was an artist of Celine Dion's calibre singing it. That's The Way It Is went on to be a big hit, peaking at #6 in America and #12 in the UK. Thus, it was little surprise that for her first new studio album in five years – 2002's A New Day Has Come – some of the same songwriters were once again approached.
By the time I'm Alive was released as the second single from the album, Cheiron's sound was rapidly being shunned, even by acts for whom it had been instrumental in their making (the studio itself closed in 2000). But that mattered less for Celine Dion since she'd never been defined by it in the first place. Her approach to Swedepop tracks is a little more organic – largely free of distinctive tics or punchy, squelchy beats – and invested with her effortlessly soaring vocals showcasing the uplifting melodies.
That's precisely what I'm Alive does. It's a triumphant, toe-tapping mid-tempo that tugs on the psyche and captures the uplifting positivity of a halcyon time in pop music that was starting to drift away. The production is accordingly packed with stabbing synths and cute electric guitar riffs. Essentially, it was perfectly inoffensive soundtrack fodder for an animated movie starring the anthropomorphic mouse Stuart Little. The first film – based on the 1945 novel by E.B. White – was a critical and commercial hit in 1999, and the sequel was the first in a planned franchise for the titular character. Having Celine Dion attached to the project indicates the expectations Columbia Pictures had for Stuart Little 2.
In a nutshell, the plot involves Stuart Little being duped into thinking he's injured a canary called Margalo, who's working with a thief called Falcon but ends up feeling guilty over her deceit. Lots of airborne-related hijinks ensue, including a toy plane chase at the end of the movie. And that – fortuitously – ties in neatly to the lyrics of I'm Alive: "When you call on me, when I hear you breathe, I get wings to fly, I feel that I'm alive". It's all very pleasantly innocuous by Celine Dion's standards; the track isn't breaking any new ground in songwriting terms ("When you look at me, I can touch the sky, I know that I'm alive"), but that's hardly surprising given the context.
Even so, one of Celine Dion's many talents as a singer is to get under the skin of whatever she's performing and deliver it with sincerity, whether it's a tragic maritime love story or the adventures of a plucky rodent. I'm Alive is, thus, filled with earnest statements: "You've set my heart on fire, filled me with love, made me a woman on clouds above", and Celine Dion sells every one of them. Of course, it's only a matter of time before the track reaches a key change after a brief fade-out. It's conducted in a polite, adult-contemporary fashion with some positively charming ad-libs ("When you bless, you bless the day…I just drift A-WA-A-A-AY"). It's rarely seen as a compliment in pop music to describe a song as 'nice', but that's precisely what I'm Alive strives to do and succeeds.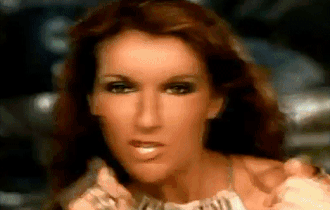 There are two versions of the music video accompanying I'm Alive. Either way, the concept is the same; a rogue model aeroplane is flown around New York, causing disruption and annoyance. The only real difference is that in one video, the culprit is Stuart Little, and in the other, it's a young child. Celine Dion's part in the havoc is to be nestled away in the cogs of the aeroplane (where else?), performing the song while standing atop various moving parts.
There's no real sense of scale, but that makes her minuscule compared to Stuart Little and the aeroplane. She wears a billowing dress at one point with flagrant disregard for the possibility that it could get snagged in the plane's mechanisms. The video culminates with Celine Dion – now returned to her standard size – singing on a rooftop, surrounded by dancers who are definitely not dancing to I'm Alive. As a concept, the video is sweet but makes much more sense with the clips from Stuart Little 2 included. Without them, it's rather unusual.
As iconic Celine Dion movie themes go, it's fair to say I'm Alive didn't quite match the benchmark set by My Heart Will Go On (not that anybody was expecting it to). The track peaked at #17 in the UK, which, if nothing else, is relatively consistent with her chart peaks this side of the millennium. It fared worse in America, failing to reach the Billboard Hot 100, although the so-so success of Stuart Little 2 certainly didn't help matters; critical opinion remained warm, but the movie failed to attract the same audience as its predecessor. It'd be a push to declare I'm Alive a disaster, but it certainly didn't reach the heights it could have. Nonetheless, the track was a big hit in Europe and has become a mainstay in Celine Dion's live gigs.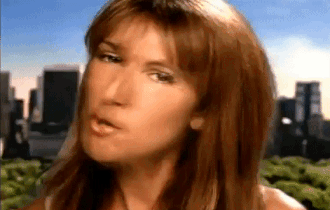 Being performed routinely during a five-year residency in Las Vegas is probably a higher achievement than some might argue I'm Alive deserves. Either way, the song has attained a more enduring legacy than its chart success would suggest.
---