Released: 22nd March 1999
Writers: Jim Marr / Wendy Page
Peak position: #3
Chart run: 3-9-17-25-40-48-56-62-60-x-x-x-74-70
Chart run (2007): 17
---
Honey To The Bee was the fourth and final single from Billie's debut album Honey To The B (see what they did there) – and it was something of a left-field choice. By all accounts, there was blind panic behind-the-scenes at Innocent Records when Billie's previous single She Wants You had peaked at #3 (!) It's hard to know what the label was trying to achieve with Honey To The Bee, because whilst it's brimming with barely-concealed teen horniness, it's also a deceptively subtle mid-tempo – and certainly not the quick fix you'd imagine anyone wanted.
Billie was initially marketed as the rebellious, affably precocious girl next door – and her early singles reinforced that with their playground chant choruses. Suddenly though, we were confronted with a song that dropped the gimmicks and saw our adolescent chanteuse trying to – shock horror – actually sing. Furthermore, it was on a song whose appeal took time to reveal itself; Honey To The Bee has an incredibly catchy melody that has arguably endured better than any other single from Honey To The B. Two decades since its release, we still find the song sneaking into our brains with little prompting – and whilst that's in part due to the songwriting, Billie also deserves a lot of credit for her performance; she absolutely nails it and is an imperative cornerstone of this bonafide earworm.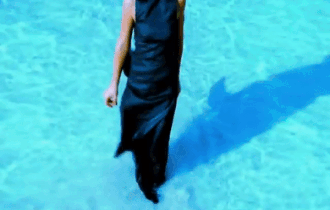 In the years following the demise of her music career, it became painfully evident that Billie Piper didn't really enjoy being a pop star all that much. And that is such a shame because she was bloody good at it. It was always clear that she had an appealing quality to her voice, but this was the first time that we truly got a sense of how instrumental it could be in elevating her material. Indeed, her performance on Honey To The Bee makes the song more sensual than we imagine it was ever intended to be.
The verses are nonchalantly breezy, as Billie dreamily ponders: "I float on air light as any feather, your love so sweet like an open flower" – but somewhere around the pre-chorus the song suddenly switches rapidly from thinly-veiled suggestiveness into full-on filth. It didn't necessarily come across that way at the time, but if Honey To The Bee wasn't referring to digital penetration with the statement: "I'm dreaming of the candy in your fingertips" then it had little other meaning – and we always like our pop music to have a meaning. As if to emphasise the point, Billie's delivery of the song at this point becomes more salient and, dare we say it, sexual. You can almost feel the pent-up frustration as she hits the middle-eight, urging: "You're the only one who can get me there, when you gonna hear my prayer, yeah" as the backing vocalists interject with cries of: "Heaven!" Yes, suddenly Honey To The Bee has transitioned from whimsical daydream to horny gospel breakdown. You feel there's almost nowhere for the song to go but orgasmic meltdown but in a remarkable display of aural edging, Billie pops the lid back on her honeypot and the track concludes by going full-circle on itself; a gentle melody bookending an epic struggle with teenage concupiscence.
I'm thinking about your sugar lips
Got a feeling for you now that's so strong
I'm dreaming of the candy in your finger tips
Baby don't stay away from me for too long
The production on Honey To The Bee largely complements Billie apparently exploring her sexual urges, offering a markedly more mature sound than the preceding singles. There are a few saccharine flourishes – it wouldn't be the '90s if the producers hadn't taken a few liberties. Thus, despite Billie's yearning becoming increasingly carnal, there is still the sound of bees buzzing and birds chirping to remind us that this is, after all, a single marketed towards a teen demographic.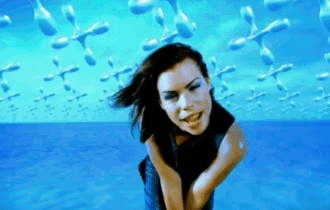 The accompanying music video for Honey To The Bee takes the theme of the song in a much more literal sense – which was probably wise, in hindsight. The aesthetic is so very '90s with its vivid orange and blue colour palette; it also utilises cutting edge (for the time) CGI – the majority of which still looks pretty good. It's crude by today's standards of course, but the scenes featuring flowers blooming to reveal Billie in the middle certainly don't show their age, considering it's been two decades since the single was released. That's not to say there isn't a certain degree of superfluity – the rotating blue three-dimensional shapes visible in some shots were clearly included because there was screen space to fill and someone was excited to show off their technical prowess. It doesn't hugely detract from the final product, but the radiant lighting and sprawling oceanic landscapes are perfectly stimulating in their own right. There is one glaring creative oversight, however: the inclusion of what we presume are bees flying around Billie at one point in the video. Except they look more like a cross between a mosquito and a dragonfly – presumably a design misinterpretation since you'd think the technology that facilitates the creation of pulsating flowers would stretch to the accurate rendering of an insect.
Honey To The Bee matched the peak of its immediate predecessor; from the outside #3 seemed to be a perfectly acceptable result for a song that wasn't obvious chart fodder. But it's unlikely to have done anything to quash the label's anxieties over Billie's commercial prowess – nonetheless, work would shortly begin in earnest on her second album. In 2007, some eight years after it was released, Honey To The Bee unexpectedly returned to the chart following the inclusion of downloads and a campaign by Chris Moyles to test the new rules. The track subsequently re-entered at #17 for a solitary week – and whilst we have no doubt that the majority of its sales were disingenuously tongue-in-cheek, we'll take it as a victory for pop music and it cemented Honey To The Bee as an early beneficiary of the new chart rules. Buzz us up to heaven, baby.
---