Released: 24th October 1994
Writers: Tommy Farargher / Lotti Golden
Peak position: #4
Chart run: 7-4-6-7-12-19-19-23-24-24-44-57-75
---
Five singles into their debut album, the hits just kept coming for Eternal as Oh Baby I… became one of their most successful releases yet.
With it rapidly closing in on a year since Eternal released their debut album, the campaign showed little sign of abating. Although the group's fourth single – So Good – missed the top ten, airplay remained strong and, perhaps more importantly, Always & Forever continued to sell consistently, having been a mainstay in the top 40 for five months. Thus, there was every reason to push a fifth single, particularly when Oh Baby I… allowed Eternal to showcase something they hadn't yet done at this point, and which would become a cornerstone of their future material: a ballad.
Like many of the singles from Always & Forever, a radio edit – the Nigel Lowis Remix – was created. It beefed up the production, giving it a more orchestral edge and shaving a minute from the running time. Although necessary (the album version is five and a half minutes long), it does lose some incredible vocal runs tucked right at the end of the track. However, cutting anything else from Oh Baby I… would've been difficult since there aren't any extended instrumental sections. From start to finish, Eternal use almost every second to present a(nother) masterclass in soulful harmonies and soaring ad-libs.
There would – eventually – come a point in the album campaign where other members of the group got an opportunity to sing lead. However, if there's one song where Easther Bennett deserves the spotlight, Oh Baby I… is it. Slowing things down allows her to get under the skin of the lyrics: "All…your secrets I'll keep, they're safe here with me, my arms will comfort you; there'll be…no river too wide, no mountain too high, my heart will follow you" with such gravitas. Like many of the ballads Eternal later released, this is pure mid-'90s schmaltz but retains an air of cool credibility thanks to the sheer talent and quality of the performance. 
In some respects, Oh Baby I… is almost what the preceding singles had built up to; it's a chance to revel in Easther Bennett delivering impressive vocal gymnastics aplenty. This is a reasonably conventional ballad in principle, but it never comes close to being ordinary. The soaring chorus: "Oh baby I need you so, you know that I can't let go, always and forever I just want you to know; I wanna be where you are, no matter how near or far, and I wanna be the only one, who can open the door" – which gave Always & Forever its title – flows effortlessly, evoking an immediate sense of warm familiarity. Earlier in the song, it's followed by twinkling: "Oh baby I, oh baby I" ad-libs which are utterly divine.
In hindsight, Oh Baby I…very much sets a precedent for what Eternal were capable of and how they'd approach material like this. The middle-eight: "There may be TIMES some RAIN will FALL, but I won't MIND IT if you're HE-E-E-E-ERE with ME-E-E-E-E-OH-OH, ooh we'll get by and THROUGH it all, we'll have ALL OF…the LOVE THAT…WE NEED, OH-OH baby" is filled with the sort of power and drama that would only become more assured as the group's commercial prowess grew. There's never any doubt Oh Baby I… is heading for a rousing key change, yet the transition: "Oh, oh, oh, my darling, (I'll go anywhere) for as long as we're together, I will cherish this everlasting love…" feels dictated by the need to give Eternal more room within the song, rather than existing simply to fulfil the cliche of balladry such as this. It results in a gratifying finale filled with towering, soulful ad-libs ("Open the DO-O-O-O-O-O-O-OOR") and an enduring appeal that has never dimmed.
Despite Easther Bennett's prominence across Oh Baby I…, the song does a better job than most at ensuring the rest of Eternal still have a presence. Vernie Bennett, Kéllé Bryan and Louise Nurding (as she was known at the time)'s individual voices mightn't be distinguishable. However, the backing vocals collectively add a prominent, gospel-tinged sweetness instrumental to setting and maintaining the overall mood. Indeed, this would not be the same song without their contribution.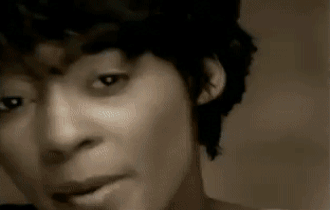 The accompanying music video complements Oh Baby I… perfectly in that it avoids the temptation to ramp up the power ballad histrionics and opts for an artier approach instead. Sequences with water running down the front of the screen (or the reflection of it being cast against the group) and Eternal performing against billowing fabric are simple stylistic effects executed very effectively. They give Oh Baby I… a serene, blissful ambience, furthered by sepia-toned shots of them walking on sand. It's not a video entirely removed from the spectacle of the track; there's plenty of enthusiastic chest clutching and earnest gesticulating from Eternal. However, the lasting impression is one of a composed, class act, which is entirely fitting because wherever their career took them next, that's a quality they always inherently possessed.
As the fifth release from Always & Forever – and with the album rapidly approaching a million sales – there was a risk that the law of diminishing returns would result in Oh Baby I… not being as successful as it deserved. Fortunately, the reverse happened in this case, and it became one of the biggest singles of the campaign, matching the #4 peak of Stay and earning Eternal a second top-five hit. The track was well-timed to coincide with the impending festive season, received strong radio support (reaching #2 on the airplay chart) and ended 1994 as the 55th highest-selling single of the year (212,000 copies).
In a shrewd move, EMI released another single – Crazy – just eight weeks later while Oh Baby I… was still in the top 40. That gave Always & Forever one final push back into the top ten (where it remained for a further three months) and eventually to a new peak of #2 in its 56th week on the chart, which is a remarkable feat. The album would go on to be certified for sales of 1.2 million copies – a first for an all-female group in the UK – and it really is an achievement earned through sheer tenacity as they relentlessly promoted each of the six singles.
There isn't one individual moment above all others that made Eternal. Still, Oh Baby I… is undoubtedly up there as an important one that underlines what an exceptional talent they were.
---