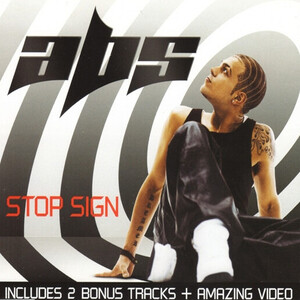 Released: 26th May 2003
Writers: Richard "Abs" Breen / Andy Watkins / Paul Wilson / Bob O'Connell / Gerald Sechleer / Mel Wynn
Peak position: #10
Chart run: 10-15-23-33-50-65-73-71
---
Almost ten months after scoring a top-five hit with his debut single, Abs finally returned with a follow-up, rather knowingly titled Stop Sign.
As the only member of Five to land a record deal with Simon Cowell after the group split up, Abs' solo career got off to a solid start when What You Got reached #4 in the UK during the summer of 2002. But though plans were drawn up for a follow-up – Shame – the track wasn't released outside of Australia, and things suddenly seemed to go quiet. If there was a strategy, it wasn't entirely clear since nothing had happened suggesting the campaign warranted a delay or urgent re-think. Yet, by the time Stop Sign finally arrived in the UK, it wasn't so much a case of regaining momentum for Abs but almost being in a position of needing to relaunch his solo career.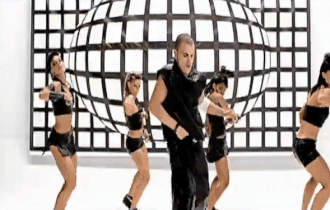 Ostensibly, the track is based on a sample from Mel Wynn & The Rhythm Aces' Stop Sign, released in 1969. At least, that's how it's been credited. And certainly, much of the production is based on the frantic concoction of handclaps, fuzz guitar riffs and a jaunty organ melody, which has a distinctive funk/soul sound. But there's a bit more to the way the source material has been interpolated because the choruses: "What's the matter, don't you love me (tell me now), don't you really care now (care about you), oh, I'm about to lose my mind with your stop sign" and: "Why won't you let me hold you (hold you tight), in my warm embrace (sweet embrace), why won't you let my love shine, in your stop sign" are also retained. Thus, only the verses and rap are technically new. However, the target audience of Stop Sign was unlikely to be overly familiar with the original for that to be a pressing concern.
The track is a retro-infused bundle of energy that shows Abs' versatility as a singer and serves as a reminder that he was still a bit of an unknown as a pop star. Although the individual members of Five occupied certain personas within the group, none were fixed to roles that could be extrapolated into obvious solo careers. However, here Abs flits from verses that occasionally – and intentionally – hit a clumsily syncopated rhythm: "I didn't mean to get myself so involved, second time around back round we go, it feels right when I'm next to you, so why you gotta make me so blue", to slick, punchy pre-choruses: "Cos I want you baby, and I need you lady, girl stop acting shady, take a detour, I'm singing to you lady". There's a slightly chaotic, off-the-wall energy throughout that feels like a logical fit for Abs, even if the song itself is entirely different from anything he'd done before.
Where Stop Sign takes the biggest diversion (pun intended) from its origins is a rapped verse: "Oh no, check the flow, you ready with the mic, let's go, my sound abstract, cut the loop and bring the beat back…", which is delivered in an endearing Hackney patois. It never feels like an attempt to position Abs as a serious rapper, and there's little risk of it being construed as such, given how he leans playfully into the bombastic nature of the song. Stop Sign is a fun song that never fails to elicit a cheery smile. Yet, it's also one that feels disposably brief. The original wasn't particularly long, to begin with, and Abs' version doesn't stretch it much further, running just shy of three minutes. That's the right decision; any longer and the concept would be spread too thin. But as a soft relaunch, it does, nonetheless, leave Stop Sign feeling like a bit of an oddity.
The accompanying music video employs a very effective (mostly) black-and-white colour palette, with alternating contrasts between the sets and clothing. This gives the song a striking visual identity, further complemented by frantic editing and energetic street choreography. However well it sells Stop Sign, though, the video most notably establishes what Abs is all about as a pop star. He exudes an unassuming personality which comes across as effortlessly – almost unknowingly – cool. Some of the styling and sequences (particularly the kaleidoscopic shots where he's wearing shades) could be portrayed as an attempt at credibility. Instead, there's a cheeky swagger throughout, not least in the cleverly edited transition shots where Abs tears through the screen like it's made of paper. This felt like a video with a cohesive vision and a much clearer marketing angle.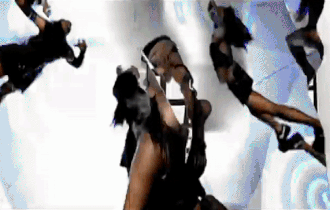 Despite the gap between singles, Abs' profile remained high enough for Stop Sign to be heavily promoted. The track subsequently debuted and peaked at #10, which is probably a reasonable outcome given the circumstances and particularly when the song sounded so very different to almost anything else in the chart (the notable exception being Free Me by Emma Bunton, which – likely by pure coincidence – approached the '60s from a different angle and entered at #5 the same week). Overall sales of 41,000 copies rendered Stop Sign the 181st biggest seller of 2003; a modest – albeit unremarkable – result, perhaps, but enough to persuade Sony BMG that there was sufficient interest in Abs to persevere with another single and his debut album.
Thus, all things considered, though Stop Sign itself exists as something of a forgotten – yet no less enjoyable – chart quirk from 2003, the song did everything required of it in picking up a campaign that had gone cold and giving Abs a decent shot at solo success.
---