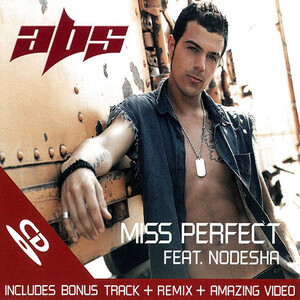 Released: 25th August 2003
Writers: Miranda Cooper / Jody Lei / Nick Coler / Tim Powell / Brian Higgins / Richard 'Abs' Breen
Peak position: #5
Chart run: 5-12-17-28-38-45-61
---
There was a bit of Xenomania magic in the air as Abs teamed up with American R&B singer Nodesha for his third – and quite probably best – single, Miss Perfect.
Despite having two top-ten hits already under his belt, Abs' solo career remained something of a conundrum because neither What You Got or Stop Sign gave any obvious indication of the long-term plan in terms of forging a musical identity for him. Indeed, up until this point, it still wasn't really clear why Abs had been the one to land a solo deal with BMG over any other member of Five (although it did result in a great title for his forthcoming debut album: Abstract Theory). But with Miss Perfect, things suddenly made a lot more sense; this song positions him as a contemporary-looking and sounding pop star, thanks in no small part to the production talent – Jimmy Jam, Terry Lewis and Xenomania – behind it. 
If that seems like a rather eclectic mix, it reflects Nodesha's presence on the track as more than a superfluous feature. She'd worked closely with Jimmy Jam and Terry Lewis on her self-titled debut album (they executive produced it along with LA Reid); consequently, by retaining their input on Miss Perfect, the track feels almost as much a launch platform for her solo career as it does an attempt to consolidate Abs'. Although having him share the spotlight to such an extent seems a slightly bizarre strategy, the result is a cohesive duet and – more importantly – a great track, which he needed before the release of Abstract Theory.
Miss Perfect is underpinned by a harsh, hissing riff vaguely reminiscent of Dick Dale's Misirlou (think Pulp Fiction…or the Black Eyed Peas' Pump It). It starts prominently during Nodesha's spoken intro: "Abs…Nodesha…shorty, c'mon, uh" before dropping in and out of the smooth pop-R&B production to create an intermittent frisson. There's an immediate chemistry between Abs and Nodesha. His likeable, cocky swagger: "Oh my, you was looking so down, when I first met you, I bet you didn't think it would get to a situation when I'd let you, just go, so that you let me know", is countered beat-for-beat by her resilient defiance: "No, no, no, I'm moving into something new (oh girl what you wanna do), saying woah, boy slow, I got a hundred other things to do, before I go just tell me…", which convincingly brings the dynamic of a fractured, fiery relationship to life.
The narrative angle of the track means Nodesha is the protagonist in Miss Perfect and firmly in control of the situation; however much Abs might protest otherwise: "Baby girl it ain't hard to tell, that you wanna get your flirt on, 'cos you got your boots and your skirt on, when you're looking like that, I think I want you back"). The back-and-forth between them culminates in an unambiguous put-down of a verse: "Saying what you forgot, baby stop, you were out at 10 o'clock, on the rocks, getting hot (hot, hot); is that where you're at, got the knack, she's just falling for your chat, dirty rat, now you're back, (back, back)", which firmly establishes a persona for Nodesha and the type of music she might create in her own right.
By Xenomania's standards, Miss Perfect is consistent with the material they created for Girls Aloud around the same time. It occasionally messes with expectations but is nowhere near as deviant as would become their trademark. One such moment is the first chorus, which the track appears to be building up to; once it arrives, it's stripped back with Abs performing solo: "Little Miss Perfect, was she worth it, a dangerous game she had to play, she could've deserted but she flirted, now little Miss Perfect's gone away" before repeating with Nodesha's harmonies and a fuller production. Breaking it down is a neat touch that introduces a hint of remorse to the track while subtly reiterating Abs as the lead artist, which isn't always apparent, given how often the vocals are shared equally.
Visually, Miss Perfect oozes sex appeal. And, while seizing the opportunity for Abs to flaunt his abs (it had to happen at some point) seems like a convenient marketing ploy for a relatively critical single, it doesn't come across as wholly gratuitous. The video is set at a dilapidated train yard, which doubles as a spot where Abs is kicking back with his mates…until Nodesha arrives, and the two engage in a teasing, flirtatious display in his pursuit of her.
There's a palpable heat, and not just because everyone in the video has been slathered in oil to appear as though they're glistening with sweat. For much of the final minute, Abs and Nodesha — finding themselves together in a disused room full of railway clutter —surrender to their passion. Things never get explicit, but that does little to quell the sizzling tension between them and further proves what was already evident on the track: this is an inspired collaboration in every respect.
Although the commercial performance of Miss Perfect wouldn't have been entirely inconsequential, it was becoming increasingly clear that the singles market was now in sharp decline (sales were down 34% year on year from 2002). Thus, although the track was a hit – peaking at #5 — it sold a modest 50,000 copies overall, the 146th best-seller of 2003. The determining factor in Abs' viability as a solo act rested on Abstract Theory…and despite being predicted to enter the top 20, it ended up at #29, spending just three weeks in the top 75.
While undoubtedly disappointing, it's also incredibly difficult to see a situation where the outcome turned out differently. The album is worth a listen; it's consistently enjoyable, from the sublime (7 Ways, Rain, Angel) to the ridiculous (Back To The Limbo). Yet, Abstract Theory is also a very fitting title in that the material feels just left-field of the mainstream and largely out of step with almost everything around it.
Initially, it appeared BMG would persevere with the campaign, confirming 7 Ways (another Xenomania contribution) as the next single. However, despite shooting a music video and even pressing copies of the CD, the release was cancelled at the last minute. Shortly afterwards, Abs parted with the label. Things didn't go all that well for Nodesha, either. Several months after Miss Perfect, her first single – optimistically called Get It While It's Hot – peaked at #55, and the album failed to chart. Little surprise, then, that a follow-up did not materialise.
This all leaves Miss Perfect with a somewhat dubious legacy. It's an effortlessly cool track and Abs' first single that truly made sense of him as a solo artist. Therefore, as swansongs go, it's about the best he could've had. But of course, that was never the intention…
---