Released: 7th December 1998
Writers: Babyface / Stephen Schwartz
Peak position: #4
Chart run: 4-14-17-19-23-32-38-43-53-60-67-X-X-X-68-70
Chart run (2007): 65
Billboard Hot 100 chart run: 51-53-53-56-64-72-64-25-15-15-18-22-24-31-43-50-65
---
By the late '90s, Whitney Houston and Mariah Carey were starting to contemporise their respective sounds. Thus, When You Believe – a soaring power ballad – might have been regarded as a step backwards had either of them recorded it individually. But together, the song delivered everything a duet between two all-time greats should have.
For much of the '90s, the suggestion that Mariah Carey and Whitney Houston would ever work together was an unthinkable prospect. Rumours of a fierce rivalry – widely perpetuated by the media – had long existed between the pair, although the evidence remained slight, at best. Whitney Houston was asked in a 1990 interview what she thought of Mariah Carey and responded: "What do I think of her? I don't think of her". Even if there was a degree of shade in her reply, more than anything, she seemed bemused at the line of questioning. Nonetheless, that was enough to stoke a supposed decade-long feud. And, because neither ever gave credence to the rumours, it seemed to become accepted as truth. Because the alternative, of course, is that the two women simply respected one another and didn't perceive themselves as being in direct competition. But that would be absurd.
What brought Mariah Carey and Whitney Houston together was a movie soundtrack, which offered a relatively fail-safe way for them to duet. If it was met with a positive reaction, they could enjoy any commercial and critical accolades that may follow; if not, the song could exist as nothing more than a side-project without any broader implications for what they were working on individually. The Prince Of Egypt was one of DreamWorks' earliest animated movies (their first to be hand-drawn) and didn't look entirely dissimilar from the films Disney produced at the time. That was no coincidence because the studio had already declined the concept – based on the Book of Exodus and Moses leading the Israelites to freedom – after it was pitched to them by former chairman Jeffrey Katzenberg. He'd worked there during the late-'80s/early-'90s, although the company would undoubtedly argue the success of the Disney Renaissance era was in spite of – and not because of – his involvement. Thus, after Jeffrey Katzenberg resigned and co-founded DreamWorks, many of the movies that initially emerged were based on his previously rejected ideas.
Even so, The Prince Of Egypt still followed an established convention regarding the soundtrack. Jeffrey Katzenberg seized the opportunity for several songs featured in the movie to be reinterpreted as pop hits. When You Believe – written by composer Stephen Schwartz – accompanies a pivotal scene where the Israelites are led from slavery in Egypt. It's performed as a duet by Michelle Pfeiffer and Sally Dworsky but also features a verse sung in Hebrew by a children's choir. As was customary, movie versions were deemed unappealing to radio playlisters, so Babyface (Kenneth Edmonds) was recruited to turn the track into a potential hit single. Jeffrey Katzenberg subsequently approached Mariah Carey and Whitney Houston, with each being told the other had already agreed to a duet. By the time they found out – and with no one truly knowing who signed up first – the pair were committed to the project. It was a smart, albeit brazen, tactic that maintained a power balance between the two artists.
Of course, bringing Mariah Carey and Whitney Houston together didn't quell rumours of a rivalry. Initially, they intensified. Nearly everything about When You Believe was reported as being problematic and competitive. The recording allegedly had to be done separately and resulted in multiple re-takes from Mariah Carey so as not to be outdone by Whitney Houston. Then there were supposedly disputes over how the song would be credited since someone's name had to come first despite them sharing the billing. It was even suggested at one point that they'd be switched around after the initial pressing of the soundtrack (the compromise appeared to be that in America, Whitney Houston would be credited first on the single, while internationally, it's Mariah Carey). Eventually, though, it became hard to sustain a narrative that the two women genuinely disliked each other because there was no onus on them to do sit-down interviews together in support of When You Believe, much less partake in a diva-off when they presented an award at the 1998 VMAs while wearing the same dress. The chemistry between Mariah Carey and Whitney Houston was far more persuasive in dispelling any notion of ongoing tension than a flat-out denial would have been.
Understandably, there may have been a degree of caution exercised when initially conceiving this single, and that's where Babyface's involvement was a smart choice. He'd worked with both artists previously; therefore, in doing so again, neither was bending to the other one's style. That's what comes through on When You Believe. Though Mariah Carey and Whitney Houston were often ostensibly regarded as occupying the same space in terms of power ballads, both have very different approaches (partly due to the changes that were starting to creep into their voices), albeit ones that work exceptionally well together. The first verse and chorus are all Whitney Houston; she opens When You Believe with a deep, rich tone that grounds the song in an appropriate level of drama. Her innate ability to get under the skin of the material conveys a sense of storytelling that parallels the track's function within The Prince Of Egypt, where bleak desperation: "Many nights we prayed, with no proof anyone could hear, in our hearts a hopeful song, we barely understood" slowly turns to optimism with a profound and inspiring message: "We were moving mountains long before we knew we could" leading into the chorus.
The focus switches to Mariah Carey for the second verse, with a delicate handover of vocal runs. In trademark style, she effortlessly flits between notes. The increasing use of her higher register symbolises the lyrics moving When You Believe from a dark struggle to a celebration of triumph over adversity: "Hope seemed like the summer birds too swiftly flown away, yet now I'm standing here, my heart's so full, I can't explain, seeking faith and speaking words I never thought I'd say". Nowhere is that more typified than the booming introduction to the chorus: "There can be MIRACLES…". The crisp clarity in Mariah Carey's voice is like the sun breaking through the clouds as When You Believe kicks up a gear. But it's only so impactful because of the groundwork laid at the start of the track.
It's here that Babyface's involvement extends into changing the structure of Stephen Schwartz's composition. The Hebrew verse was removed on the basis that it didn't form a natural melodic progression to link with the final chorus. And while that is true, the reality is even if it did fit, mainstream radio would not have played the track if that section remained. So instead, it's replaced with a new bridge which works exceptionally well in the context of When You Believe as a pop ballad. Out of nowhere comes a stirring uilleann pipe melody, and then – finally – Mariah Carey and Whitney Houston sing together, properly: "They don't always happen when you A-A-A-ASK…uh, and it's EASY to GI-I-IVE in to your fears…uh, oh-OH, but WHEN you're BLINDED BY your PAIN, can't SEE the WAY, get THROUGH the RAIN, a SMALL but STILL, RESI-I-I-ILIENT VOICE, says help is very NE-E-E-E-E-A-A-A-A-R…". It's almost disorientating to hear two voices so distinctive and iconic in their own right suddenly blending and harmonising. This isn't two singers trying to outdo one another or flatly reciting the same lines simultaneously. Instead, Mariah Carey and Whitney Houston sing with each other, which is an incredible, spine-tingling moment.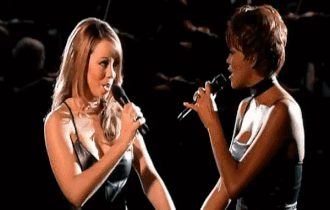 If it were possible to condense the legacy of both artists' reputation for balladry and express it in 45 seconds, then the climactic finale to When You Believe does just that. There is – of course – a gravity-defying key-change with the addition of a gospel choir, followed by a series of soaring, soulful riffs and whistle notes: "There can be miracles (MIRACLES) when you believe (OH when you believe), THOUGH hope is FRAIL, it's HA-A-A-ARD (ha-a-a-ard to kill oh yeah), who knows what miracles, you can achieve (you can achieve), when you BELI-I-I-IEVE (somehow you will) somehow, somehow, somehow (now, you will) no, no-oh, no-oh, you will when you (when you) BELI-I-I-IEVE (oh-oh-oh)…". Given where this single sits in relation to the material Mariah Carey and Whitney Houston were working on at the time, they could arguably have delivered a cooler and more current duet. But seeing how few high-profile collaborations come close to equalling the sum of their parts – and the vast number that fall well short – When You Believe was unquestionably the right choice in terms of delivering what was expected and getting the best out of both singers.
Two music videos were created for the song, although the one most widely used was – inevitably – themed and styled around The Prince Of Egypt. It features Mariah Carey and Whitney Houston performing When You Believe in a shadowy auditorium with an orchestra behind them on stage while scenes from the movie play on screens. As they stride hand-in-hand across the catwalk, the sound of an audience swells, and they're surrounded by a crowd of adoring fans. Then, in perfect unison with the key change, the room is illuminated with dazzling, ethereal light before returning to normal and fading to black as the song ends. As much as the visuals are intended to promote The Prince Of Egypt, Mariah Carey and Whitney Houston were always going to command attention; such is their presence. Therefore, integrating movie clips into the same sequences – rather than cutting to them as separate shots – sells When You Believe effectively as an entire package. The only superfluous element is the use of behind-the-scenes footage of the two artists interspersed throughout. It's nice to see but doesn't fit aesthetically and distracts from being able to soak up every last moment of Mariah Carey and Whitney Houston performing on stage together.
So, that's precisely what the second music video focuses on. It's fundamentally the same concept, albeit with the pair singing together in a church this time. However, there's no movie footage, no orchestra and no audience. Other than the appearance of a gospel choir – which fits with the setting – it's Mariah Carey and Whitney Houston with none of the frills. Though there was never any sense of formality around their interactions, they appear a little more comfortable and tactile with each other, creating moments of genuine affection that are heart-warming to see.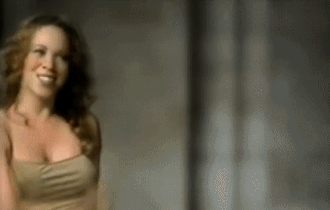 In 1999, When You Believe became the first – and, to date, only – non-Disney animated movie to win the Academy Award for Best Original Song but not without some controversy. When Stephen Schwartz put the track forward for consideration, he specifically submitted the Michelle Pfeiffer and Sally Dworsky version, claiming Babyface's interpolation did not make him eligible or deserving of a nomination. It was anticipated, therefore, that Mariah Carey and Whitney Houston – scheduled to perform at the ceremony – would sing something closer to Stephen Schwartz's arrangement of When You Believe. However, with little chance to learn and rehearse a different version of the song, they stuck with the one they knew. Babyface, understandably, had every reason to feel miffed. What he added to the track contributed significantly to the hype around it. And yet, on a night where When You Believe was televised to more than 45 million viewers and earned an Oscar, his name was nowhere to be seen.
As is often the case, Mariah Carey and Whitney Houston duetting feels much more significant in hindsight than it seemed at the time. When You Believe was a big deal up to a point. But from a commercial perspective, not so much. There were some notable achievements: a peak of #4 in the UK earned Whitney Houston her first top ten hit since I Have Nothing in 1993. Yet, there were also some less desirable outcomes. When You Believe reached #15 in America, which was – at that point – Mariah Carey's lowest-peaking single on the Billboard Hot 100 (of those that were eligible to chart) and only her second not to reach the top five. It wasn't regarded as a disaster by any means, in part precisely because there was the caveat of this being a soundtrack side-project. Yet, it may be equally surprising to some that, in many respects, this was a relatively modest success. When You Believe happened and was then almost immediately overshadowed by both artists releasing a string of much bigger singles, particularly in America.
In truth, that's probably how both Mariah Carey and Whitney Houston would have wanted things to be. Having a closer personal relationship did not mean they were interested in being defined by what the other was doing professionally. Yet, seeing them push each other to the top of their game, hearing those voices together and witnessing the way Mariah Carey and Whitney Houston conducted themselves jointly (the Oprah performance is art) gives a renewed appreciation for their sheer talent. They'd never collaborate again, which makes the brevity of their careers overlapping all the more significant.
When You Believe eventually reached #1 in the UK when Leon Jackson covered it as his X Factor winner's single in 2007, which – even accepting there's little regard for the songs being picked – was such a bizarre move. Stephen Schwartz wrote the track with the specific purpose of trying to musically depict the Israelites being freed from slavery. Babyface, meanwhile, reworked When You Believe as a vehicle for Mariah Carey and Whitney Houston. Strip all of that away and what's left is an empty shell of a song that goes through the motions and ostensibly hits every beat along the way yet is utterly soulless and unmoving in the process of doing so. But, of course, that's not on Leon Jackson (as demonstrated by his next single, Don't Call This Love, which is a much better fit); he was just handed a hopelessly lazy choice.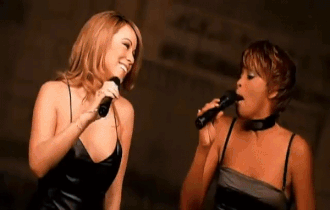 Few would try to claim that When You Believe is the best song in either Mariah Carey or Whitney Houston's back catalogue. In fact, it doesn't even come close. But taking this – more or less – as the perfect manifestation of what a duet between them should sound like, it doesn't disappoint. Thus, as modern high-profile pop collaborations go, When You Believe is easily one of the best.
---