Released: 17th December 2001
Writers: James Harris III / Mariah Carey / Terry Lewis
Peak position: #32
Chart run: 32-39-50-72
---
In many (if not all) respects, there is far more to write about Never Too Far concerning what was happening in Mariah Carey's personal life at the time this single was released. Indeed, few eras of her career continue to generate as much feverish discussion and speculation, which is quite frustrating. However, despite the plethora of coverage the Glitter-era generated, very little focused on the music. And even less of it on Never Too Far, which remains a hugely underappreciated ballad.
Even taking everything else out of the equation, the Glitter project presented several new challenges for Mariah Carey. It was her first (and only) album for Virgin Records, with whom she had famously signed a five-album deal worth $100 million. That alone placed a huge weight of expectation on Mariah's shoulders. She would also be starring in the movie of the same name, a daunting side-step for female singers when the starting critical position is generally that the end-product will be terrible. As if that wasn't enough, the concept of the Glitter album – heavily masterminded by Mariah Carey – was that it would be retro-influenced to complement the early '80s setting of the movie. In hindsight, it's much easier to see what the album was aiming for such is the familiarity now with the notion of reinterpretation within pop music. But back in 2001, the overall impression of the Glitter campaign was that it felt chaotic. And the truth is, it probably was. This was Mariah Carey trying a lot of new things at once, and the public fallout from that felt almost like a manifestation of what was happening musically.
After all of the turbulence leading up the release of Glitter (no, it hadn't even been released at that point), Never Too Far felt like a necessary – and very welcome – attempt to return things to the status quo and buoy the performance of the album by providing some stability. For this was classic Mariah territory; a dramatic, sweeping song that could comfortably segue into most of her signature ballads. Indeed, hold that thought, because that's exactly what would end up happening. However, it would be untrue to say Never Too Far didn't have its own identity; for if ever you need a song to demonstrate that Mariah Carey is so much more than just a technically brilliant singer, then this would be a prime candidate.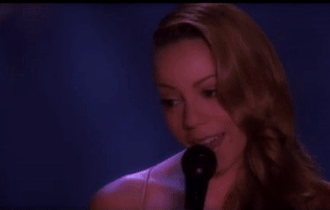 This is supposed to be an emotional piece in the context of the movie. Without spoiling the plot – just in case there are people who decide now is the right time time to see Glitter – Mariah's character (Billie Frank) receives some news during a gig that requires a sudden shift in tone from Loverboy to Never Too Far. But this feels like much more than a song that has been crafted purely for plot purposes. Although structurally it follows the established formula of brooding verses and sweeping choruses leading to an inevitable, climactic key-change, there's also an inherent sadness that runs throughout the track. Even at it's more soaring moments like the chorus, Never Too Far always seems to find Mariah sounding like she has the weight of the world on her shoulders. That fragility is most evident during the first verse before the beat kicks in: "You're with me, 'til the bitter end, what we had transcends; this experience, too painful to, talk about". It's a cinematic moment, for sure. It's the point in all movies about aspiring singers where the crowd falls silent, transfixed on every word. In that sense, Never Too Far most certainly fulfils its duties as a soundtrack number. It could so easily then resort to type. However, that sombre tone never really disappears from, and it's delivered in a way that feels strikingly reminiscent of the way Whitney Houston would read a song and live the lyrics, eking every last drop of feeling from it.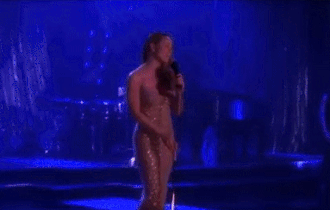 Of course, since this is Mariah Carey, the vocals are a focus, and Never Too Far is an absolute treat in that respect. The majority of the song is delivered in her mid-range, and that's pivotal in keeping Never Too Far grounded in emotion. It allows much more nuance to her voice; in the choruses, her belting is powerful and yet occasionally sounds like it could break with emotion. Equally, the key-change is incredibly effective because Mariah's voice is driving it, rather than dancing playfully around it. There is such a rich, smooth quality to her tone and while there's absolutely no mistaking those vocal runs, this is much more than a phenomenal singer merely going through the motions. Indeed, the inclusion of a whistle-note at the end surplus to requirements. Perhaps it was felt necessary to stamp Mariah's trademark onto the track, but if anything, it says more about the quality of the track that it would have been perfectly fine without it; particularly because she is still able to stamp her personality on the song. For who else would rhyme "glittering lights" with "incandescent eyes"?
The music video for Never Too Far is lifted directly from Billie Frank's (abridged) performance of the song in Glitter. That wasn't the original intention, but with Mariah unwell and unable to film, this was the only real alternative. It's a simple performance of the song from Madison Square Garden, which feels oddly understated for what is supposed to be a climactic moment in the movie. Yet, that simplicity almost brings it full-circle back to the music video for Hero, which is entirely fitting because while Never Too Far rejects some of the clichés of a Mariah ballad, it would end up being re-recorded as a medley with Hero. For the cherry on top of the Glitter palaver was that after a short delay while Mariah recovered, the album was finally released…on September 11th, 2001. Media attention was immediately diverted, and it was during a benefit concert shortly afterwards that the medley was first performed, and then later released as a studio recording for charity. Mariah continued to make high-profile appearances throughout the remainder of the year, but much of that promotion was now in aid of the single, rather than overtly plugging Glitter.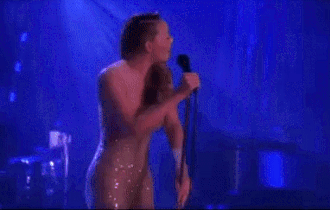 The Never Too Far / Hero medley sounds exactly as you'd imagine. After the first verse and chorus of Never Too Far, the track segues – not entirely smoothly – into the first verse of Hero. The whole arrangement also features a vibrato panpipe accompaniment, which is certainly an interesting choice! Still, considering the two songs were brought together for a noble cause – and in quite unexpected circumstances – the result is more than fit for purpose. And while it rendered explicit promotion of the Glitter album rather difficult, a more positive by-product of the medley is that it did use Mariah's status as a legacy artist to promote her newer material.
Not that it helped her commercial profile a whole lot. Never Too Far didn't chart in America, while in the UK, it was paired with Don't Stop (Funkin' 4 Jamaica) as a double-A side and peaked at #32 – her worst performing single since Someday reached #38 way back in 1991. Yet it wasn't awfully surprising; this was a period in pop music where Mariah Carey had made a fresh start in almost every respect and was suddenly trying to find her place. And it would be the middle of the decade before that became clear. As for Glitter…well, the temptation for many artists would be to sweep it under the rug and try to pretend it never happened. But Mariah is not like other artists, and although she has spoken candidly about the quality of the movie, she has never tried to erase it from her past. And neither have her fans. The album famously topped the American iTunes chart in 2018 following the #JusticeForGlitter social media campaign, and Mariah herself led the charge to reinstate Glitter onto streaming platforms, where it is now available after years of being conspicuously absent.
Never Too Far may always be a footnote in relation to Mariah's signature ballads. But it remains a brilliant addition to her back-catalogue and is well worth seeking out if you're in the mood for a song that largely shuns the vocal gymnastics in favour of a genuinely emotive performance.
---