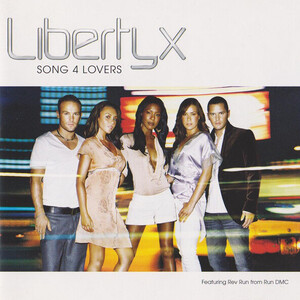 Released: 26th September 2005
Writers: Tony Lundon / Rev Run / Grant Black / Benny di Massa / K. McMillan
Peak position: #5
Chart run: 5-8-9-10-14-25-39-50-70
---
Song 4 Lovers is one of those pop songs that defies any sense of logic or reason. It shouldn't work, and yet – somehow – ended up buying Liberty X some precious time as they sought to reverse their ailing commercial fortunes.
Less than two years had passed since Liberty X stormed to #1 with Just A Little, casually shrugging off the 'Flopstars' label they'd unflatteringly acquired and winning a BRIT Award in the process. But success was fleeting; the group's second album, Being Somebody, sold around 100,000 copies, significantly less than the double-platinum status achieved by their debut, Thinking It Over. After recording new material, Tony Lundon pitched Song 4 Lovers – which he helped write and produce – to Liberty X's label as the track that could turn things around. However, V2 didn't see it, or indeed anything else, as a hit, and they were abruptly dropped. It's not hard to see why the label was sceptical, although they have to shoulder some blame for Liberty X having reached this point so quickly. Releasing Everybody Cries – about as crushingly bleak a pop song as there ever was – with the second album already in dire straits represented an unnecessary gamble and the worst possible time for the group to miss the top ten.
Nonetheless, Liberty X signed to an independent label (Unique Corp), who did recognise the potential in Song 4 Lovers. And they weren't wrong, although it takes a bit of lateral thinking to reach that conclusion. Gospel-rap isn't a sound typically associated with the group – much less the mid-'00s charts – so it was already starting from a peculiar place. Then there's the presence of Rev Run from Run DMC (that's how he's actually credited on the single) on the verses, which isn't just a collaboration that came out of nowhere but also one that fundamentally affected the dynamic of Song 4 Lovers. This might have been Liberty X's comeback, but they almost end up sounding like the featured act next to Rev Run. The situation may have necessitated the group taking a different approach; however, they went to the most left-field, unconventional extreme imaginable.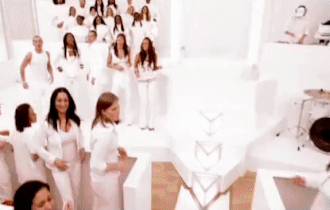 Usually, when a rapper appears on a track, there is some attempt to feign a link with the act they're performing alongside. But that's not what Rev Run does. Instead, the verses of Song 4 Lovers announce his comeback: "Now once again, my friend it's the Reverend, the first platinum status rap president, and from the coast of California to the shores of Maine, got an east coast sound and my beats go bang", which in the broader context of his career, made perfect sense. The single was released several weeks after MTV premiered the reality series Run's House, a fly-on-the-wall look inside the life of the rapper and his family. It ran for six seasons, though never quite registered the same impact as The Osbournes or Newlyweds: Nick and Jessica outside of America. Even if the show had been a phenomenon on the same scale, Song 4 Lovers would still come across as an attempt at hitching Liberty X to Rev Run's momentum, which seems an odd decision. Still, given the context, the group were evidently willing – if not obliged – to pursue any available route to a hit…
While Liberty X may have rendered themselves passengers on their own single, they grab every opportunity to shine. The gospel-pop chorus at the heart of Song 4 Lovers is utterly joyous: "There's a song for lovers you can hear all the time, but you're like no other to me (like no other, like no other), so I'm not gonna promise you a starry sky, you just need to believe". It provides a foundation from which the group – later accompanied by a choir, of course – can freely ad-lib, leading to a terrific performance that is quite unlike any Liberty X had previously delivered. Even in a reduced capacity, they show what a quality act they are, and nowhere is that more apparent than the rousing middle-eight, led by Kevin Simm: "('Cos I'll be around), if you say you really love me (I won't let you down), if you say you really care (hold out your hands), if you say you really want me (I will be there), I promise I'll be there". The soulfulness of his voice is captivating, cutting through the track and briefly elevating it to another level entirely that is up there among the group's very best work. At that moment, Song 4 Lovers clicks into place and makes complete sense. Or as much as is ever possible, at least.
One of the trade-offs for Liberty X moving to an independent label is they were operating on a smaller budget than before. That is true of the music video for this single; it starts with Rev Run performing in a church where he's dressed in black, while the décor and clothing of the congregation and choir – which includes Liberty X – is heavenly white and very on-brand for the song. During the second verse, Rev Run leads a crowd of people through the street and in a nice touch, there are promotional posters of the Being Somebody album cover and a silhouette shot from the Thinking It Over single artwork on the side of the building, plus a vendor flogging CDs for $10 (presumably Liberty X's, although there don't seem to be many interested buyers). The group do – eventually – get their own shot; they're shown performing on a rooftop with a city skyline in the background, which is a classic pop music trope for good reason because it effectively downplays the notion that this is a scaled-down version of Liberty X, however true that might have been.
Also woven into the video is a subplot of a heavily pregnant woman going into labour while in bed with her partner. In a remarkably clean and quick delivery (not that it's shown), the baby arrives without so much as a mark appearing on the crisp, white linen. As Song 4 Lovers ends, the newborn is thrust into the air, where the background turns to a starry sky, complete with some noticeably blunt cropping around the child's head and extremities. Besides that aspect, the visuals pull off a reasonably simple, back-to-basics approach quite well. The aesthetic works for the type of track this is and Liberty X's role within it. Indeed, the execution is nowhere near as glaring as the notoriously ropey visuals for X later in the campaign.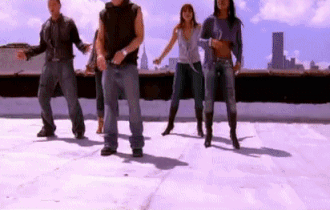 There's little room for sitting on the fence with Song 4 Lovers, and it felt that this could only go one of two ways: the track was either going to be a big hit, or an unmitigated disaster, with the latter being a real possibility given Liberty X were already coming on the back foot, commercially. So, it was to some amazement that Song 4 Lovers became the group's first top-five single in over two years when it peaked at #5. What's more, it seemed to connect outside of their immediate fanbase as well, spending four weeks in the top ten. In every respect, this was a massive achievement given how the parameters of success for Liberty X – in terms of airplay, budget and sales – had shifted from several years earlier. The group had even restored their profile enough to record the official Children In Need single, which duly became their next release.
Although Liberty X were riding a wave of a mini resurgence, that didn't extend to their third album, X, which arrived several weeks later to middling reviews, if indeed critics acknowledged it at all. Continuing a downward trend, the album peaked at #27 and exited the top 75 after a fortnight, never to be seen again. Song 4 Lovers had undoubtedly afforded the group some leeway, but ultimately they still appeared to be papering over the cracks of a more significant problem. Unique Corp may have been less ruthless than a major label, but their pockets were nowhere near as deep, so either way, this wasn't sustainable long-term.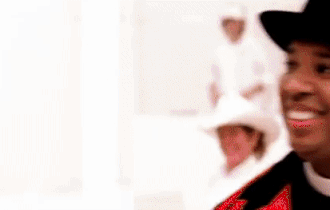 Even so, Liberty X's appeal was grounded in them being underdogs; they already had form when it came to snatching victory from the jaws of defeat. Thus, Song 4 Lovers deserves credit for once again proving almost everyone wrong to become arguably one of the unlikeliest hits of the '00s.
---