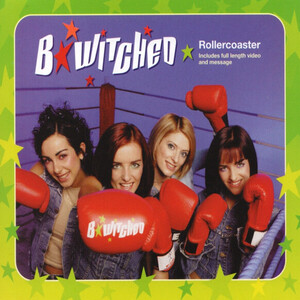 Released: 21st September 1998
Writers: B*Witched / Ray Hedges / Martin Brannigan / Tracy Ackerman
Peak position: #1
Chart run: 1-1-2-4-12-17-27-30-37-44-56-64-67-58-56
Billboard Hot 100 chart run: 67-67-67-85-91-98-95-X-X-95
---
B*Witched's meteoric rise to success was anything but a Rollercoaster, as their second single coolly marked the next step in a record-breaking run of chart-topping hits.
Choosing a follow-up to C'est La Vie was no enviable task, though perhaps not for the reasons people might expect. B*Witched had made such an impact with their debut single –in both commercial sales figures and teen magazine coverage – that whatever they released as a follow-up was likely to benefit from the momentum. An outright flop was highly improbable, but that didn't mean there wasn't still some pressure on Rollercoaster. While nothing was likely to displace C'est La Vie as the group's signature hit, B*Witched still had to demonstrate an appeal beyond one song, particularly as this single preceded their debut album.
In that respect, Rollercoaster lands about right. There's never any convincing pretence that it's trying to be bigger or better than C'est La Vie. Still, it is an impeccably crafted pop song that beds in the group's sound and is more than capable of getting by on its own merit. The only aspect likely to prove divisive is the intro, where a spoken exchange occurs between B*Witched as though they're about to ride a rollercoaster: "Oh, I can't believe I'm doing this, (here we go), I can't believe I'm doing this, woooooo!". It's harmless enough but does risk feeling a tad juvenile for a group already predominantly aimed at a youngish teen audience. Fortunately, there's little time for it to leave a lasting impression as the beat soon kicks in with a funky guitar riff and pulls focus.
The melody is composed so that there's a nagging familiarity about Rollercoaster. The pre-chorus, in particular: "Come and sit beside us, we'll give you such a thrill, we're not nice we're cool as ice, we'll give you quite a chill, let your imagination take over on this ride, out of sight, all right, hold on ti-ight" does have noticeable shades of Sgt. Pepper's Lonely Hearts Club Band about it. Although the crossover between B*Witched and The Beatles' respective audiences is so minimal, it's hard to imagine anyone being that bothered. Nonetheless, Rollercoaster constantly utilises riffs and chord progressions that awaken a wistful – and quite unexpected – sense of nostalgia, which some of the lyrics play with ("Oh baby now climbed the trees, swan the seven seas, we've grazed our knees and no-one's to blame") to great effect.
For all that Rollercoaster is – technically – a less audacious second single for B*Witched, it's still brimming with giddy joy. The chorus: "Come on, come on, get it on, we're ridin' in a rollercoaster, come on (don't wanna wait for you), come along (don't wanna wait for you no more), get it on, we're ridin' in a rollercoaster of love" delivers a wholesome, sugary sweet rush that is reliably uplifting. For the most part, Rollercoaster could've been recorded by almost any pop act of the time. That is, until the fiddle breakdown. Unlike C'est La Vie – whereit was shoehorned in as a bit of a novelty gimmick – this time, it feels far more organic and cohesive with the rest of the song. Crucially, it also gives B*Witched a point of difference from their competition around which to build a recognisable identity.
The music video for Rollercoaster employs a similar aesthetic to its predecessor, with visuals that are simultaneously real-life but have a fantastical, cartoonish quality to them. And it's the one part of the package that does – deservedly – show bigger ambition. B*Witched are shown flying through space, arms outstretched and dressed, of course, head-to-toe in denim (Edele's cowboy hat is as ridiculous now as it was back then) before landing on a fairground planet with a scale model rollercoaster visible in the background. After breaking a strength tester attraction, the group head inside a tent and enters a boxing contest. They win, although it's questionable whether four against one is entirely fair. Particularly when it's already been established that at least one of them is extraordinarily strong, or the people on the planet are comparatively weak. Either way, after repeatedly punching a guy in the face so hard that he flies into space, B*Witched run outside and fly away, much to the amazement of a crowd of onlookers.
The video also features some terrific choreography, most notably the distinctive group formation where they're positioned as though riding a rollercoaster down a dip, which is so imaginative. What the visuals do best of all, however, is style out the relative limitations of budget and technology. Given the set design and post-production effects, it doesn't necessarily appear cheap. However, there's only so far a music video – particularly within the context of still being early in B*Witched's career – can take the concept. Yet, everything about it looks uncompromisingly intentional.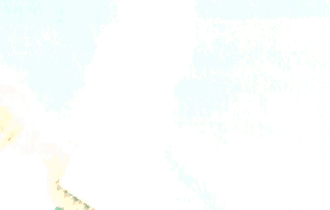 Despite the video being less than a year old when Rollercoaster was released in America, a new one was filmed, taking some of the same elements (including Edele's hat) and dropping them into an entirely different scenario. This time, B*Witched are on a seafront and – after appearing out of some beach tents – busk on the promenade. Given how well the original choreography complements the song, it's sensibly retained here. As – for some reason – is the notion of the group being airborne, although they spontaneously float upwards this time. It's achieved by recording footage where the camera twists and turns into the sky and then superimposing B*Witched on top of it (while the crowd around them point and wave upwards). The result is…weird and, at times, stomach-churning, though it is at least in keeping with the rollercoaster theme, which would otherwise be absent, given the video ends with the group riding away on mopeds. There's a strong Miami 7-esque energy present here that is very appealing, and it's fascinating to see how a core set of ideas was interpreted so differently, with both feeling suited to the territories they were aimed at.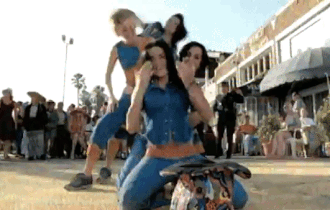 There may be a temptation to presume Rollercoaster reached #1 in the UK due to the success of C'est La Vie. And inevitably, it would benefit from the exposure and profile that B*Witched's debut single gave them. However, the track was a big hit in its own right, spending a fortnight atop the chart with sales of 156,800 and 112,000 (for comparison, C'est La Vie sold 153,000 and 93,000 for its two weeks at #1). Overall, Rollercoaster wasn't as big, but a total of 493,000 – making it the 21st biggest single of 1998 – indicated this was far more than a kneejerk response. The song was also reasonably successful in America, peaking at #67 on the Billboard Hot 100. Indeed, while it might have fared modestly compared to C'est La Vie (which reached #9) and didn't make headlines here, that was still far more than many other pop acts managed to achieve.
While Rollercoaster was the second of four consecutive #1 singles for B*Witched in the UK, their self-titled debut album had to settle for a peak of #3 when it was released a few weeks later. That seems a fair result, too. B*Witched has some killer tracks – enough to sustain a decent campaign, at least – sandwiched among a fair bit of filler. In essence, it's a fairly typical product of its time and sold consistently – if not slightly above average – on that basis, achieving an overall total of around 730,000 copies.
The album also performed well in America after B*Witched landed a lucrative support slot (alongside Britney Spears) for several legs of *NSYNC's 209(!) date tour, which spanned from 1998 to 2000. Their profile was further boosted when the Disney Channel screened a joint concert with Five, while the group's material picked up strong rotation on Radio Disney. B*Witched subsequently peaked at #12, spending several months in the top 40 and eventually earned a platinum certification for one million sales.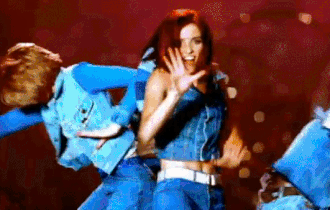 As a second single, Rollercoaster did precisely what was required of it from a commercial perspective at a time when anything less than #1 would've been regarded as a disappointment for B*Witched. However, in terms of the album campaign moving forwards, it also inspired (or perhaps necessitated) the group to preserve their winning formula and try something markedly different on the next two singles.
---