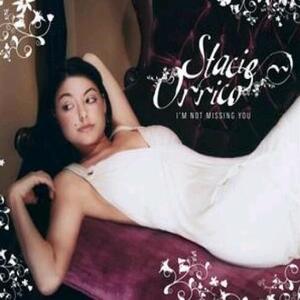 Released: 21st August 2006
Writers: Kier Gist / Terence Abney / Esteban Crandle / Balewa Muhammad / Tawanna Dabney / Stacie Orrico
Peak position: #22
Chart run: 22-32-51-74
---
Two years after taking a self-imposed hiatus from the music industry, Stacie Orrico returned to release her third album…at precisely the same time her record label underwent a significant restructure.
When Virgin Records signed Stacie Orrico – a successful teen Christian contemporary artist – and launched her as a mainstream pop star, they struck on something special. Helped in no small part by two excellent singles: Stuck and (There's Gotta Be) More To Life, her self-titled second album became a bit of a sleeper hit. It peaked at a modest #59 in America yet sold 500,000 copies; similarly, in the UK, despite only reaching #37, total sales were around 150,000. Almost certainly, the label's preference would've been to consolidate those achievements and sustain momentum with a quick turnaround on the follow-up. But Stacie Orrico needed some time out. The demands of promoting an album globally left her burned out and acutely aware of how all-consuming the music industry could be. So, she moved back to Seattle, took a waitressing job at a seafood restaurant, and reconnected with her family. What Virgin Records made of the fact that one of their breakout stars was now working double shifts for minimum wage (plus tips) is unclear, but in fairness, they kept Stacie Orrico on their roster and waited patiently for when she felt ready to record again.
Stepping entirely outside the pop bubble is what inspired the Beautiful Awakening album. It also meant the material was developed organically and – for the most part – with a new team of co-writers and producers rather than ones assembled to continue where Stacie Orrico had left off. Subsequently, few elements of the Christian contemporary and pop sound remained; instead, there was a more prominent R&B and soul influence this time. It was such a shift that the plan was for Beautiful Awakening to be treated entirely as a mainstream album. In contrast, the previous two had been promoted simultaneously through the Christian market. Throw in a two-year gap since Stacie Orrico's last single in the UK (more than three in America where I Promise or I Could Be The One weren't released), and the stakes for a relaunch were exceptionally high.
Leading the campaign with I'm Not Missing You was a tactical choice. It was seen as a song that bridged the gap between the two albums; however, it's debatable whether there's any real merit to that claim. While this is easily one of the strongest – and more commercial – tracks on Beautiful Awakening, it still represents quite a leap. That's immediately evident from the intro, where Stacie Orrico – accompanied by a gentle acoustic guitar – unassumingly vocalises: "Oh-ooh, I'm not missing you…hmm", before the R&B-leaning beat kicks in. The production values are far less bombastic, but the overall quality is taken up a notch with a deep bass that asserts I'm Not Missing You's presence and creates a warmth that complements her performance.
Indeed, the vocals are the common thread between this and earlier singles. It becomes apparent here how much Stacie Orrico's distinctive, expressive tone is her biggest asset and the reassuringly familiar element that anchors the song. There's a likeable sincerity to I'm Not Missing You, which is delivered as though she's singing the teenage musings from her diary (albeit one with five additional co-writers): "It's a shame in a way, 'cos I feel that I may not, ever find the right one for me; did I leave him, is he right in front of my face, oh, will my true love ever be". The track conveys a much stronger sense of lived experience in the lyrics, making this a fitting introduction to Beautiful Awakening and its ethos.
While I'm Not Missing You is not initially without charm, it's definitely a bit of a grower. The chorus: "I'm not goin' through the motions, waitin' and hopin' you call me, I'm not missing you, you might've had me open, but I must be goin' because, I got life to do…" is laden with deceptively nagging hooks and the jangly piano melody helps create a quiet, uplifting air of defiance. The song culminates with Stacie Orrico's ad-libs ("I'm not missing you-ooh-ooh-ooh, you-ooh-ooh, oh-oh-oh, I'm not missing you, oh baby") bringing I'm Not Missing You to a triumphant finale and serving as a reminder of her terrific range, though it's utilised sparingly here. Even the bigger moments take a lower-key approach to pop music than the preceding singles. Yet it's every bit as accomplished and superbly composed, even if not necessarily to be a chart-topping hit.
Two music videos were created for I'm Not Missing You. The first – which accompanied the UK release – portrays Stacie Orrico as a lounge singer with a possessive boyfriend. He's repeatedly shown berating her in her dressing room while trying to control what she wears and who she speaks to. Eventually, a security guard recognises what is happening and intervenes, pushing the man outside and closing the door in his face. That's apparently enough for him to get the message, and Stacie Orrico – now free from a troubled relationship – finishes her performance and leaves the venue. An additional minute-long preview of another song from the album (Is It Me) is tagged on at the end as a coda while she's driven through the city. It's not exactly the cheeriest reintroduction to Stacie Orrico, but despite the absence of audible dialogue, there is a palpable – uncomfortable – tension played very effectively.
The second video was filmed several months later when Virgin Records, having already sent I'm Not Missing You for radio adds to little avail, refocused their approach and tried to push the song again. It takes an entirely different angle, showing Stacie Orrico hanging with her friends and happily being a single, independent woman. The styling is more natural (the sunglasses and bandana combo is a strong look), and the hazy summer aesthetic completely changes the song's energy. Most of all, it represents a cohesive evolution of the visual identity from the previous album. Stacie Orrico couldn't still be hanging around high school, so things needed to move on, and this feels about where we might logically expect to find her now. Whether the re-shot video would've significantly changed the trajectory of I'm Not Missing You had it existed from the start is questionable, given there's nothing specifically wrong with the original. However, there's no doubt it serves as a timely reminder of Stacie Orrico's appeal and facilitates a far smoother transition into Beautiful Awakening.
Upon its release, I'm Not Missing You reached #22 in the UK. And while it's a real shame the song didn't quite connect, this is one of those situations where – from a completely objective standpoint – the chart position is probably about right given the context. There surely can't have been a massive number of people waiting in feverish anticipation for a new Stacie Orrico single, and for any who had, is this what they would've expected from it? I'm Not Missing You is – unquestionably – terrific and went sorely underrated. But strong radio support wasn't guaranteed; if anything, it was rather unlikely given she wasn't an artist who commanded extensive airplay). Without that to get the song into people's ears, the outcome was rather unsurprising, as did the #64 peak achieved by Beautiful Awakening the following week. It arrived to mixed reviews, with some praising the album's direction and what it was trying to achieve, while others criticised the apparent lack of obvious pop-oriented hits compared to Stacie Orrico. Essentially, this was the struggle that typified the entire campaign.
Things didn't get off to a great start in America, either, when I'm Not Missing You failed to make any significant impact on the chart (the track is generally stated to have reached #19 on the Billboard Bubbling Under Hot 100, but there's no evidence of that ever actually happening). However, plans remained to release Beautiful Awakening in early 2007, and the album did make it to retail in limited quantities…before being promptly withdrawn. Unfortunately, this coincided with a major restructure at EMI, which resulted in Virgin Records and Capitol Records merging to form Capitol Music Group. Stacie Orrico ended up lost in the ensuing upheaval, later announcing she'd parted ways with the label and would sign a new deal to secure the release of Beautiful Awakening. At least, that was the intention.
Instead, she used her freedom from Virgin Records to join a relief project in Africa supporting children with HIV/AIDS, auctioning possessions and mementos she'd acquired as a pop star to raise money. In some respects, Stacie Orrico had her priorities right in taking time out after the second album for self-care and then using her platform to join a humanitarian cause while Beautiful Awakening was in limbo. She didn't want to become dependent on an industry that could treat her as disposable, which is more or less what happened in the merger. However, it's hard to imagine that Stacie Orrico's approach to the business of being a pop star – regardless of how good she was when she applied herself to it – had record labels falling over themselves to sign her. It's one thing not to get over-invested, but that can go too far, to the point of not seeming invested enough.
And maybe she just wasn't. In a 2013 video where Stacie Orrico announced a new album, she revealed that since returning from Africa, she'd moved to New York, then to Denver before heading back to New York to study women's literature and acting. Despite dabbling with music along the way, it seemed there was more to life for Stacie Orrico than chasing a hit album. Like many people in their twenties, she was trying to figure out what that was. More recently, she channelled her experience of '00s pop stardom into co-founding The Nile Project: 'a creative community designed to reclaim your voice and your body'. As for that new album? Needless to say, it was never released.
---