Released: 12th January 2004
Writers: Diane Warren
Peak position: #22
Chart run: 22-31-43-60
---
Prior to this single, Stacie Orrico, she had just scored her biggest hit with (There's Gotta Be) More To Life. The amount of effort and strategy that had gone into positioning her as a global mainstream pop star was reaping rewards, which makes it somewhat surprising that the label suddenly seemed to lose interest in America altogether.
Good news for us though, because I Promise – a Diane Warren (who else?) penned ballad – duly became the third single released from the Stacie Orrico album in the space of just five months. If the earlier singles from the album had been an evolution on the power-pop debuts of the '90s teen queens, then this was a throwback to the gloopy ballads that often crowded the back-end of their respective early albums. Often, these tracks weren't even acknowledged; they were just there. Here, Stacie Orrico was delivering some vindication for the likes of Blessed, Your Faith In Me…even Dear Diary. It was a bold move, and bravery comes not without sacrifice. After all, there's a reason those songs weren't released as singles. I Promise was going to be a hard sell, commercially. Particularly when artists like Black Eyed Peas and Outkast were dominating airplay. This was another world away entirely.
Yet, it's a sound that was perfect for Stacie Orrico, as the epitome of a cutesy girl-next-door ballad and a total throwback to her debut album. Far from being an evolution of her earlier material, I Promise wouldn't sound at all out of place on Genuine. It's absolutely gorgeous, and for all that the song projects itself as a fairly simple effort, there's such depth to the production. The keyboard-synth melodies have a dreamy, ethereal quality to them; it's remarkably easy to get lost in a misty-eyed haze, particularly as the track draws to a close with a 45-second instrumental, serving as a moment of introspection. I Promise is further complemented by an R&B-lite beat that – for the most part – appears to be doing its own thing; sometimes gently anchoring the song, while at others frantically rattling around the track. It's a subtle flourish that helps mark some consistency with the rest of the Stacie Orrico album and demonstrates how considered the vision for the project had been at every stage. Even with a song like this, which didn't necessarily fit the image that the earlier singles had attempted to project.
Vocally, I Promise is a bit of an unusual one. It certainly isn't one of Stacie Orrico's most technically impressive performances; she's a much better singer than is ever demanded of her here, but it's just not that kind of song. Instead, she uses the opportunity to flex her lower register. Is there a degree of over-singing here? Absolutely. But it's never to the detriment of I Promise. Indeed, it produces some really lovely moments and allows Stacie Orrico to read the song with such sincerity. Take, for example, the early: "When you need someone…", which introduces a little more vibrato than is strictly necessary, but oozes feeling. It's an approach that is perfectly befitting of a Christian contemporary act, and while there's nothing overtly religious about I Promise, it certainly fits in that scope with its good Samaritan lyrics: "Will I be there when you call me in the middle of the night? Will I keep the rain from falling down into your life? I promise, I promise, I promise I will".
Ironically, by not pushing Stacie Orrico to any great length, I Promise ends up being one of the best showcases for her quality as a pop singer. Even when the song swells to a climactic key-change for the finale, she remains completely in control and drops some gorgeous ad-libs.
There is one aspect of I Promise that certainly hasn't aged well, and that is the overall quality of the mastering. It wasn't noticeable at the time – and none of the other songs from Stacie Orrico have the same issue – but as the track swells to a climax, there is audible crackling at the higher end. There doesn't seem to be any obvious stylistic benefit to it from a production perspective, but it was also present on The Best Of Stacie Orrico. So, either it was an intentionally horrible choice, or – more likely – the overall quality of speakers and headphones has improved to such an extent that it's more evident now. It doesn't spoil I Promise, but you'll never be able to un-hear it (sorry). The only reasonable resolution is, of course, a re-mastered version of the album with accompanying vinyl release. Please.
Although this wasn't a major single in all territories, it still received a great video, which looks like a fair old budget behind it. It's a little less concept-driven than the others from the Stacie Orrico album, but much like I Promise itself, is a nice change of pace. It features Stacie dealing with an unfortunate case of rising damp in her very desirable '00s apartment. It soon transpires to be a bit more serious, and her abode is rapidly flooded as water pours from the ceiling and – curiously – through the telephone (is that even possible?). She's totally chill about the whole thing though, and after fleeing to higher ground – or, in this case, her bed – she nonchalantly wades through the water and with a biblical nod to Noah's Ark, picks up a white feather to signify that the flood is over. Interspersed throughout the video are some stunning cutaway shots, featuring Stacie against a heavenly white backdrop. It's a fairly unassuming aesthetic, but it fits the song perfectly.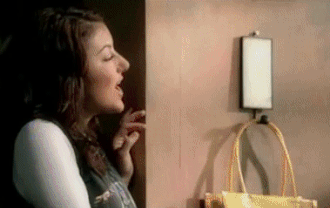 It wasn't entirely surprising to see I Promise slip into the chart at #22, even in the quieter post-Christmas period. It's very much the antithesis of Stacie Orrico's earlier singles and seemed almost deliberately intent on ushering her away from the limelight and back to a safe space much closer to her roots. And fundamentally that's what I Promise is; a beautifully understated moment that showcases Stacie Orrico as a Christian contemporary artist. Any success – however limited – the track enjoyed as a mainstream pop single was a bonus. Commercially, it was a very odd direction for the record label to take the Stacie Orrico album, but artistically it made perfect sense And for everyone who has ever loved gloopy ballads tucked away at the end of a pop album: justice, at last.
---