Released: 20th October 2003
Writers: Lucy Woodward / Kevin Kadish / Sabelle Breer / Harvey Mason Jr. / Damon Thomas
Peak position: #12
Chart run: 12-17-23-30-38-50-59-68
Billboard Hot 100 chart run: 84-79-73-68-56-54-49-41-40-34-33-31-30-30-38-44-52-56-62-82
---
She might have been re-launched with a more mainstream pop persona, but (There's Gotta Be) More To Life saw Stacie Orrico achieve her biggest hit to date with a song that feels one of the truest to her origins.
The steps taken by Virgin Records to make Stacie Orrico a more commercial prospect outside of the Christian contemporary market were mostly practical. The purpose was not to reinvent her but to arm her with several songs that would appeal to the mainstream pop market, while also leaking over into the Christian contemporary chart where she had initially made her name. It's a tactic that worked well; (There's Gotta Be) More To Life doesn't quite fit the mould though. It feels like a song that would be aimed at the Christian-contemporary market first and foremost, with enough commercial nous to possibly become a mainstream hit, rather than the other way around. In many ways, it's the perfect summation of the Stacie Orrico album and how, at its best, it successfully straddles two markets that don't often sit comfortably alongside one another.
Probably the most distinctive aspect of (There's Gotta Be) More To Life – other than its generously long title and liberal use of brackets – is that it doesn't sound like anything else at the time. While the other singles from the album drew – at least in part – on other trends within pop music, we can't think of any direct comparison for this song. The production is a mixture of guitar chords and R&B-lite beats; stripped back for the verses and more prominent for the choruses, although both aspects – particularly the chords – have been bluntly looped in such a way that they have a jarring stop-start rhythm. Sonically, it provides an interesting backdrop and gives (There's Gotta Be) More To Life a slight sense of unpredictability, like a coiled spring that could pop at any moment.
And pop it does. Credit to the songwriters, because it's clear that with (There's Gotta Be) More To Life, they know exactly what works in pop music terms and waste little time in delaying the inevitable. The chorus is an absolute behemoth; the sort that delivers precisely what you expect (and want) from the low-key verses. It absolutely takes off, and not even two minutes have passed before the song then lurches into a phenomenal key-change. This gives Stacie Orrico the chance to flex her vocals, and while her tone might not be to everyone's taste, we love her slightly strained and nasal upper register. It was perfectly suited to the material that she sings anyway, but here it's absolutely divine and easily one of her best performances. Stacie Orrico's big turn in the song, you know the one: "OOOH YEA-UH-UH-EAH…OO-O-O-O-O-OOH YEA-UH-EAH", is unashamed showboating, but we have no problem with vocal gymnastics when they're so damn good. She absolutely lets rip on the track and gives a brilliant performance that – in another time and place – would be recognised and regarded as the iconic singalong moment that it is.
The track is consolidated superbly by the music video. There wasn't a bad one from this project, although they are all quite aesthetically different; even the two that are directly linked. (There's Gotta Be) More To Life certainly stands out as being the most aligned with the image – and budget – pitching Stacie Orrico as a mainstream pop star. It's a great concept as well, which sees her play many characters from various walks of life, with each persona smartly sewn together by morphing transition shots. If nothing else, the video packs in an impressive number of sets and location shots, with Stacie Orrico sporting a drastically different style within each. This is mostly her playing dress-up and serving several looks; she looks stunning as a fashion model (although it's a very un-Stacie Orrico image) and we rather like the crimped hairstyle she sports as a waitress. But our favourite look is the gigantic afro she sports while jamming with a reggae band; it really shouldn't work, but she pulls it off (hopefully not causing any offence…) and the whole urban sunset framing of that scene is striking. There are some less desirable looks as well: we can't even begin to explain what's going on with the dragged-through-a-hedge blue highlights at the start, other than to say it is not a look she will want to be remembered for. Nicely, the video concludes with Stacie Orrico as…herself. While the track gently ebbs away, she becomes just a face in the crowd, before disappearing altogether. A reminder that we've all got our shit to deal with, regardless of who you are or where you live. It's a subtly profound point to make after the sheer spectacle of everything that came before it.
In global terms, (There's Gotta Be) More To Life was easily Stacie Orrico's biggest hit. It didn't quite match the performance of Stuck here, peaking at #12, although the label took the unorthodox approach of sandwiching the release of the album between the two singles. Therefore, by the time the track charted, Stacie Orrico had already been available for five weeks. Undoubtedly that would have eaten into the sales significantly and probably cost (There's Gotta Be) More To Life a place in the top ten. The flipside was that it kept the album hovering just beneath the top 40 for several months and throughout the lucrative festive period. So, in the long-term, it was probably a sensible strategy that made the venture as profitable for the label as it was ever going to be. In other territories though, (There's Gotta Be) More To Life was a considerable commercial success in its own right; most notably peaking at #30 on the Billboard Hot 100, which was a significant achievement on a chart that was fairly hostile towards pop music in 2003. It's something of a shame that having found her niche, Stacie Orrico never really capitalised on it with her subsequent material.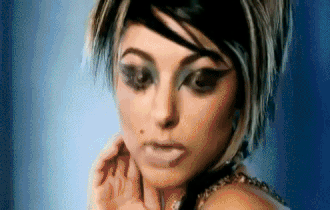 Nevertheless, it's fitting that while many pop stars have to change their identity or their sound to find success, Stacie Orrico scored her biggest hit just by staying true to herself. Which is precisely the kind of legacy her pop career deserves.
---