Released: 7th July 2003
Writers: Madonna / Mirwais Ahmadzai
Peak position: #2
Chart run: 2-15-22-33-48-60-60
---
While Madonna took steps to ensure the second single from her American Life album generated headlines, could Hollywood turn that publicity into a much-needed chart success?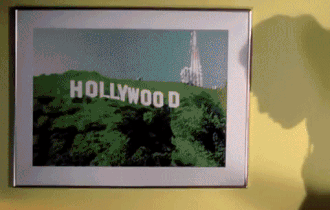 Though American Life was not an outright disaster – it did, after all, debut at #1 in both the UK and America – a decidedly so-so critical reception, coupled with the uncharacteristically cautious handling of the lead single, saw the album quickly go into freefall. The situation was particularly dire in the US, where American Life spent just five weeks in the top 50. However much the album was a defiant statement designed to cause contention, the apparent lack of commerciality, as a result, prompted Madonna's record label to go into damage limitation mode. Hollywood was thus hastily released to arrest the decline of American Life and perhaps reassure those who found the harshness of the title track that more pop-oriented material existed on the album.
From the opening moments of birdsong and an acoustic guitar intro, Hollywood is a far less abrasive song than its predecessor. The warm, cruising electronic beat sits more coherently as a descendant of the Music album, and there's a bouncy charm that is – deceptively – optimistic and celebratory: "There's something in the air in Hollywood, the sun is shining like you knew it would, you're ridin' in your car in Hollywood, you got the top down and it feels so good". It's all a façade, of course. Still, even before the lyrics start to become more scathing, the track conveys that all is not as it seems by dropping the production, leaving Madonna to muse: "Everybody comes to Hollywood, they wanna make it in the neighbourhood, they like the smell of it in Hollywood, how could it hurt you when it looks so good?". The tone of her voice suddenly becomes jaded, and there's a faint sneer of vitriol.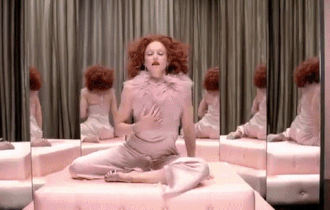 Hollywood becomes filled with a sense of disillusionment: "I lost my memory in Hollywood, I've had a million visions bad and good" and offers an acknowledgement of Madonna's own experience: "There's something in the air in Hollywood, I've lost my reputation bad and good". However, while the theme of ponderance on American values – and the culture of celebrity – is present here, it's never as cutting as it could have been (which is perhaps why it was chosen as the second single). The sweetness of Madonna's girly vocals contrasts with the whirring, squelchy synths to emphasise that Hollywood is not discerning about who it chews up and spits out. However, rather than draw on anecdotes – autobiographical or otherwise – to expose the murkier side of a lifestyle so many aspire to, the song never feels that candid.
One of the challenges for Hollywood was in managing expectations. Itconstantly threatens to become more involved but never quite reaches a point where it's the fulsome pop song many people seemed to want it to be after American Life. There's a brief spoken interlude ("Check it out, this bird has flown") when the melody shifts into a key change and the chorus: "Shine your light now, this time it's got to be good…" shows how tantalisingly euphoric it can be. However, the production remains steadfast in its minimalism before the track switches direction entirely by closing with a repeated chant: "Push the button, don't push the button, trip the station, change the channel", while the pitch of Madonna's voice gets lower and lower.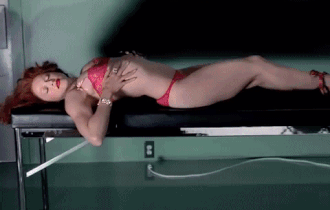 After the palaver surrounding the music video(s) for American Life, Hollywood steers clear of making any political statements, but that doesn't mean it avoided controversy altogether. The visuals cycle through various sequences, which have an air of vintage Hollywood styling, many of which involve Madonna rolling around on the floor with increasingly frenetic editing. Some were intended as statements on the superficiality of fame – such as those where she receives Botox (which ended up being banned from some UK music channels) – but a lot of it appears, at first glance, quite random. It wasn't, though. If parts of the video looked familiar, that's because they were. Shortly after it was released, Samuel Bourdin filed a lawsuit claiming Hollywood used imagery and poses from at least 11 pieces of his late father (fashion photographer Guy Bourdin) 's work. It's not disputable; some could perhaps be put down to coincidence in isolation, but most are very specific, like a television with legs sprawled on either side of it, a woman lying on a pink bed in front of a mirrored wall and others where a large green fitness ball is used as a prop. A settlement was reached with Samuel Bourdin allegedly being awarded $600,000. However, this all seemed to have been done with the intention of respectfully paying homage to the source material, fair use or not.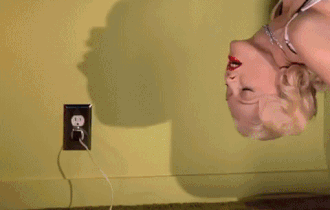 In most circumstances, Hollywood might have gone down as a lesser-remembered – perhaps even unremarkable – single from Madonna's career. Instead, it remains woven into the fabric of '00s popular culture thanks to the 2003 MTV Music Video Awards. The show opened with Britney Spears and Christina Aguilera singing Like A Virgin, just as Madonna had done in 1984. That alone was a big deal; the pair had shared the stage before but not like this. To see them performing together and recreating the original choreography remains an utter sight to behold. As does Mary J. Blige's dislike of Christina Aguilera being memorialised by her completely deadpan reaction. However, it's nothing compared to what happened next.
Madonna enters the stage dressed as the groom – rising through a giant wedding cake, no less – she breaks into a remixed version of Hollywood. Though it's not necessarily the most flattering for her voice, that's largely irrelevant because her presence is all-consuming. Madonna's demeanour exudes control of the stage, the audience and the narrative. There's an unshakable sense from the tension – as sexual as it is situational – that something is going to happen. As the music dips, she leans over to kiss Britney Spears and Christina Aguilera in turn, though the latter is barely shown because the camera instead cuts to a stone-faced Justin Timberlake in the audience. There was so much baggage here and didn't the VMAs know it. The sequence is orchestrated so that there's just enough time for everyone to clock what has happened before Missy Elliott bursts out of the wedding chapel performing Work It.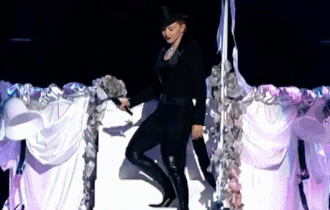 The finale sees all four come together to recite probably the most pertinent lyric in Hollywood: "Music stations always play the same song, we're bored with the concept of right and wrong". It was true for them all to varying degrees. Christina Aguilera and Missy Elliott were both enjoying periods of commercial success but had to overcome challenges in picking up mainstream airplay beforehand. Britney Spears, meanwhile, had been (unofficially) dropped by Clear Channel – who owned a wide number of radio stations – after the company stopped being used as her tour promoter, meaning a lot of her singles at the time were failing to chart. Madonna was also seeing dwindling support, so it's almost a shame the track doesn't go in harder on this particular theme. There was always a degree of snobbishness towards pop acts, which often resulted in radio airplay factoring far less into the overall success of their singles (and rarely reflecting the album sales they achieved).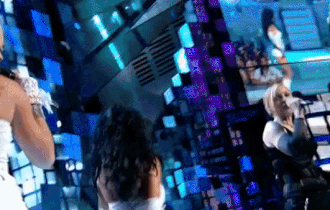 But artists like Madonna also had – and still have – to contend with age being seen as a barrier for playlisters; if there is a point where male artists are deemed 'too old' for radio, it's much higher than that imposed on women. And while the same is also true of the UK, the situation is far less pronounced because airplay doesn't directly impact the chart. American Life was not the best way to make this argument because it doesn't necessarily jump out as a radio-friendly collection of material. However, there's absolutely no doubt that it was given far shorter shrift because of who Madonna was; and that was proven beyond doubt when she released Confessions On A Dancefloor a few years later, only to experience a similarly begrudging reception.
There was an irony here, of course, because Hollywood's commentary was aimed – in part – precisely at those Warner Bros was hoping to attract with the single. Thus, it's perhaps not entirely surprising that much of the song's success in America came from physical sales and its popularity on the dance chart thanks to a slew of remixes. Airplay, on the other hand, was modest to the extent that Hollywood became Madonna's first single in 20 years not to reach the Billboard Hot 100 and did very little to improve the fortunes of American Life. Contrastingly, the track peaked at #2 in the UK, and though the album didn't exactly see a significant upturn, it stabilised around the lower end of the top 40 for several months, which – if nothing else – took the edge off of things somewhat.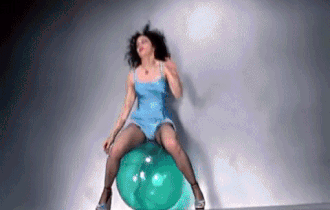 Tellingly, as much as the VMAs are intrinsically tied to the narrative of Hollywood, the ensuing publicity didn't lead the track itself to gain any momentum as a result. Instead, the entire performance became defined by that one moment. And yet, it's hard not to feel that was more or less the intention from Madonna's perspective. She was savvy enough to know her current position had no quick fixes. And having been no stranger to controversy throughout her career, she also knew how to whip the media into a frenzy. The response to American Life might have been muted, but in the space of five minutes, Madonna ensured she was not about to be ignored.
As a potential hit single to rescue an ailing album, there are flashes of commerciality within Hollywood that made it the obvious track to release (though whether it's the best is widely debatable). However, there's also a sense from Madonna using the song to (rightly) call out habitual, entrenched radio trends that its fate in America had already been sealed, and very little was going to change that.
---