Released: 14th April 2003
Writers: Madonna / Mirwais Ahmadzaï
Peak position: #2
Chart run: 57-2-12-20-25-35-43-50-67-70-48-45
Billboard Hot 100 chart run: 90-74-67-37-52-71-71-86
---
Having re-asserted herself as a major pop player with Ray Of Light and Music, Madonna was riding a commercial and creative high in the early '00s. But with American Life things came crashing down spectacularly, marking one of the most morbidly fascinating periods of her career.
Pop music and politics have a chequered history, but in the late '90s, some distance was put between them. Our bubblegum pop stars received extensive media training so as not to have an opinion on, well, anything that could be perceived as remotely contentious. Even a seemingly throwaway comment – like Geri Halliwell infamously declaring Margaret Thatcher the first Spice Girl – could cause ripples that are still felt decades later. However, the events of 9/11 relaxed the rules somewhat, allowing anyone and everyone to speak out – within reason – on the atrocities.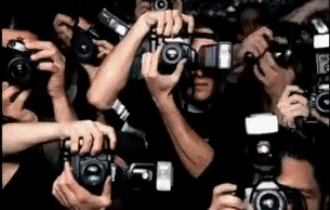 Madonna was, of course, never so bound by the same rules as the fresh-faced pop stars emerging in her wake. Her reputation was built on outspoken defiance and daring to push boundaries. Even so, with American Life, she took that to a new extreme. Not just lyrically, but musically as well. The cold, hard electronica was not a complete surprise. After all, Madonna collaborated with Mirwais on the Music album, and he'd already introduced a palpable shift towards that sound. However, this time around, there would be no additional producers to soften the impact. A further warning shot was fired in 2002, with Die Another Day. The single was a commercial success but – much like the Bond film it soundtracked – divided critical opinion with its sparse, futuristic sound. At this point, almost any other act would have been tempted to play it safe. But this is Madonna we're talking about and true to form; she did nothing of the sort. Thus, American Life was unveiled as the title track from the album, and it was every bit as confronting, challenging and unintentionally amusing as a lead single could be.
This was a brave stance to take. 9/11 was treated as an attack on the "American Dream", and while many rushed to defend it, Madonna instead stepped back and questioned what it stood for. As the threat of military action loomed, the political discourse had turned into a dichotomy of good vs evil. But American Life was trying to offer some perspective because things were never quite so perfect as the ideal being portrayed. However, valuable – and still relevant – that dissection of modern values is, it was probably still a bit too soon to approach the subject matter in the way that Madonna did. Nevertheless, this was a conversation she wanted – and needed – to have.

And she goes straight for the jugular; the opening gambit: "Do I have to change my name? Will it get me far? Should I lose some weight? Am I gonna be a star?" is so on the pulse. It came shortly after American Idol debuted to huge TV ratings and at the dawn of a new era of pop music, where eager hopefuls were swarming to TV talent shows. But American Life wasn't just a vessel for Madonna to tear into popular culture. It's also an insight into her struggles with the unwritten rules of the music industry: "I tried to stay ahead, I tried to stay on top, I tried to play the part, but somehow I forgot, just what I did it for". Now in her forties, she was facing an uphill battle for radio stations to play her music for no other reason than she didn't fit their perceived demographic. There's frustration, bitterness and also some real sadness palpable within American Life. At times Madonna almost sounds dejected at the realisation that however much she'd achieved within her career, the bar for success was going to keep rising higher and higher.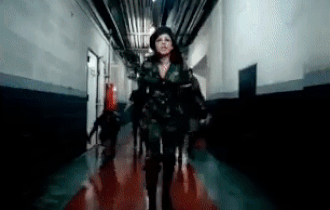 Despite the soul-searching lyrics pulling no punches, it's the production of the song that makes an immediate impression. It proved to be extremely divisive, and it's not hard to see why. The track attempts to fuse two distinct genres of music (folk and electro) into a single piece of music. The verses are delivered with purpose, amid a sea of squelchy blips and bleeps. Meanwhile, the chorus is a floaty, dreamy, stripped-back – almost acoustic – affair. The individual components work, but sometimes, the difference between them is so vast that it never quite feels the two genres melded as well as was intended when they sit next to each other. That leaves American Life in no man's land; it's not uptempo enough to dance to, but it's not ambient enough to relax to. What is inarguable though, is the quality of Mirwais' work; for a song that is the best part of two decades old, it still sounds phenomenal. Even if the shift in tone is jarring, there's such a quality to the production. The sound of space-age lasers flying around American Life with unpredictable vigour remains a delectable treat to the ears.
But the rap. Oh, lordy, the rap. Along with the production, it's probably the first thing that springs to mind about the song. It's bad. It's really, very bad. The story goes that it was unplanned – which we can well believe – and was essentially Madonna entering into a stream of consciousness where she just rambled about anything and everything that came to mind. Shallow and vapid is one thing: "I do yoga and Pilates, and the room is full of hotties, so I'm checking out their bodies, and you know I'm satisfied", but there's a more fundamental problem. The biggest issue with the rap – and it's hard to isolate just one – is that it undermines the very point American Life was trying to make. As Madonna reels off: "I got a lawyer and a manager, an agent and a chef, three nannies, an assistant, and a driver and a jet, a trainer and a butler, and a bodyguard or five, a gardener and a stylist, do you think I'm satisfied", she loses the room. You really can't diss other people's misplaced values, when you're boasting about being the very epitome of them. The rap is as ridiculous as it is iconic. And we love it for that. But let's be objective for a moment: this was Madonna at a commercial peak; you're supposed to laugh with her, not at her. It did so much harm to the overall product, and for an artist who had demonstrated she was acutely aware of the fickle nature of her industry, it's baffling that she would gift the naysayers an open goal.

At this point, it was evident that things had gone slightly awry. And that's before we've even discussed the music video. For, on top of everything else, this was the moment that tipped the scales for American Life and where it felt like things cascaded out of control. The music video – or, should that be videos – for the song form a large part of the infamy surrounding it.
The 'proper' music video was a huge political statement. Much of the media focus was on the fact that it glamorised war and was little more than a thinly-veiled attack on the then-president (one version of the video ended with Madonna tossing a hand-grenade and a George Bush lookalike using it to light a cigar). But that's a very superficial summation of the events. This is a cold, hard aesthetic where a series of catwalk models are seen modelling stylised military gear to a group of photographers. Madonna eventually gate-crashes the event – after a nifty dance sequence in the corridor backstage – and as the violence escalates, becoming increasingly bloody and brutal, the crowd and paparazzi become more and more rapturous. All the while, the action is juxtaposed against cutaway shots to real-life footage of families, children and soldiers from war-torn areas as a reminder of the real cost. Sure, the message isn't subtle, but it does have a point beyond shock-value. Of course, there's no way it would have gotten past the censors for daytime TV without significant edits. Not that things ever reached that point, for the whole thing was pulled.
The reason given was the timing of real-life events. Between the video shoot and its planned release, the Iraq war began following an invasion by a United States-led military coalition. The official line was that it was abandoned due to the sensitivity of the situation and to avoid the risk of misinterpretation. And while that may well have been a consideration, this felt primarily like a corporate decision that was strong-armed by label executives. Such a high-profile, provocative music video would no doubt have caused panic behind-the-scenes. There were no easy answers, but what didn't help matters was the eventual alternative.
A replacement video was quickly created using flag footage, which appeared in the original. Clearly, there was little time – or money – to create a full replacement, but even so, watching Madonna superimposed in front of CGI flags to perform the song for four minutes was entirely uninteresting. There's no doubt that American Life was a complicated moral and political minefield to navigate. Still, at the time, it felt like a ballsy pop pioneer who influenced and inspired so many had relented and backed down. Time has – however – been more flattering to the original video treatment. The political discourse surrounding the events it portrayed has changed drastically in subsequent years. And while it remains unreleased, Madonna still deserves kudos for a message that feels astute and profound, even if it did cut a bit too close to the wire back in 2003.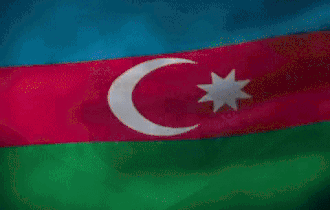 Considering the pre-release hiccups, American Life was still a top ten single in most territories around the world. If you took things on face value alone, then this very much seemed like business as usual. In the UK, it debuted at #2 and even charted on imports to reach #57 the previous week. But dig a little deeper, and there were some causes for concern. The track sold 30,000 copies to wind up behind Room 5 and Oliver Cheatham, who were spending their fourth – and final – week at #1 with Make Luv. At that point, the momentum of a brand-new Madonna single probably should have been enough to grab the top spot. American Life's commercial performance was further hampered by the release of the album the following week, and it exited the Top 40 after just five weeks. In America, the single peaked at #37 on the Billboard Hot 100, marking the worst performance of a lead single for Madonna since Everybody failed to chart way back in 1982.
This would be a tumultuous time for Madonna as she grappled with her reputation as a legacy artist, while at the same time trying to remain a relevant chart force. But, say what you like about American Life (and many have, over the years) there have never been any apologies for it. And nor should there be. It's tremendously inventive, even if it doesn't always land as intended.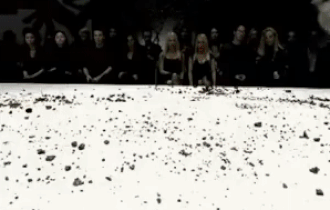 Indeed, there is a sense that if she had her time over, Madonna would do it all the same again. Like it or loathe it, indifference was never an option for American Life. And she wouldn't have it any other way.
---