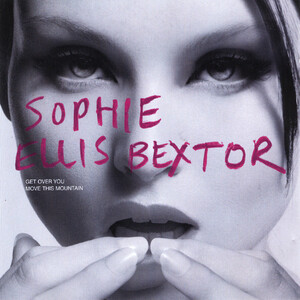 Released: 10th June 2002
Writers: Sophie Ellis-Bextor / Rob Davies / Henrik Korpi / Mathias Johansson / Nina Woodford
Peak position: #3
Chart run: 3-11-13-18-24-31-43-62-61-61-65-50-59
---
After releasing just two singles from her debut album, Sophie Ellis-Bextor was caught up in a musical identity crisis. But that was swiftly resolved when she recorded some additional material, and Get Over You ensured the hits kept on coming.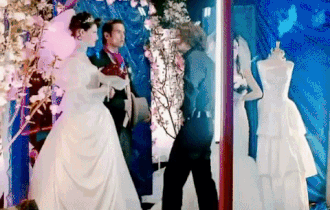 In most circumstances, it wouldn't reflect particularly well on an album when two of the four singles released from it were added halfway through the campaign via a re-issue. However, in Sophie Ellis-Bextor's case, the issue was not so much with the quality of Read My Lips but with what people expected from it. Take Me Home and Murder On The Dancefloor painted an image of radio-friendly disco-pop; thus, it was rather a surprise to instead find an album largely preoccupied with synth-laden '80s electronica. And with a co-writing credit on every song, there's no reason to think this isn't the style Sophie Ellis-Bextor intended. Whether she planned on being positioned as such a commercial act, on the other hand, isn't quite so clear, even though that's where she ended up. Sustaining that position would be incredibly difficult with Read My Lips as it was given there were no other obvious singles to pick from. And the album was already on a downward trajectory despite having risen to a new peak of #3 in response to Murder On The Dancefloor.
Thus, two new songs were recorded: Get Over You and Music Gets The Best Of Me, with the former chosen as the next release to coincide with a repackaged version of Read My Lips. Both had the advantage of being more finely attuned to the sound and image that Sophie Ellis-Bextor projected, which pays off hugely. Get Over You, in particular, is precisely the kind of spiky pop track that some early buyers of the album might have felt was lacking. It bursts into life with a distorted: "Aye-aye-aye-aye" refrain, meticulously crafted to identify the song in less than a second. But, perhaps most importantly, what's immediately apparent is that this isn't just a hasty rewrite of the previous singles.
Get Over You is bristling with some achingly cool elements: the undertone of French house production, mixed with electro synths that erratically work their way to prominence at various points during the track. Sophie Ellis-Bextor is also able to play up her aloof, posh persona by delivering a withering – yet oh-so-polite – dismissal: "I've let you stay a while, now I am getting bored, no substance in your style, and you're not the man you thought that you were". It never feels that she's taking herself too seriously, though. There's a wry glee exuded by Get Over You, like the over-accentuated pre-chorus: "You had me taken IN, but know I've found you OUT, and I won't go through that again; you've always had to WIN, you'll have to go with-OUT, you don't know where to STOP…", that shows Sophie Ellis-Bextor can be fun without sacrificing credibility.
And nowhere is that more accurate than the chorus, with its appropriately quaint parting shot: "Go, go, go, go, go, I'll get over you, you drive me crazy up the wall, think you're Mr know-it-all…". There's a wonderful juxtaposition between the opulent production and the matter-of-fact lyrics that characterise Sophie Ellis-Bextor's distinctively quirky charm. And it stood out as ever so slightly testing the boundaries of what mainstream pop stars could look and sound like. That is, perhaps, why Get Over You doesn't feel jarring or objectionable as a late revision to Read My Lips. Sophie Ellis-Bextor now had a licence to create music like this, and it was fascinating to see how creatively she responded.
Coming as a mid-campaign relaunch for Read My Lips, the music video for Get Over You is brilliantly realised in continuing to cement Sophie Ellis-Bextor's identity while creating a visual impact. She's shown as a bridalwear shop window mannequin – surely a knowing nod to her frequently-commented-upon angular facial features – who comes to life and struts through a neon-infused retail district. There's such attention to detail in the make-up; Sophie Ellis-Bextor and the extras have a suitably waxy, plastic appearance and are choreographed to move as though their joints are hinged. She escapes the display – with a dramatic explosion of glass – and, now in proper human form, peels off her wedding dress to reveal a vivid pink outfit. Walking along the street, Sophie Ellis-Bextor casually flicks her hand towards the other storefronts, which (audibly) explode as other mannequins join her. It would have been easy – perhaps even tempting – just to have everyone else turn human and start adopting more natural movements too. Instead, a steadfast commitment to the style, which remains consistent throughout, makes the video impressionably striking. Any misgivings about Sophie Ellis-Bextor's ability to maintain her commercial presence suddenly seem redundant.
In the UK, Get Over You was released as a double-A side with Move This Mountain, which was a fitting combination of tracks that showed the two extremes of the album. However, this song commanded almost all of the attention in terms of promotion and airplay. The single peaked at #3, and though it only spent one week in the top ten, that can probably be explained by Read My Lips being re-issued the following week. Nonetheless, Get Over You/Move This Mountain held up relatively well, with total sales of 113,000 copies, making it the 89th biggest hit of 2002. This is also Sophie Ellis-Bextor's fifth most successful single overall.
Of course, the real focus here was on the album and whether the addition of new material could reignite interest and confidence in it. Although the new tracklist looked drastically different from the original, this was mostly a case of adding in the two new songs – plus a live version of Groovejet (If This Ain't Love) – and reordering the existing material to flow more coherently. It worked really well, too. Read My Lips still feels like the album Sophie Ellis-Bextor had wanted to create and just presented in a more accessible way thanks to a better balance of radio-ready hits and a less top-heavy ordering. The response was deservedly positive: Read My Lips reached a(nother) new peak of #2 and went on to sell more than 800,000 copies in total.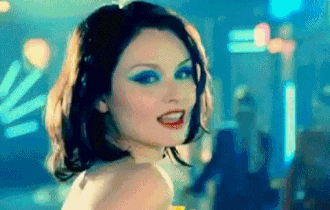 It might have taken a little while to get the formula just right, but Get Over You marked the point where everything felt like it was confidently falling into place for Sophie Ellis-Bextor.
---