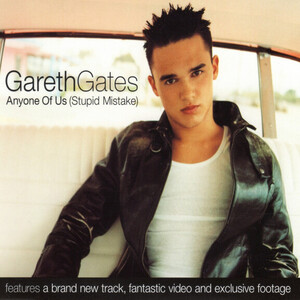 Released: 8th July 2002
Writers: Jörgen Elofsson / Per Magnusson / David Kreuger
Peak position: #1
Chart run: 1-1-1-2-4-9-11-17-21-26-36-43-52-57-61-68
---
If there was any doubt that Gareth Gates had been earmarked as the likely winner of Pop Idol, then look no further than his second single, which came courtesy of some impressive Swedish songwriting talent.
The first series of Pop Idol was a landmark moment for TV talent shows. While many aspects of it were refined and polished during subsequent iterations of the genre, the one thing that remained the same is the importance of finding suitable material for the emerging act(s). Of course, that's easier said than done because – as Will Young's victory amply demonstrated – there can always be a last-minute plot twist. Nonetheless, 19 Records didn't miss a beat. They signed Gareth Gates as the runner-up, seizing the opportunity to release Unchained Melody as his debut single just three weeks after Evergreen/Anything Is Possible. It seemed the stars had aligned for the label, as the seven weeks the two songs spent atop the chart yielded a staggering combined total of 2.75 million sales. So far, so good. But it became apparent just how ill-prepared 19 Records were for this outcome when it came to the follow-ups. Will Young's cover of Light My Fire – terrific though it is – has an air of nobody being quite sure what to do next, particularly when compared to Anyone Of Us (Stupid Mistake).
Put simply, the track – written by former members of the now-disbanded Cheiron Studios team, Jörgen Elofsson, Per Magnusson and David Kreuger – totally understands the brief of who Gareth Gates is and what market he was aimed at. His debut album featured a lot of crossover with Westlife's earlier material in terms of songwriting credits, and that was precisely the route Pop Idol had primed him to follow. With the look of a Justin Timberlake or Nick Carter-esque younger boyband member who drove fans wild with his doe-eyed sincerity, Anyone Of Us (Stupid Mistake) was the ideal outlet to channel his appeal. The team behind the song knew precisely how to utilise it, having proven themselves to have mastered this particular formula.
Indeed, the track is so proficiently crafted that it establishes a situation where Gareth Gates has cheated, but brazenly pushes the blame elsewhere to make him a victim: "She was kind of exciting, a little crazy I should've known, she must have altered my senses, 'cos I offered to walk her home". By casually – and somewhat dubiously – sidestepping that indiscretion, he's able to re-affirm his commitment during the (savage) middle-eight: "She means nothing to me (nothing to me), I swear every word is true, don't wanna lose you". Thus, before you know it, Anyone Of Us (Stupid Mistake) has successfully reinforced Gareth Gates as the dreamy boy-next-door and – if at all possible – made him even more endearing than he already was.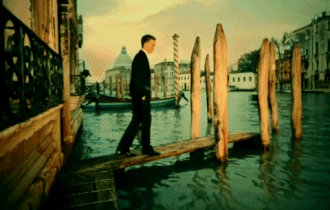 It helps that the song packs some classic Swedepop hooks; the sweeping chorus: "It can happen to anyone of us, anyone you think of, anyone can fall, anyone can hurt someone they love, hearts will break, 'cos I made a stupid mistake…" is peak-era Cheiron, and hasn't lost any of the twinkling charm. However, Anyone Of Us (Stupid Mistake) also feels intentionally designed to ensure it is, at all times, a showcase for Gareth Gates. He's never lost among the production and is given ample opportunity to show what a great pop singer he is. The inevitably un-subtle key-change isn't necessarily the best example of this as he simply yells: "AAAAAAAAAAH-Ah-Ay". Beyond that, though, the final minute is peppered with satisfying ad-libs ("Say you will forgive-uh-me, oh yeah!") and the climactic: "'Cos I made a stupid MISTA-A-A-A-A-HE-E-E-EY" is one of those self-actualisation moments in pop music where everything comes together in the most perfectly imaginable way.
It's a testament to how well suited Anyone Of Us (Stupid Mistake) is to Gareth Gates that there's never really any need to ponder whether it could have been recorded by Britney Spears, *NSYNC or Backstreet Boys a few years earlier. But the song is easily good enough to have been a standout album track, perhaps even a latter-campaign single, from their respective turn-of-the-century efforts (fittingly, Gareth Gates covered the rather good Britney Spears B-side Walk On By for his debut album). There is, however, one niggling flaw with Anyone Of Us (Stupid Mistake), which has nothing to do with the song itself. The grammatical misuse of 'anyone' instead of 'any one' is understandable as one of those finicky rules in the English language where two words might appear interchangeable but aren't. So, surely someone – anyone – could have politely pointed it out. Especially given Gareth Gates clearly emphasises two separate words, and the resolution is nothing more than a case of putting a space in the title, rather than re-writing or changing the meaning of the lyrics. With cleverer wordplay, the song's title could almost be explained as a witty commentary on itself. But no, in this case, it's just a typo.
In almost every respect, Anyone Of Us (Stupid Mistake) is a faithful extension of the '90s/'00s pop bubble. That is, until the music video. It was filmed in Venice and features a city-wide masquerade ball, which Gareth Gates wanders around while dressed in a dinner suit and gazing forlornly into the camera. The concept doesn't have anything to do with the lyrics, but it's nonetheless perfectly functional and provides some desirably scenic shots. However, there are some aggressively safe marketing choices here that give a fascinating glimpse into the thought process behind a lot of the early Pop Idol and X Factor winners. Anyone Of Us (Stupid Mistake) isn't an explicit song but deals with physical attraction, nonetheless. Yet, there's such care taken to ensure nothing about the visuals could be deemed remotely provocative; instead, Gareth Gates is portrayed in the most chaste manner possible. When women are shown to be peering at him, there's barely any acknowledgement and no reciprocation whatsoever, which creates a sense of them preying on an innocent and oblivious teenager from behind their masks. The video hones in on Gareth Gates's ostensible vulnerability. It may be a flagrantly calculated exercise in keeping his hordes of fans (and their mums) on-side, but there's absolutely no doubt that it worked.
There was no surprise when Anyone Of Us (Stupid Mistake) soared to #1. However, what's notable is that Gareth Gates was in a stronger commercial position than Will Young for a brief moment. The track sold considerably more copies – 240,973, to be precise – than Light My Fire did during its first week (176,707). Furthermore, total sales of 573,125 made it the sixth biggest-selling single of 2002. By comparison, Light My Fire was 16th, with 350,000 copies. Yet, this should never have been seen as a discourse about whether the right or wrong person won Pop Idol. Instead, the real lesson here was what can happen when an artist is given the right material to work with. Yet, it took a puzzlingly long time for record labels to make that link. The majority of the '00s was spent with TV talent show contestants having to wade through a lacklustre debut album before being afforded the chance to realise their potential (if they even made it that far).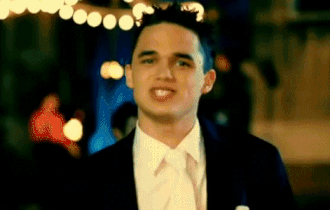 Despite Anyone Of Us (Stupid Mistake) demonstrating that 19 Records had a firm handle on Gareth Gates and his audience, their next move was to have him record a cover of The Long and Winding Road as a duet with Will Young. Both acts commanded sizable fanbases, but it was an off-brand move that surely few had a strong desire to see happen. Suddenly, this single seemed like a case of serendipitous good fortune.
---