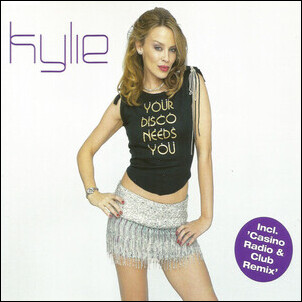 Released: 22nd January 2001
Writers: Kylie Minogue / Guy Chambers / Robbie Williams
Peak position: #152
Chart run: 191-152-200
---
Kylie Minogue has amassed an impressive list of popular and enduring singles during her career. Among them is Your Disco Needs You, but this one is a little different because it was never actually released in the UK at all.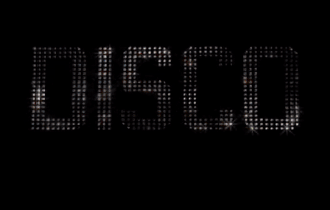 As the Light Years campaign drew to a close, Kylie Minogue's comeback could scarcely have gone better. After Spinning Around topped the chart, it was followed by back-to-back #2 hits On A Night Like This and Kids, while the album itself had become her biggest selling since 1989's Enjoy Yourself. It seemed she could do no wrong, and a fourth single was planned. Butterfly was initially mooted as a possible choice before being deemed too dance-oriented (ironic as it bridges the gap perfectly into Fever). However, right in the middle of Light Years sat a very obvious choice: Your Disco Needs You. This was logical not just because of the kind of song it is – a big, bold, outrageously camp disco-anthem that is impossible to ignore – but the team behind it. The track was co-written with Guy Chambers and Robbie Williams, who had also been responsible for Kids, which (whether you love it or hate it) went on to spend almost five months on the chart. Remixes were commissioned, a music video was filmed…and then we got Please Stay instead.
Controversially, Parlophone opted not to release Your Disco Needs You in the UK because they feared the song was 'too camp' to avoid Kylie Minogue being pigeon-holed as a gay-interest pop act. Of course, in hindsight, it's easy to scoff at such a suggestion knowing Can't Get You Out Of My Head was just around the corner. And it does feel problematic that such logic even factored into the decision-making of a major label. Maybe – just maybe – it was a strategy that paid off, though. Is Kylie Minogue any less adored as a gay icon in the absence of Your Disco Needs You as a 'proper' single? Absolutely not. Had this been released instead of Please Stay, would she still have enjoyed the period of global domination that followed Light Years? Probably. Yet, she equally wouldn't have been the first – or last – act to find herself sidelined from the mainstream and perceived as appealing to a niche demographic. However, frustrating it is that Parlophone appeared to buy into the connotations of Your Disco Needs You as being negative or undesirable; it was nonetheless symptomatic of the way the industry and wider media functioned – quite openly – at the time.
In the few territories where this single was released, the Casino and Club Radio Remix was used rather than the album version, although structurally, they're not wholly dissimilar. Indeed, with a heavier beat and smatterings of vocoder throughout, the entire thing feels even more jubilant. Robbie Williams' bravado courses unmistakably through Your Disco Needs You and is a vital part of what makes it function so effectively. The song came at a point – three albums into his solo career –where he was still going bigger and bigger with each release. Thus, it's composed and arranged from a place of unwavering self-belief. There's never any question as to whether this has the credentials of a genuine disco anthem because it's immediately so absurdly brash and larger-than-life – with a male choir chanting: "Your disco! Your disco! Your disco needs you!" – that it can't possibly be anything but.
As heightened as Your Disco Needs You is in every respect, it's able to switch up the tone of its lyrics without warning. In one moment, it can be truthfully knowing: "Desperately seeking someone willing to travel, you're lost in conversation and useless at Scrabble", then playfully tongue-in-cheek the next: "Happiness will never last, darkness comes to kick your ass (ASS!)". It's a triumph of pomp and pageantry: "So let's dance through all of this, war is over for a bit, the whole world should be moving, do your part, cure a lonely heart", with Kylie Minogue using the spoken middle-eight – in French, of course – to rally spirits in a cry of allyship: "Vous êtes jamais seuls (you are never alone), vous savez ce qu'il faut faire (you know what to do), ne laissez pas tomber votre nation (don't let your nation down), la disco a besoin de vous (the disco needs you)". The whole thing is steeped in the most unabashed, wonderfully ridiculous melodrama possible. And Kylie Minogue fully embraces and commits to it every step of the way.
Amid everything else going on here, Your Disco Needs You also contains some of the most impressive vocals she has ever delivered, which are quite unlike those typically associated with her. The soaring – almost operatic – mid-section: "Ooh-ooh-ooh-ooh, ooh-ooh-ooh-ooh" pushes Kylie Minogue into a higher range. And over the closing strains of the final chorus, she goes further again. On the studio recording, it's easy to presume you're listening to one of the (many) additional singers who are part of the production. But there's no mistaking when Kylie Minogue performs Your Disco Needs You live; that is her voice going far beyond the perceived limitations of what she can do. And once you've seen her belt out those notes, you'll never look at her in quite the same way again.
The music video for Your Disco Needs You doubles down on everything Parlophone were trying to avoid in not giving the song a wider release. It uses a lot of mirrored and looped sequences – multiple Kylie Minogue's marching in formation or choreography shot from overhead and arranged in heart shapes – to generate a series of effects that feel authentic to the disco genre. In that respect, it works, and there's no denying that the editing creates something engrossingly hypnotic. However, it doesn't fit with the Light Years campaign at all. Some of the styling (particularly the red top with coattails, giant red belt, American flag print trousers and white mid-calf boots-combo) veers more on the side of naff than it does homage.
Some additional scenes were later filmed, featuring Kylie Minogue dancing in a room of balloons and around a pole, which were inserted into the original to accompany the single's release in Germany. Presumably, the intention was to try and tone things down a bit, but it results in a video that literally looks like two different shoots spliced together. There's not even any consistency in the aesthetic quality: the original visuals are vivid, while the extra shots have slightly more faded textures. If it's indeed true that Kylie Minogue was dissatisfied with the finished product, it's not hard to see why. Much of this was likely circumstantial, though. Would Your Disco Needs You still look the same if it replaced Please Stay as the fourth single proper from Light Years? Most probably not. Alas, the decision had already been made by this point.
Although Your Disco Needs You wasn't officially released in the UK, import sales saw the track spend three weeks in the top 200 and achieve a peak of #152. It's hard to know either way how much of a missed opportunity this was, mainly since the single was only ever pressed in limited quantities to start with (it peaked at #20 in Australia). Nonetheless, it's evident that demand existed at the time, and its appeal hasn't waned in the years. As of 2019, Your Disco Needs You had achieved sales of 20,000 in the download era and has been streamed more than a million times.
If there's an upshot, it's that Your Disco Needs You subsequently attained something of a cult status as the song that wasn't allowed to be a single. The lack of a commercial release in the UK has never stopped it from being a staple of gay clubs. And despite – or perhaps thanks – to its notoriety, Kylie Minogue ensures the song is not hidden away. It frequently appears as a celebratory spectacle within her tour setlists. Every time, there's a satisfying moment where some of the audience react with utter bemusement while others go wild. In many respects, those qualities elevate Your Disco Needs You and speak more highly of what it represents than a (decent) chart position and sales ever could have.
---