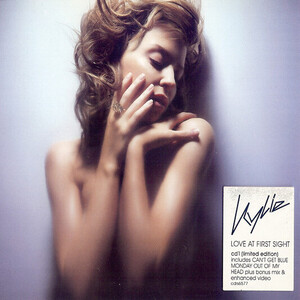 Released: 10th June 2002
Writers: Kylie Minogue / Richard Stannard / Julian Gallagher / Ash Howes / Martin Harrington
Peak position: #2
Chart run: 2-8-11-21-33-40-46-44-51-46-52-74
Billboard Hot 100 chart run: 95-88-83-78-73-59-49-31-30-25-23-30-52-64-78-92
---
Kylie Minogue's Fever album will rightly always be defined by the success of Can't Get You Out Of My Head. However, in terms of a song that has arguably had a greater influence across her subsequent material, it's actually the third single – Love At First Sight – that established a new formula for success.
If it's even possible to pinpoint the moment Kylie Minogue became a megastar, there's a solid case to be made for that iconic performance of Can't Get Blue Monday Out Of My Head at the 2002 Brit Awards. Not only did it coincide with Fever debuting at #3 in America – meaning the album was now a truly global success – but the decision to use such a high-profile appearance in this way went right to the heart of how cleverly constructed the campaign was. Mash-ups were not a new thing, of course. Still, many existed only as bootlegs, and those that made it to the charts often did so without the involvement of the original artists (The Ladyboy Is Mine) or got tangled in disputes over rights and royalties (Toca's Miracle). For Kylie Minogue to stand on the Brits stage and reinterpret her own song so shortly after its release made a huge statement. This wasn't just about celebrating the success of Fever – as she would have been fully entitled to do – but also acknowledging that it existed as a product of wider influences. Furthermore, the perception of albums as a finite, static body of work was rejected, instead opening up the possibility that they could evolve before our eyes.
Which brings us nicely onto Love At First Sight because, in many ways, it epitomises that very same approach as the third single from Fever. You can very much hear the influence of Daft Punk's Digital Love running through the track, which feels entirely deliberate. This isn't a veiled attempt to emulate the song or lift specific elements and pretend that Kylie did it first. Instead, Love At First Sight is simply an expression of how her current material has exposed to nu-disco/French house components and subsequently how that sounds when it's filtered down to create a mainstream pop song with intentionally broad appeal. That's the key here because fundamentally, Love At First Sight is a Kylie Minogue song before it is anything else.
The production here is utterly sublime; few moments compare to that euphoric rush as the fade-in intro explodes into a distorted, chopped synth melody, which essentially becomes the secondary vocal track. It seems almost bizarre to describe an instrumental as having its own identity, but in this case, it's absolutely true and so clearly defined that you can (and will) sing along with it. The way the melody simmers along in the background and then returns to the fore during the breakdown where it merges with Kylie's voice is so exceptionally well thought-out and gives a real sense that the song itself is alive and part of the performance. Love At First Sight is so good at what it does that it's entirely possible to overlook the complexity with which the song is woven together.
Most people will have heard the track countless times – thanks in no small part to how warmly it was received by radio – but take a moment and actually listen to it (with some decent headphones), and there is so much nuance here. For example, the middle-eight, with its muted, throbbing bassline and guitar chords, suddenly transports the listener from cool electro-pop to an Ibiza sunset…and then back again just as quickly. Even the fade-out – not usually a desirable way to end a song – works here, giving the impression that Kylie stayed on the dancefloor singing: "It was love, it was love, it was love, it was love; ooh, it was love, it was love…", carefree through the night and long into the morning
Love At First Sight is, at face value, a love song, and it certainly works in that context: "Thought that I was going crazy, just having one of those days yeah, didn't know what to do, then there was you". In the hands of most other artists, that's all the track would be. However, with so much history to draw on, it can further be read with a knowing nod to the past: "Was tired of running out of luck, thinking 'bout giving up yeah, didn't know what to do, then there was you". Indeed, the chorus has essentially become a mutual metaphor of the relationship between Kylie and her legions of loyal fans: "'Cos, baby, when I heard you, for the first time, I knew, we were meant to be as one". The timing was so perfect for the message to resonate. Thus, it's unsurprising that Love At First Sight has become the only other single from Fever to endure as a staple of Kylie Minogue's live setlists – usually near to the finale – because of its significance as both a joyous and profoundly emotional celebration.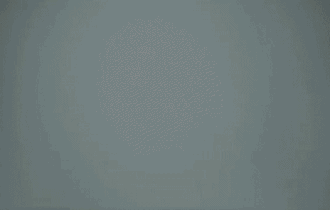 Given how well it connected, Love At First Sight made perfect sense as the second single from Fever in America. A very different version of the song was released: the Ruff & Jam US Radio Mix, which swaps the original production values for bouncy, squelchy synths. It's an interesting transformation in that if you were to compare the two side by side without knowing which territory they were created for, the Ruff & Jam US Radio Mix eschews almost everything you would associate with the American charts and sounds much more geared towards Europe. It's a much more bombastic take on Love At First Sight and not without charm. The synth melody goes full-on Daft Punk at one point, and the production is so frothy that it almost takes us right back to SAW-era Kylie. There's no doubt that it would stand out on the airwaves over the original, and it is indicative of her star-power that there was such confidence radio would even play it in the first place.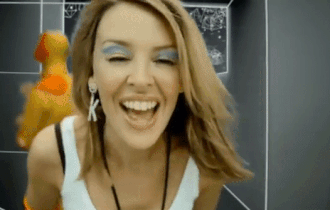 Inevitably, for an album campaign that has become synonymous with Kylie Minogue's brand, the aesthetic for Fever – which continued apace into the Love At First Sight music video – doesn't have the same impact now as it did at the time. It's been revisited, remixed, and reimagined countless times since, so it's almost hard to imagine, but this was something new and genuinely cool when the album came out. It still looks tremendous, mind. In many ways, the visuals here boil right down to the DNA of Fever, with a grey/white colour palette that is once again deceiving in its apparent simplicity. Besides some steps and raised platforms for the dancers, the video is mainly virtual. Any visible edges of the set are digitally rendered in thick white lines to create an Escher-esque space that is both defined and infinite. Despite the clinical colour scheme, there's something innately magical about a place that sits somewhere on the edge of reality and moves from day (if you can even call it that) to floating through space over four minutes.
Love At First Sight is often busy on-screen; the foreground and backgrounds are embellished with geometric shapes that vary in speed and complexity. Yet, the video never loses its sense of minimalism. It's presented as a single-shot take (although there are points where the camera pans upwards and downwards to allow a seamless cut), and any elements that are rendered – whether city skyscrapers or moon and planets zooming around a solar system – remain as white outlines. There aren't many music videos from the early '00s so heavily reliant on digital effects that would still (probably) look the same if they were created today, but how could Love At First Sight be improved or indeed done any differently? It's not a showcase for how good the technology was; instead, how effectively it could be used when coupled with stylish choreography and a pop star who looks like she's on top of the world; because she was.
Although Fever was wildly successful, it's still staggering to see just how that played out commercially. Love At First Sight sold 80,000 copies to debut and peak at #2 in the UK, a significant uplift on the 52,000 managed by In Your Eyes several months earlier. The single's arrival coincided with Fever returning to the top ten in its 37th week on the album chart, having never dipped any lower than #25. That Kylie Minogue was enjoying a career renaissance was news to no-one. Still, the way this manifested – going against the grain of almost every chart trend in terms of diminishing returns – was astounding. Love At First Sight unsurprisingly became Kylie's third consecutive #1 airplay hit (it was inescapable) and at one point even generated more plays in a single week than Can't Get You Out Of My Head did when it reached a new benchmark the previous year. At every turn, it seemed as if a new record was being set. The track even made a sizeable dent in America, where it peaked at #23 on the Billboard Hot 100 and, to date, remains Kylie's third-biggest hit there.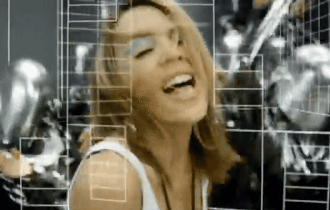 The legacy of Love At First Sight has been a bit up-and-down; there's no doubt that it experienced a degree of over-exposure. The thing with Can't Get You Out Of My Head is that it was a once-in-a-career song – and everyone knew it. Few artists would be lucky enough to record it – although S Club 7 and Sophie Ellis-Bextor did have the opportunity – and there was little point in trying to recreate it. However, Love At First Sight has never been deemed quite so untouchable. Over time, its essence (mainly the Ruff & Jam US Mix) has morphed into lowest-common-denominator Kylie Minogue material. The fact that songs like Wow, Get Outta My Way and Sexy Love are viewed as derivative descendants sums up how misunderstood the original has become. Those songs borrow some elements (and are not without their own charm), yet none strike the delicate balance between crisp, cool production and euphoric disco-pop in quite the same way. Putting them all under the same umbrella isn't necessarily a true reflection of Love At First Sight, and there's a reason why it remains prominent. This is a one-of-a-kind; a moment in time from an artist at the height of her powers.
---