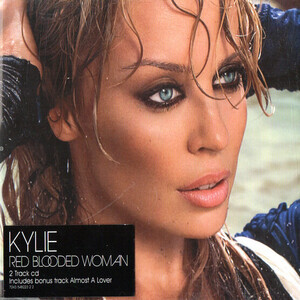 Released: 1st March 2004
Writers: Johnny Douglas / Karen Poole
Peak position: #5
Chart run: 5-8-13-19-27-39-50-62-69
---
The release of Red Blooded Woman carried a certain degree of expectation. This wasn't the first – or last – time that Kylie Minogue had to prove herself, but she really shouldn't have had to at this point of her career.
Alas, things had gone slightly awry with the Body Language album. The issue here was less one of quality and more of managing expectations. The runaway success of Fever inevitably mounted curiosity over the follow-up from a broader critical and commercial audience than those who might usually scrutinise new Kylie material. Many were expecting more or less the same album again; such was the accepted formula for late '90s/early '00s pop music. However, Body Language did not play by the rules and was instead a sample board of moody electro '80s synthpop. It took a while to digest, and the short-term knock-on effect was the album peaking at #6 and spending just eight weeks in the Top 75. Moreover, it left radio playlisters scratching their heads, lest we forget that three of the four singles from Fever topped the airplay chart.
There were no obvious safe second singles here, but the one closest to that description was Red Blooded Woman. That is not to say this was a backtrack into Fever's cool disco-pop because it most certainly is not. Instead, it draws influence from Timbaland's work on Justin Timberlake's Cry Me A River, creating a point of comparison to a current(ish) chart hit, which few other songs on Body Language had. Indeed, it's unlikely that Red Blooded Woman wasn't orchestrated with America in mind, given Kylie's profile there was the highest it had been since the 1980s.
In theory, this all makes Red Blooded Woman sound incredibly dour, as if it was the product of a record label focus group designed purely to engineer a hit. Yet, this isn't the case at all because the track largely avoids the pitfalls commonly associated with such a move. It's fun, it's coquettish, it's very Kylie, and perhaps most notably, even now, it doesn't sound like any other single within her back-catalogue. That is mainly due to the skittish production, which remains a highlight of Red Blooded Woman with scratchy vocal samples and a syncopated beat that contains prominent stabbing synths atop a subtly frantic secondary rhythm. When presented with this wall of sound, it's easy to overlook the intricacies, but there is a lot going on here. The similarities with Cry Me A River are unavoidable – heck, there's even a choral accompaniment thrown in towards the end – but the two songs manage to retain their own identities. It would be difficult to mistake either one for the other.
As ever, though, it is Kylie Minogue herself who is the core element that elevates Red Blooded Woman. This is an enjoyably playful performance, whether in the repeated: "Boy, boy" hook or the way she seductively purrs: "Count backwards 5, 4, 3, 2, 1, before you get too heated and turned on". Kylie asserts her sexuality and takes the lead in a manner that is teasingly light-hearted but generates some incredibly witty pop lyrics, like: "You'll never get to heaven if you're scared of getting high". Yet, while Red Blooded Woman may sit towards the more commercial edge of Body Language, it still fits thematically within the album and contains a nod to the era from which it had drawn such inspiration: "'Cause I can't focus, I can't stop, you got me spinning round, round, round, round (like a record)". While it is not entirely inaccurate to perceive this single as an attempt to make up some lost commercial ground, that doesn't do it nearly enough justice because it's exceptionally well put together.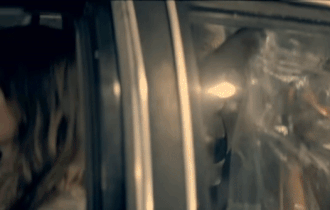 As indeed is the music video, which serves as proof that even global superstars sometimes get stuck in traffic, just like the rest of us. Kylie, however, does not spend four minutes honking the horn angrily. Instead, she exits her vehicle and makes her way through the traffic. Some of the best concepts are fanciful exaggerations of everyday mundanity, and this is no exception. It's terrifically fun and packed with attitude as Kylie struts down the road with dogs at her heels or dives into a car and changes into someone's dry cleaning (rude!). The video for Red Blooded Woman is distinctly less avant-garde than the other singles from Body Language – which was precisely the point – but it conversely feels like one with production values primed for the American market should the single get a push in that direction. It's not one of Kylie's most memorable visual treatments from this era, but it's still an enjoyable effort with a clear vision of what it was trying to do.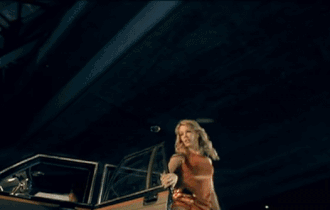 Red Blooded Woman was heavily promoted, but there were already signs of an unnecessary theme working its way into some of the interviews (Michael Parkinson, we're looking at you). In recent years, Kylie Minogue has sought to reclaim the discourse around age. Male pop stars are rarely asked how old they are, and neither are they asked to approximate how this dictates their image and identity within the music industry. Yet, the same is not true for women. Even back in 2004, interviewers were posing questions to Kylie as if it was unfathomable that a female popstar could be in her mid-thirties and not considering retirement. Fundamentally, it was a roundabout way of finding out whether she would continue to wear gold hotpants. Her objective stance on the matter – that being sexy is about more than just taking off your clothes – ended up being extrapolated as a prudish criticism of Britney Spears, who released Toxic the same week and was famously very naked in the music video. This created a sub-narrative to Red Blooded Woman that was as unnecessary as it was almost entirely fabricated.
Commercially, Red Blooded Woman was a solid success; it peaked at #5 in the UK and perhaps more crucially saw Body Language return to the chart and achieve its best position (#28) for three months. The impact was only felt for a short time – three weeks later, the album was gone again – but it was evident that the project was not beyond salvage with the right material. Whether Kylie Minogue was in the business of chasing hits is another matter altogether; picking Chocolate as the next single suggested not (Sweet Music had more potential, surely?). But whatever happened next, the precedent had already been set that the days of enthusiastically recycling her sound across a whole album was firmly confined to the SAW-era of Kylie's career. A rule of thumb that continues to this very day.
As is inevitable with a career spanning five decades, some singles have slipped a bit further from the public's consciousness than others. Red Blooded Woman has remained something of a mid-tier hit from Body Language; less iconic than Slow but certainly better remembered than Chocolate. In a sense, it perfectly represents the quandary that this era presented, where Kylie Minogue was trying to balance what was expected of her without compromising what she wanted to do. Look beyond that, though, and this is an enjoyable – perhaps even slightly underrated – effort.
---