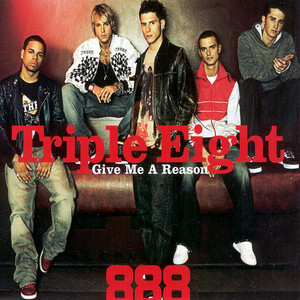 Released: 21st July 2003
Writers: David Eriksen / Wayne Hector
Peak position: #9
Chart run: 9-23-36-54-X-X-X-74
---
Although the early '00s isn't necessarily remembered as a classic era for boybands, it did yield some absolute gems. Triple Eight had already landed a top ten hit with their debut single Knockout, but it was the follow-up that proved to be their crowning glory.
Although Triple Eight had drawn first blood against D-Side – their debut singles peaked at #8 and #9 respectively – to suggest that there was any kind of battle between these boybands would be misleading. The truth is, whoever came out on top would only be doing so ostensibly because neither was likely to get close to the #1 spot. Not – we hasten to add – because of anything either act was doing wrong, but merely because there just wasn't the feverish market for pitching one against the other anymore. That didn't stop them trying, though, and Triple Eight really brought the goods with Give Me A Reason, fulfilling their promise to deliver credible pop music that wasn't ashamed of itself.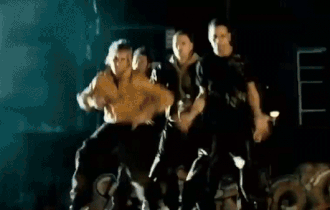 The track has the confidence to be entirely self-indulgent as it opens on a lingering, reverbed synth line that is utterly chilling. With a threatening whisper of: "Triple Eight…gimme a reason", juddering riffs tear through the intro. This feels like a statement piece modelled against the template of The Call or Stronger. There's an immediately heightened tone to Give Me A Reason. Yet, while the ambition of the song certainly feels grounded in yesteryear, the production does not. It firmly subscribes to the mid-'00s ethos adopted by many displaced pop acts and chucks a load of guitars into the mix in a bid to make everything okay. These were the hoops that Triple Eight had to jump through to be heard but at its heart, Give Me A Reason is a pure pop track that wants – nay, deserves – to be dressed up squelchy Cheiron-esque synths.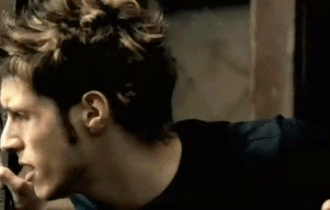 There are moments where the song defies convention almost at its own expense. For example, the pre-chorus goes on for an absolute age: "Used to believe everything you said, that's until I got to know you; in a little while saw the other side, always acting like I owe you; and when I think what could have been it's such a shame…but girl nothing stays the same, you know what I'm saying, tell me…". It nearly runs the risk of outstaying its welcome but is saved when – out of nowhere – Triple Eight drop a chorus that totally justifies the prolonged build-up.
Against all the odds, when it seemed as if giddy, hook-laden boyband choruses were a thing of the past, we get this: "Give me a reason to want you back, I… don't want you back, I…do better by myself; give me a reason, to take a chance 'cos I can't find a reason". Even the guitar riffs – pulsing gently in the background – tie in neatly. Context is everything here; stick Give Me A Reason on a playlist with Backstreet Boys, *NSYNC, Five, et al., and it wouldn't necessarily stand out as any better or worse. But that's precisely why this single is worth getting so excited about. In 2003 you just didn't hear songs like this anymore from groups who commanded a relatively high profile in terms of magazine and television coverage.
In that respect, Give Me A Reason delivers everything you could want. It's hard not to grin from ear-to-ear at the transition from the middle-eight where the vocals become a blip sound effect: "Now you're back but it ain't that easy, can you give me one good reason-uh-uh-uh-uh…". Meanwhile, the ad-libs that pepper the final choruses ("I don't want YOU, I don't need YOU, oh-OH…by MYSELF-oh-OH! Just give me a reason, YEAH! Oh-no-NO!…by MYSE-E-E-ELF") are imbued with the sort of urgency reserved only for boybands caught in a tangled web of melodrama, as was so often their predicament. Even though there was a sense that Triple Eight were probably a bit cooler than this, they still deliver every ounce of earnest sincerity that Give Me A Reason deserves.
In hindsight, this single does feel like it was constructed with the misguided belief that the boyband cycle was about to repeat itself. Particularly when it arrived so quickly after D-Side's Invisible, which was caught in a similar predicament. That was not to be the case. But it makes Give Me A Reason a much better song as a consequence. This would not be half the track it is were it to have started second-guessing who it was aimed at or how best to appeal to them. Leaving the pop-rock production aside – which was almost obligatory by this point – everything else here belongs to a different time and place, and that's why it works so well.
Perhaps the most impressive part of the whole package is the music video, which doesn't get nearly enough credit for its ambition. We were now deep into the era where sales were deemed to be in terminal decline, and a host of formats – like the £2 two-track single – had been introduced in an attempt to reverse, or at least halt, the downward trend. With less money to be made, the knock-on effect was a more modest approach to music videos, but you would not know it from Give Me A Reason. It features Triple Eight trying to escape from a Predator-esque creature, and each sequence ends with one member of the group transforming into another. There's lots of face-peeling and unzipping, which is vaguely disturbing, and it's evident that a reasonable budget was put into the video as Triple Eight are tossed around and thrown through windows by an invisible presence. Again, it's the sort of concept that draws on the work – and is a convincing descendent – of the Backstreet Boys and *NSYNC at their height. The atmosphere is spot-on; the choreography is impressively slick, and if MTV was still playing music videos, this one would've been destined for heavy rotation.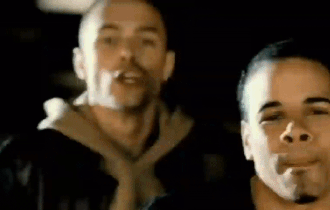 Triple Eight promoted Give Me A Reason hard and earned a second top ten hit for their efforts. The single peaked at #9, which is where we have to start rationalising between head and heart. On the one hand, this is such a terrific track that it's hard not to feel it deserved to be a much bigger hit than one that scraped into the top ten. Yet, objectively speaking, this was about as good as things were going to get for Triple Eight. A few weeks earlier, D-Side had reached #7 with Invisible, so we really were dealing with the smallest of margins and a situation where both groups were going as far as the current climate would allow. A quick glance at the acts charting around Give Me A Reason – P!nk, XTM & DJ Chucky, Deepest Blue, Wayne Wonder – shows just how isolated Triple Eight were.
Nevertheless, it didn't seem that there was any real reason to panic at this point. Alas, behind-the-scenes things fell apart rapidly after Give Me A Reason. The group had recorded their debut album, Heavyw8 – or enough songs for it, at least – but were dropped by Polydor after the label had an impromptu clear-out (Samantha Mumba was also among the casualties). David and Iain ("Sparx") quit Triple Eight around the same time, and although they recruited a replacement member and soldiered on for a further single on a new label, things were never quite the same.
There was so much potential here, not least because Iain James has gone on to be a prolific songwriter, working extensively with Little Mix on some of their biggest hits. However, this was primarily a case of timing. With the bottom falling out of the singles market and a shift in consumer demand, many record labels were suddenly tightening their belts and wielding the axe more readily than they might have done previously. However, if it's any consolation, Triple Eight – in their original line-up – can rest easy knowing that Give Me A Reason was a tremendous way to prematurely punctuate their career. By any measure, this single is a top-drawer effort, and it's elevated further still by the fact that it came at a time when – by rights – it probably shouldn't have existed at all.
---