Released: 21st April 2003
Writers: Anders Bagge / Pär Åström / Wayne Hector / Reed Vertelney / Mikael Berg Andersson
Peak position: #8
Chart run: 8-25-40-63
---
Following an exodus of boybands from the charts, Triple Eight sought to fill the void with their debut single Knockout. But with pop music quickly falling out of fashion, were they punching above their weight?
Launching a new boyband in 2003 was more of a gamble than ever before. Even if you had just a passing interest in the charts, you couldn't fail to notice the shift that was happening. Various iterations of rock music – from Busted to Evanescence – dominated the airwaves, while the flagship pop acts of yesteryear – Christina Aguilera, Britney Spears and Justin Timberlake – were growing up and shedding their bubblegum sound and image. In terms of boybands, these were bleak times. a1 and Five had split up, the Backstreet Boys and *NSYNC were on hiatus (*NSYNC still are, technically), and Westlife had just released a greatest hits, so no one really knew what was going to happen there. In theory, there was a gap in the market for some new acts and wouldn't you know it, along came two simultaneously.
Triple Eight were fashioned as the rebels in the template of a classic boyband rivalry against the more squeaky-clean D-Side, who released their debut Speechless the week before Knockout. In truth, the precise alignment of their singles (the follow-ups also arrived a week apart) was the only real parallel between the two because there just wasn't the appetite – or a big enough audience – by this stage for a full-scale rivalry. However, Triple Eight definitely had the edge in terms of hype and exposure. The group (David Wilcox, Ian "Sparx" Farquharson, James Bell, Justin Scott and Josh Barnett) were managed by Chris Herbert, and his experience with acts like the Spice Girls, Five and B*Witched was evident. Triple Eight landed magazine covers and multiple-page spreads in Smash Hits without even a hit to their name. They were primed to be big. Or at least, as big as a boyband could hope to be at this time.
While Triple Eight were certainly not on a quest to revive bubblegum pop. Refreshingly, they were also not here to be disparaging about it. The group cited *NSYNC as one of their major influences, and Knockout does sound like a distant relative of their Celebrity album as it bounces from genre to genre throughout its three and a half minute running time. The track opens with deep electric guitar riffs (which are reprised later in the song) and distorted vocals delivered atop a punchy beat: "Checking him when you're with me, thinking that I don't see, little games that you play, make me wanna walk away". There's a punky swagger here that sends Knockout straight down the pop-rock route with vigour. And that would have been an entirely understandable direction. However, halfway through the first verse, there's a switch-up. The song starts flipping between a smooth, shimmering R&B melody: "You come over late at night (you come over late at night), saying everything is right…" and urgent interludes: "My boys keep sweatin me, I'm stressin out, stressin out" peppered with record scratches.
The chorus throws all those elements in together to create a part-sung, part-chanted refrain: "Knockout (you know I wanna out the light, I wanna) knockout (you know I wanna start a fight, I wanna) knockout (you know I wanna do this right)". It's here that Knockout arguably veers too close to style over substance, although there's no mistaking what it was trying to do. If Triple Eight were to be the new rabble-raising rebels of the chart, then they needed a song that would generate some crowd response at live gigs; something for the audience to shout back at them. As a chorus, it's passable. As a slogan, it's perfect.
Stylistically Knockout is all over the place. It's almost exhausting to listen to, such is the frequency and unpredictability with which it changes course. But that's the point. Taking Celebrity as the template, the intention with that album was to defy expectation and push the boundaries of what pop music can do. This wasn't an easy sound to emulate, considering few (if any) acts had tried, and to set the benchmark so high for their debut single speaks volumes of Triple Eight's ambition. They do pull it off, though. At its best, Knockout captures the same frenetic energy that *NSYNC had brought to their final album along with a cacophony of production effects, some of which are used once and never heard again.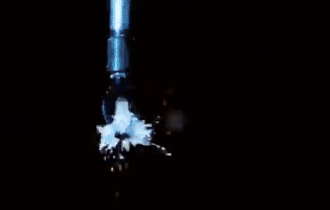 While the song may be eager to defy convention, the same isn't quite so true of the music video. It's certainly impressive in scale as Triple Eight perform in a caged arena while a swarm of extras climb and claw their way over the structure. Again, the group embrace their boyband status and deliver slick choreography without even a hint of playing it up self-knowingly or tongue-in-cheek. As the video ends, the crowd descend on Triple Eight, water pours down on them all (it's unclear why a cage would have a sprinkler system installed, but there we go), and the dancing takes a rather unsavoury turn. While the visuals do fit alongside Knockout, the issue really is that the whole setup feels overly familiar. This is essentially a textbook example of how to craft a pop video designed to portray its subject(s) as 'edgy'. With a muted colour palette, it's part Dirrty by Christina Aguilera, part Do We Rock by Point Break and in all, perhaps a little bit overdone by this point in time, and certainly not a fair reflection of the creativity seen elsewhere within Knockout.
Rivalry or not, there was likely to have been a sigh of relief as Triple Eight landed at #8, a whisker ahead of the #9 peak achieved by D-Side with their debut single the previous week. The consistency with which both acts arrived was a clear indication that the era of boybands scrapping over the top spot was over. Thus, this was probably about as good as anyone could have hoped for in a commercial sense, considering how much the market had shifted in a short space of time. In truth, we were barely scratching the surface in terms of just how hostile the charts would become to pop acts. But for the time being, at least, there was still a place for Triple Eight, and they were about to give us one very good reason why.
---