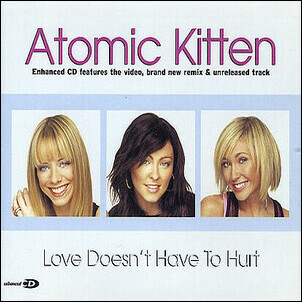 Released: 31st March 2003
Writers: Billy Steinberg / Tom Kelly / Susanna Hoffs
Peak position: #4
Chart run: 4-12-24-33-39-52-62-52-45-40
---
Love Doesn't Have To Hurt was the fourth – and final – single from Atomic Kitten's second album, drawing inspiration from a key track in their back-catalogue. But probably not the one you're thinking of.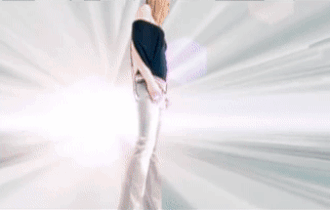 The completion of Atomic Kitten's second album had not been without some behind-the-scenes drama. Virgin Records' fixation on repeating the formula of Whole Again had eventually led to the departure of the group's founders – and chief songwriters – Andy McCluskey and Stuart Kershaw from the project. It would have been a surprise if there hadn't been a desire to use one of the biggest-selling singles of the decade as a template for Feels So Good. However, the extent to which it dictated their sound was extreme, even considering pop music's impressively high tolerance for imitation at the time. Love Doesn't Have To Hurt reasserted that commitment to Atomic Kitten's new status quo in as much as it was released ahead of the album's title track. It's not that Feels So Good was necessarily a more deserving single, but nabbing a Kylie Minogue co-write in the aftermath of Fever was a massive coup and seemed like a no-brainer. Instead, we got this.
The songwriting credentials attached to Love Doesn't Have To Hurt might have been a bit less impactful to Atomic Kitten's fanbase, but they were significant. Susanna Hoffs wrote the track with Billy Steinberg and Tom Kelly in the late '90s for an album she was working on at the time (it never saw the light of day, although her version has since leaked). The trio were more notably responsible for the Bangles' Eternal Flame, which had been Atomic Kitten's second #1 single when they covered it two years earlier. So, Love Doesn't Have To Hurt was continuing a bit of a legacy for the group, and a considerable amount of effort went into polishing it up for release with a newly streamlined instrumental and re-recorded vocals.
Having Susanna Hoff's version of the song as a point of comparison shows precisely what it meant to create an Atomic Kitten track; certainly, this wasn't just a case of scaling up the original and splitting it three ways. The additional layering of the vocals during the chorus winds up creating one of the song's significant hooks: "…you showed me love (love), lo-o-ove (love) doesn't have to hurt to feel good". Meanwhile, Jenny Frost continues to cement her role within the group as the queen of the spoken interlude, with her utterances of: "Thank you baby" used to punctuate every composite part of the song.
Love Doesn't Have To Hurt is smartly written in that it is fundamentally is performed from a place of happiness; there's a fuzzy warmth to the production that is inherently cosy. However, we find Atomic Kitten reflecting on the journey to that place, which allows for a dollop of angst to be thrown into the mix: "I don't know why I used to fall in love, with the wrong kind; then I'd suffer so much pain, but I only had myself to blame, baby you came in the nick of time". We were so used to our pop stars going through the wringer that outward declarations of happiness and fulfilment could quickly come across as cloyingly twee. Thus, Love Doesn't Have To Hurt strikes a balance somewhere in the middle; it's primarily and outwardly a love song but with just a hint of melancholy.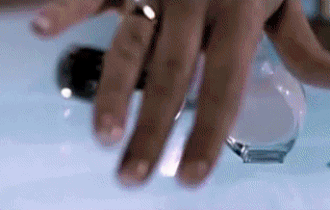 Of course, no discussion of Love Doesn't Have To Hurt is complete without taking a moment to acknowledge the brilliance of the key-change. There's absolutely no messing around; it needs to happen, and so it's just plonked into the middle of a note at the end of the second chorus: "… doesn't have to hurt to fee-EEEEEL good; yeah, yeah, yeah, yeah, yeah, yeah". It's such a ludicrously un-subtle move that you can't help but grin from ear to ear at the sheer audacity on show. At that moment, it feels like Love Doesn't Have To Hurt fully understands the familiar tropes of its own existence and takes the most obvious – and subsequently, most unexpected – route to get there. As key-changes go, this one is up there with the most brilliantly entertaining.
It may have been the final single lifted from the Feels So Good album, but Love Doesn't Have To Hurt received one of the best video treatments of the entire campaign, in as much as it feels like one where Atomic Kitten's status as an A-list pop act was unmistakable. It's built around two main settings: a shimmering grey-white studio shot where the group perform gentle choreography, and a plush apartment filled with helium balloons and impractically oversized corridors (it was the early '00s; both of these things were consistent with the theme of luxury). While Atomic Kitten wander around their not-so-humble abode, the camera picks out white objects – or the carelessly large number of spilt liquids – to stylishly zoom in and transition to the studio shots. It looks great; the video doesn't go overboard with the visual effects but employs them generously enough to coherently link two entirely unrelated locations. Moreover, the aesthetic looks appropriately glossy and big-budget. There's a kaleidoscope effect applied to some of the shots, creating duplicates of Atomic Kitten; that sort of thing can look naff in the wrong hands, but in this context doesn't detract from the overall quality whatsoever. In terms of closing the album campaign, it was great to see Virgin Records invest in sustaining momentum to the very end; from a purely visual perspective, this could comfortably have been used as the treatment for a lead single.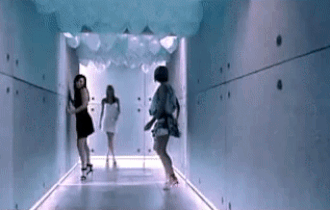 Love Doesn't Have To Hurt went on to become Atomic Kitten's sixth consecutive top-five hit when it peaked at #4. However, there's no doubt that it was hit by the law of diminishing returns. Despite being attached to their most successful album – Feels So Good is the group's biggest seller by a considerable margin – this remains one of their lowest selling singles. As for the parent album, well, it experienced a minor uplift in sales, returning to the Top 75 for just three weeks and going no higher than #53 (having debuted at #1 seven months earlier). This was probably as solid an indication as any that Atomic Kitten had wrung Feels So Good for all it was worth, and the time had come to move on. Which is precisely what happened.
The inevitable by-product of Virgin Records trying to extrapolate the DNA of Atomic Kitten's signature hit across (almost) an entire album is that it became too easy for people to categorise the group's material as either Whole Again or songs-that-were trying-to-be-Whole-Again. But Love Doesn't Have To Hurt is undeserving of such dismissal, if only for the fact that it has more in common with Eternal Flame than anything else. There's little doubt that the timing of this single in the album campaign strongly dictated its commercial performance. Ballads and mid-tempos might have become Atomic Kitten's raison d'être, but Love Doesn't Have To Hurt still stands tall among them. Thank you baby, indeed.
---