Released: 17th March 2003
Writers: Mikkel S. Eriksen / Hallgeir Rustan / Tor Erik Hermansen / Alesha Dixon / Sabrina Washington / Su-Elise Nash
Peak position: #2
Chart run: 2-4-6-7-11-14-23-33-47-61-69
Billboard Hot 100 chart run: 82-68-61-51-50-43-39-35-40-45
---
After amassing five consecutive top ten singles from their debut album, Mis-Teeq had established themselves as consistent hitmakers. And while there was no reason to doubt that would continue as they prepared to release the follow-up, few people were ready for such a seismic comeback as Scandalous.
The lead up to the release of Mis-Teeq's second album Eye Candy was relatively low-key; it's not to say that there wasn't interest in what the group would do next, but the way that the Lickin' On Both Sides campaign had played out made it quite challenging to know what to expect. The album – and its various re-releases – had been a patchwork of different remixes. At best, it felt like organised chaos and at worst, it was a scattershot approach that made it difficult to know exactly which edition of Lickin' On Both Sides contained the correct version of the singles. Minimally, Scandalous needed to assert that Mis-Teeq now knew what worked, and with Stargate – who'd produced one of the group's biggest hits, One Night Stand – once again overseeing the track, there was cause for optimism. But strap yourselves in because the self-knowing, distinctive intro gives way to a monster pop track that is, in every respect: "So, so, so scandalous…"
What Scandalous does exceptionally well is siphon every characteristic of Mis-Teeq down into four minutes and then amplify it ten-fold, leaving absolutely no room for doubt that something big is going down. Despite being poster girls of the garage/2-step-era, this track isn't wedded to that sound. It is, however, a logical evolution for the group that draws on elements of the genre and fuses it with overlapping pop and R&B sensibilities. In essence, Scandalous manages to simultaneously straddle several key markets without ever feeling compromised and consequently arrived bang on-trend.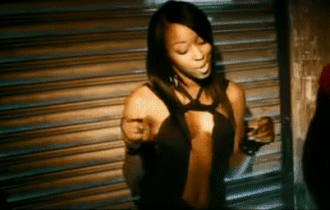 The track demands your complete attention with a snarled opening gambit: "You know you wanna sing with us, that's why you know you should be scared of us", which is flanked by a crunching bassline and serenaded by sirens. Scandalous is packed with sing-song hooks, like the recurring: "We ain't even close yet" refrain that carries through the verses. It's one of those songs so embedded within the fabric of a particular period of the charts that it's difficult to imagine a time when it wasn't there. Everything is so perfectly realised, with self-referential nods to Mis-Teeq's earlier material: "A one night stand just ain't enough", to the way that particular line is developed into an ad-libbed harmony during the second chorus.
Every part of Scandalous is polished and primed for the mainstream, and that includes Alesha Dixon's rap. Rather than rapidly spit bars in the build-up to the chorus, she takes things a little slower: "You got me feening and you got me feeling weak, listen as I speak 'cause I'm careful as I creep, you got me going crazy and you know I can't sleep, no fortune, your moves and you hypnotise me". It's not her most technically impressive performance, but it is her most accessible, giving the audience a chance to join in and sing along rather than just picking random phrases and shouting them out of context (don't pretend you haven't done it). There's just the right amount of silliness ("You got me trembling like a little baby girl, you're so special, you're like diamonds and pearls") to balance credibility with character. It's another example of how Scandalous is masterly composed with an innate understanding of Mis-Teeq's appeal and how people engage with their material.
That insight extends to the visuals, which track the way the charts were shifting in terms of what people were buying into. When the group launched in 2001, they tapped into the Smash Hits audience with slick, bright music videos. But demand had shifted away from that polished veneer and towards acts that were more grounded in authenticity by the time Scandalous was released. Thus, we have a video that hits every note in terms of portraying Mis-Teeq as belonging to that demographic; it's set in an underground club, there's a realness to it – in as much as it looks feasibly like somewhere the audience could find themselves on a night out – and it looks effortlessly cool. There is still some artistic licence employed here, as Alesha Dixon spends most of her shots lying across the bar, which – as anyone will attest – is incredibly unhygienic and will quickly see you escorted from the premises. The transition into the Jazzwad Remix towards the end of the video is undoubtedly on-brand for Mis-Teeq but feels largely unnecessary. The visuals epitomise – much like the song itself – that when the group gets it right, they absolutely nail it.
Scandalous peaked at #2 in the UK, and although it wasn't Mis-Teeq's highest-selling release at the time (All I Want sold a fraction more), it is comfortably remembered as the group's most prolific hit and continues to be their most streamed track. Further success beckoned when Scandalous was picked as the soundtrack single for Catwoman, starring Halle Berry. It wasn't the first choice; Mis-Teeq's good fortune came at the expense of Britney Spears, who injured her knee while filming the music video for Outrageous, which was initially planned to accompany the movie. Nevertheless, they seized their moment, and even in the face of Catwoman receiving a critical mauling, Scandalous reached an impressive peak of #35 on the Billboard Hot 100 well over a year after its UK release. Not bad for a last-minute replacement from a group who were mostly unknown in America.
Back in 2003, however, the single was quickly followed up here with the release of Mis-Teeq's second album, Eye Candy, which reached #6. It wasn't a bad start by any means, but it did feel symptomatic of a broader problem in how Telstar handled the group. The label had set a precedent for issuing multiple versions of Mis-Teeq's albums, creating little impetus to buy this one straight off the bat. As if to prove the point, the next two singles were a remix (Can't Get It Back) and a completely new recording (Style), thus – true to form – a special edition of Eye Candy arrived nine months later. That isn't Mis-Teeq's fault, but it didn't do them any favours. There was a certain degree of leniency afforded with Lickin' On Both Sides because the group was still finding their feet and cementing their sound. But as a marketing strategy for Eye Candy, consumers were – rightly – a little warier. Off the back of Scandalous, this should have been the point where people jumped on-board and invested in Mis-Teeq, but Telstar transparently exploiting the goodwill of their fanbase was not the way to do it.
Scandalous inarguably represents a group at their peak and is everything that the lead single from a second album should be as a step up – and then some – in every possible regard. The ubiquity which the track rapidly achieved has perhaps led it to be taken for granted. It's only when you take the time to consider Scandalous in its entirety – context and all – that you truly appreciate how meticulously and relentlessly it showcases Mis-Teeq while packing hook after hook from start to finish.
---