Released: 8th January 2001
Writers: David Brant / Alan Glass / Ron St Louis / Mary-Anne Morgan
Peak position: #8
Chart run: 8-10-16-25-35-47-69
---
By 2001, it was difficult to imagine what spin could possibly be put on the girl group formula. But the growing popularity of garage music – and a conveniently timed remix – gave Mis-Teeq a breakthrough hit with their debut single Why?
Ahead of their eventual launch, Mis-Teeq were initially pitched as a trio – called Face2Face – consisting of Alesha Dixon, Sabrina Washington and Tina Barrett (yes, you read that right). However, they remained unsigned, and when Tina jumped ship to join S Club 7, she was replaced by Su-Elise Nash and Zena McNally. But…that doesn't look right, because the Mis-Teeq that we knew were – as planned – a three-piece act, weren't they? Zena left the group during the campaign for Why? citing an imbalance due to her late addition to the line-up, so this remains the only single where she featured.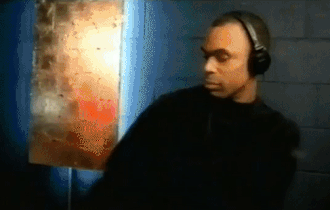 The original mix of Why? is a very different proposition to the version that charted. The track started life as a Latin-tinged R&B mid-tempo, and it's clear what direction the group was being pushed in. It's not dissimilar to the swathe of similar-sounding tracks emerging from America, and neither does it sound any less credible an effort. Indeed, Why? could very easily have been a hit for Mis-Teeq in the UK, but what it wouldn't have given them is an identity, for there is nothing about the track that jumps out as being particularly distinctive to separate them from the crowd. Until it was remixed by Matt "Jam" Lamont and DJ Face, that is. The UK Garage MC Radio Edit (rolls off the tongue, doesn't it?) transformed Why? into – surprise, surprise – a garage track. Suddenly, Mis-Teeq had a single that still drew on elements from an established genre (albeit a different one, now), but one that far fewer acts – and girl groups in particular – had pursued.
What makes Why? work so well is the proximity that Matt "Jam" Lamont and DJ Face had to the UK garage scene. They were pivotal names in shaping the genre before it broke into the mainstream. Thus, many of the early songs that enjoyed commercial success bear the hallmarks – directly or indirectly – of their influence. When they got their hands on Why?, the duo weren't attempting to copy the sound; they were the sound, and that worked incredibly well for Mis-Teeq. It gave them an immediate selling point and initiated them to the charts with an authenticity that was not easy to come by.
With the tempo firmly cranked up, Why? bounds along at such a pace that it almost feels as if the vocals are being squeezed into a rhythm where they don't quite fit. Although it's an irregularity that sits within the convention of the genre, as are the chopped up vocal samples that punctuate the song: "(EH!) warm and tender touch, oh (EH!) every time, every time we kiss (EH!) warm and tender touch, oh (EH!), every time we kiss". Why? is slightly chaotic in the best way possible. You're never quite sure where it's going to fire off next, giving it an exciting unpredictability. Mis-Teeq would release some tremendous singles during their career, but none had quite the same sense of unbridled spontaneity.
Pivotal to the UK Garage MC Radio Edit of Why? is the addition of Alesha Dixon's rapped verses, for this is where Mis-Teeq gained their unique spin. The way she spits out: "Here we go, here we go, move to the beat and go with the flow, come-come gimme-gimme, come gimme more, move to the beat, go with the tem-PO" is where the track jumps out as doing something that no other mainstream act was. That's not to downplay the contribution from the rest of Mis-Teeq; it's the contrast between the performance styles that creates such an impact. It immediately became the group's 'thing' and continued to be a mainstay of their material. More importantly, it was oft-mimicked (we've all tried) but never bettered at the time.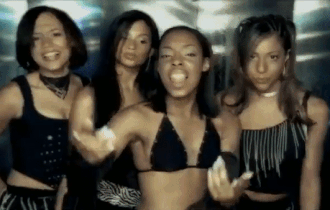 Two music videos were created for Why? The first accompanied the original mix and very much played into the image of the R&B sound. It finds Mis-Teeq performing the song in a pristine underground sewer setting and makes a decent attempt at emulating the aesthetic of The Writing's On The Wall-era Destiny's Child. But it's the second music video – accompanying the UK Garage MC Radio Edit – that will be most familiar. As was almost certainly the case, it appears to have been created with a more modest budget since one of the key locations is now an alleyway, and it looks as if Zena and Su-Elise have split one outfit between them. But that's fine and merely adds to the marketing of Mis-Teeq as a garage act who were fresh out of the underground.
There's a brilliant fake-out at the start of the new video where the original mix of Why? plays for 20 seconds before dropping into the remix with the obligatory shot of a DJ scratching vinyl. If you weren't familiar with the origins of the track, you might wonder what on earth is going on. But with that knowledge firmly in hand, it's a cheeky little nod to the journey that Why? – and indeed, the group themselves – had already taken. What jumps out in comparison to the first video is the sheer energy of it. Mis-Teeq seem much more engaged with the revamped track (Alesha Dixon is so into it) and exude likeability and personality, which is precisely what you want from a debut single.
Why? debuted and peaked at #8 in the UK, which might perhaps appear like an underwhelming start for Mis-Teeq. But there wasn't any precedent for a crossover girl group in this market; indeed, the only real comparison was Sweet Female Attitude, and they'd missed the Top 40 with the follow-up to Flowers just a few months earlier. So, in that respect, this was a solid start and one which – somewhat fortuitously – created an appetite for what Mis-Teeq would do next. With the sound of a credible garage act laid across the image of a group who still appealed to the Smash Hits audience, they'd effortlessly carved out a niche in a very crowded industry.
It wasn't all smooth sailing, though. Between the music video(s) and the release of Why?, Zena departed Mis-Teeq, leaving Alesha, Su-Elise and Sabrina to promote as a trio. But if there was ever a convenient time to lose a member, then this was it. By the time they released the follow-up All I Want, there was no real acknowledgement that the line-up had ever been any different.
---