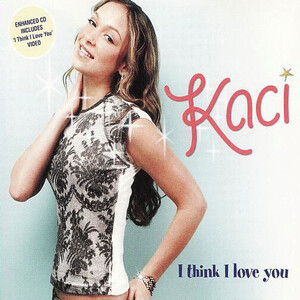 Released: 21st January 2002
Writers: Tony Romeo
Peak position: #10
Chart run: 11-10-12-18-23-35-46-49-62-71
---
Having seen her chart fortunes falter slightly with Tu Amor, Kaci returned six months later armed with renewed determination – and of course, a cover version – in her quest for a top ten single.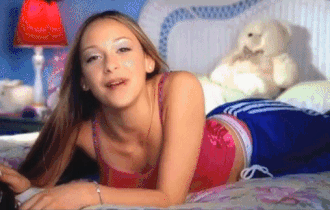 I Think I Love You was as good a choice as it was an obscure one, particularly in the UK. The track was originally released by The Partridge Family back in 1970. The fictional clan starred in their eponymous sitcom for four seasons and during that time also managed to generate eight studio albums and a string of hit singles. I Think I Love You was the group's first – and biggest – of those in America, where it peaked at #1. Curiously, The Partridge Family experienced something of a seesaw-effect in terms of their chart fortunes, and as their singles became less successful in America, they became conversely bigger in the UK. Thus, although the group scored three consecutive top ten hits here, I Think I Love You was not one of them. Indeed, it was their lowest peaking release, reaching #18. Either way, by 2002 the track had little – if any – profile and so was a smart choice to cover at a time when many of the more obvious candidates had already been taken.
This is a very different take on the track. Necessarily so, for the plodding baroque-pop style of the original now sounded rather twee and dated (understandably so) for the '00s chart. And the transformation is quite drastic; the tempo is cranked right up, and there's a thumping beat – plus some interesting production flourishes – installed. However, the biggest success here is that in many ways, I Think I Love You feels thematically better suited to a teen female singer than it does The Partridge Family. Kaci's take on the song feels relevant to both her persona and her fanbase, which is exactly what a good cover version should do.
She takes immediate ownership of the track and delivers an assured vocal that demands attention. The breathy, sensual approach was entirely appropriate for Kaci's earlier singles, but this is a punchier performance that matches the thumping, slapping production at every beat. I Think I Love You also benefits immeasurably from the heightened sense of melodrama that it now exudes, which is quite unlike the quaint original. There's a real urgency in the way that Kaci regales her tale of woe: "Before I go insane I hold my pillow to my head, and spring up in my bed, screaming out the words I dread…I think I love you!" Sure, Kaci was 14, and perhaps some might scoff at the notion of her grappling with the concept of love. But in this case, it's framed perfectly as a case of chaotic, confusing puppy love.
For the most part, I Think I Love You does more or less exactly what you expect of it, and it does it very well indeed. We were rather disappointed to find that Kaci hadn't subtly tweaked the lyrics of the second verse, because it still sounds like she says: "Do you think I have the cakes, let me ask you to your face" although it appears to be "a case" of poor enunciation. Where the song most certainly does take a curious diversion is just after the two-minute mark. There's a sudden shift in tone for the middle-eight breakdown: "I don't know what I'm up against (no!), I don't know what it's all about (oh no!), I've got so much to think about". At one point, it's even accompanied by the sound of birds tweeting. For just a moment, I Think I Love You comes over rather animated and cartoony. Then, just as suddenly, it snaps back to its senses and powers on towards a climactic finale. It's all rather peculiar indeed.
The music video for I Think I Love You ties everything together brilliantly. Everything about it – from the styling to the set-pieces – feels like the product of something much bigger; it could almost be the spin-off from a TV show. It feels aesthetically and narratively close to Nickelodeon's The Amanda Show with a similarly whacky sense of humour. Or perhaps that's just a coincidence of timing. The video is a rather literal portrayal of the song; Kaci is crushing on a boy. But not just any boy, it's Bruce Michael Hall! You know, the Bruce Michael Hall? From American daytime soap Passions? The one that was never screened in the UK? Okay, you get the point. So, the casting of a relatively obscure actor is not in itself unusual, but perhaps acknowledging his stardom within the video was (his name is emblazoned across the framed photo that Kaci holds close to her heart). Particularly when this single's greatest success was likely to be in territories where he was relatively unknown.
Anyway, Kaci is crushing hard on Bruce Michael Hall, so decides to join a mob of hormonal teenage fans down at the studio where he's filming and chance her luck by sneaking onto the set. What ensues is a game of cat-and-mouse between Kaci and the security guard (who, now we're a bit older, is the actual heartthrob of the piece), as he chases her around the studio lot. It's a vibrant sequence which works well in the realm of early '00s teen slapstick. Eventually, Kaci comes face-to-face with her idol is every bit the brilliantly awkward fangirl. Their eyes meet. They smile at each other. They…shake hands (keeping things strictly family friendly), and then she's marched out of the studio by the security guard. But outside there's a plot twist; Bruce Michael Hall pulls up in his limo and hands Kaci a copy of her own CD to autograph. She signs the CD case (surely the ink is just going to wipe straight off?) and is smugly whisked away in the limo.
I Think I Love You feels like a well thought out package that knows exactly what it is and what it's trying to achieve. The single does so with an exuberance that is impossible to resist, and nowhere was that more evident than in its chart run. I Think I Love You initially entered at #11 but bucked the usual downward trend of singles at the time and rose to a peak of #10 the following week. It was very much deserved and – quite conveniently – as perfect a platform as Kaci was ever going to have to release her debut album: Paradise (although the re-release I'm Not Anybody's Girl is a much better title). Paradise peaked at #47, and all truth be told, is a solid little effort for the post-bubblegum pop era. The record label might have been disappointed with the album's performance, but their strategy was unorthodox. Because absolutely, the best way to try and build some momentum behind the album campaign was to release a fourth single…16 months after I Think I Love You.
---