Released: 16th December 2002
Writers: Barry Gibb / Robin Gibb / Maurice Gibb
Peak position: #2
Chart run: 2-3-5-9-17-27-31-41-71
---
Popstars: The Rivals was a somewhat unusual concept for a TV talent show because even though it sought to produce two winning pop groups, it then pitted them directly against one other to turn one of the winners into a loser.
Although from a broadcast perspective, The Rivals was simply the second series of the Popstars franchise, a lot had changed between 2001 and 2002 in the TV talent show bubble. Most notably, the arrival of Pop Idol, which allowed viewers to vote for their winner. The first series of Popstars had been famously non-interactive, giving audiences an insight into the formation of Hear'Say, but affording them no input into the group's DNA. Pop Idol opened up a new world of possibility for television audiences, and the result was an amplified commercial response, with first-week sales of Evergreen doubling those of Pure & Simple. Popstars: The Rivals would adopt a similar format, with the hopefuls whittled down week-by-week via a public vote.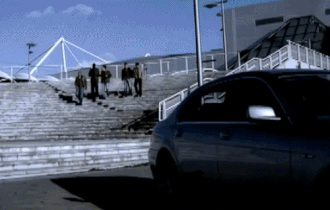 Alas, there was a downside, and it was one that would cast something of a shadow over the series. Just weeks after Popstars: The Rivals started, Hear'Say announced their split. It wasn't the usual press conference citing 'artistic differences' or 'wanting to go out on top'; instead it was a brutal damnation of the public, who had made life unbearable for the group and instead thrust their support behind Liberty X. It seems that with our newly perceived ownership of pop groups, came the belief that we could treat them any way we saw fit. For Hear'Say, that had turned rapidly from record-breaking chart success into sustained abuse, which they could no longer tolerate (and nor should they). This was an early warning about the toxic undercurrent of the TV talent show genre and it soured Popstars: The Rivals to some extent. For if Hear'Say were the product of the original series, but Liberty X were perceived to be the true winners, what did it mean to win the show?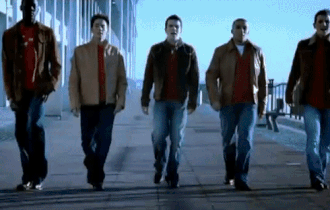 Well, we'd soon find out. For having been crowned the victorious "boy band", One True Voice were assigned Pete Waterman to manage them. And that's probably where things started to go awry. We are not going to question the man's credentials; he had impressive form. His approach here was to hand the group a Bee Gees song to cover (sounds familiar…). Indeed, Sacred Trust was written in the late '90s and intended for the Backstreet Boys' Millennium album. Perhaps the fact it was never used should have been a warning, but mining the Bee Gees catalogue (the group recorded the song for their 2001 album This Is Where I Come In) was a strategy that had reaped great rewards in the recent past. And there was even a double-A side thrust into the mix in the shape of After You're Gone (I'll Still Be Loving You). But perhaps that's what didn't click this time; pop music was approaching an impasse and evolving to become more forward-thinking. On the other hand, Sacred Trust – and the way it was packaged – feels like a quaint nod to yesteryear. That's probably why we love it so much.
There is curious pacing to the song, which sees the vocals fall into a midtempo territory, while the instrumental is slightly more uptempo. The contrast is slight – and the two certainly work together – but there are moments where it sounds like a happy coincidence of two different songs playing at the same time as one another. The crisp production elements certainly make the most of the juxtaposition; there's a breezy airiness to the track, which is quite refreshing after several years of pop songs slowly getting darker and squelchier. This feels like a gentle rewind to a simpler time about half-a-decade earlier. Which, in fairness, is pretty much where Sacred Trust was intended to fit. It was still current and relevant to the overall era of pop music but has more in common with the start of it, rather than the end. Nowhere is that more evident than the lightly filtered: "Girl I'm talking to you" instrumental breakdown, which creates a moment where you can bask in the hazy glow of uncomplicated pop music.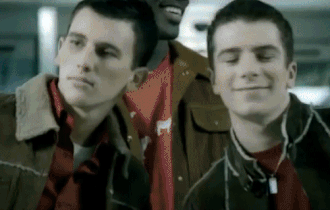 The simplicity of the production lets the quality of the composition shine through. Few – besides ourselves – will remember Sacred Trust alongside the Bee Gees' greats. But the track is nonetheless sprinkled with their songwriting magic. The chorus has a killer hook in the: "As far as the eye can see" / "I know where my arms should be" lines. And there's the brilliant commencement of the second verse: "You take me and you break me and you do what you please, I stumble and I tremble and I'm weak at the knees", which threatens to send the track down an altogether more dramatic route. Indeed, it's entirely possible that had Sacred Trust been written specifically for One True Voice, it would have sounded quite different. For their vocals are delivered with far more purpose than the whispery softness of the Bee Gees, and in places, you do sense a frustration of the group's deeper tone within comparatively lightweight surroundings.
Yet, in the vocals is where Sacred Trust comes alive. Most particularly ad-libs sprinkled atop the latter half of the song. It's a relatively small bounty and truly an exercise in quality over quantity. But every: "Oh BABY", "Oh YEAH" and variant of "You know I'm TALKING to you" / "Girl I'm CALLING to YOU" is on point. They're great little singalong moments (if you know which one is going to occur) and help the track zip along nicely. Which is fairly important because, for a mainstream pop song, Sacred Trust is fairly hefty, running just shy of five minutes in length.
The music video for Sacred Trust is an understandably uncomplicated affair given there were just three weeks between One True Voice's formation on Popstars: The Rivals and the release of the single. Again, in a sense it acts almost unconsciously as a summation of many boyband tropes from the outgoing era of pop music; it's outrageously cliched, with each aspect feeling reminiscent of something that's come before. Shots of the group walking in unison towards the camera with unclear purpose? Check. Staged hounding by the paparazzi? Check. Potentially hazardous seating arrangements on an escalator? Check. To its credit, the video for Sacred Trust looks sufficiently glossy; we have absolutely no complaint about the overall aesthetic quality. And certainly, as TV talent show winners go, One True Voice's effort is among the small number that would pass as an authentic pop video.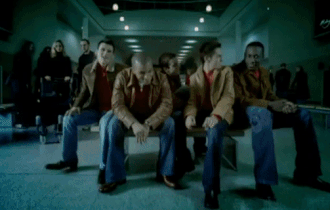 At this stage, Sacred Trust had all the qualities and hype of a winners' single. But of course, the absolute victors of Popstars: The Rivals would not be decided on television. One True Voice would release their single the same week as Girls Aloud – their female counterparts – and battle it out for the coveted (at the time) Christmas #1 single. That aspect of the show was a pretty good concept that used the charts as a determining factor in the competition, although it also guaranteed Popstars a significant slice of the lucrative festive chart. Yet, even now we're not sure how many people would have foreseen the outcome. In theory, One True Voice should have had the easier path to #1 as a boyband, since girl groups are a notoriously hard sell on TV talent shows.
Perhaps, perhaps, the decision to brand One True Voice a "male vocal harmony group" was a mistake, in hindsight. It gave the impression that having entered a competition called Popstars, they were immediately dismissive of that label. Girls Aloud certainly didn't conform to the stereotype either, but they adopted a deviant musical identity without making any big declarations or trying to distance themselves from their pop ancestry. By riding the wave of the seismic changes occurring within the genre and coupled with Sacred Trust sounding half a step behind the pack, Girls Aloud rapidly emerged as the front runners in the chart battle and seized the #1 single, which they held for four weeks. Amid the pomp and celebration, it's easy to forget that One True Voice still shifted almost 150,000 copies of Sacred Trust to debut at #2. Unfortunately, the group weren't the first (or last) act to be branded a failure with a chart performance that by almost any other measure would be considered impressive.
We all know what happened next. Mainly because we've already covered One True Voice's absurdly brilliant follow-up single. But in the grand scheme of things, Sacred Trust remains a brilliant debut single, and in a sense, it's just a shame that it was conceived from a show which sought to go through the rigmarole of putting together two groups with the sole purpose of ditching one of them almost immediately. In hindsight, we're not sure we could ever argue that was a beneficial strategy for pop music.
---