Released: 2nd June 2003
Writers: Kevin Hughes / Rick Astley
Peak position: #10
Chart run: 10-28-52-68-X-X-X-57
---
In the aftermath of Popstars: The Rivals, Girls Aloud forged ahead and by mid-2003 had racked up a hit single and album. One True Voice, on the other hand, …well, they had Shakespeare's (Way With) Words. The group's second single remains one of the most bafflingly brilliant moments of pop self-sabotage to occur in the '00s.
The original series of Popstars showed that the victors of the show were not necessarily the winners in chart terms. By this point, Hear'Say had already called it a day, and Liberty X were still a potent chart force. There was initially no reason to think One True Voice couldn't salvage something from the "disaster" of a debut single that sold 147,000 copies in its first week and peaked at #2 (perspective had well and truly been lost at this point). However, it rapidly became clear that – unusually for a TV talent act – Girls Aloud actually had a clear creative direction from the off with Xenomania on board. Again, not a huge issue and certainly not something that couldn't be emulated to some degree for One True Voice. So, onto that all-important second single…
In hindsight, it's incredibly evident that the strategy with Shakespeare's (Way With) Words was that there was no long-term plan whatsoever and the single was merely an easy way for the record label to ditch the group with minimal fuss. There's no way around the fact that while Shakespeare's (Way With) Words is enjoyably entertaining, it could scarcely try harder to sound like a track that does not want to be a hit under any circumstance. The song was co-written by Rick Astley, which isn't necessarily a bad thing, but in the days before he became a viral internet sensation through Rickrolling, this wasn't exactly going to be a selling point to One True Voice's fanbase.
The other limiting factor of Shakespeare's (Way With) Words – other than its puzzling use of brackets – is that it's most definitely not a singer's song. One True Voice were famously formed not as a boyband but a "male vocal harmony group", therefore such a vital single should probably play to that strength. Instead, there's little, if any, opportunity for the group to demonstrate their credentials.
Yet despite the conceptual flaws, Shakespeare's (Way With) Words is innocuously fun. It has a high-tempo pop beat that was commonplace in the late '90s but had fallen by the wayside somewhat. The production does little besides pulse and crash every so often to announce the transition from verse to chorus; its purpose is to imbue the song with relentless energy from which there is minimal deviance. Lyrics like: "I would write a sonnet, put your name upon it" and: "In my heart I am a poet, don't know how to show it" could only exist so sincerely within the confines of pop music, and a few years earlier most people wouldn't have batted an eyelid at the references to Romeo and Juliet.
But this was 2003 and pop music had started to grow up a bit. Yesterday's norm had begun to be perceived as naff. Furthermore, when compared to the much cooler image adopted by Girls Aloud, the difference was inescapably palpable. Taken out of context, Shakespeare's (Way With) Words isn't markedly worse than many songs from the bubblegum pop era. However, Sound Of The Underground had already led many critics and fans to consider One True Voice as old-fashioned. This single did little to abate that image.
While there is little room within the song for the boys to flex their vocals, that's not to say they didn't give it a good go. There are some subtly brilliant ad-libs ("How can I?") and even some falsetto towards the end. Yet, such moments are fleeting because the tempo of the track doesn't permit the group a chance – collectively or individually – to give anything more than a functional performance. Thus, while Shakespeare's (Way With) Words is an enjoyably breezy, summery bop, it does little to sell One True Voice as a credible pop prospect.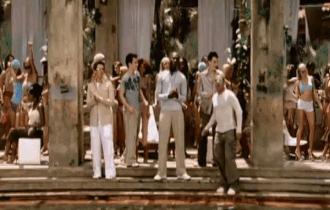 Indeed, it soon became evident that the group weren't feeling the song at all. In a curious turn of events, the promotion for the single largely consisted of One True Voice openly slating it. On the one hand, it was a refreshing approach (and in fairness, many pop acts at the time disassociated themselves from the music they released), but not many did it while trying to sell the single to the public. There's a sense in the music video of how little enthusiasm the group could muster as – despite some stunning waterside locations – One True Voice remain mostly static; their choreography mostly consisting of uncomfortably rocking on the spot. Combined with the unflattering reviews they were giving to their material, there's inherently a sense of resignation with the group going through the motions in almost every aspect of this single.
Even so, Shakespeare's (Way With) Words did crack the top ten – just – when it peaked at #10, before exiting the top 40 a fortnight later. One True Voice had already decided to part ways with Pete Waterman, citing creative differences, which was entirely understandable in this case. Ultimately, though, the damage had been done and the group split a few months later. Even if One True Voice didn't have the misfortune to exist in Girls Aloud's shadow, it's difficult to imagine a circumstance where they'd have been able to recover from how badly they were mismanaged from the start. Nonetheless, as parting gifts go, Shakespeare's (Way With) Words isn't bad. If anything, the biggest flaw is that it simply didn't belong in 2003.
---