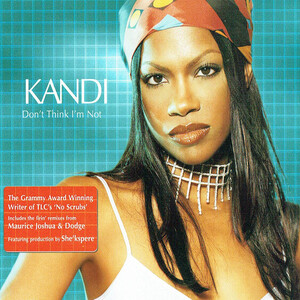 Released: 30th October 2000
Writers: Kandi Burruss / Kevin Briggs / Katrina Willis / Bernard Edwards, Jr.
Peak position: #9
Chart run: 9-9-13-19-23-29-35-36-36-53
Billboard Hot 100 chart run: 66-66-66-61-49-42-36-33-28-24-26-26-28-29-27-31-31-26-25-25-30-40-36-41
---
By the time Kandi released her debut solo single in 2000, she'd already racked up an impressive number of hits (and a Grammy), having co-written for several major acts. Don't Think I'm Not was her moment to step back into the spotlight.
This is one of those singles with a reasonably extensive backstory in America, but little of which registered when the track reached the UK. Between 1991 and 1998, Kandi Burruss was a member of the four-piece US girl group Xscape (alongside Tameka "Tiny" Cottle, Tamika Scott and LaTocha Scott). During that time, they released three platinum-selling albums and amassed six top-ten hits on the Billboard Hot 100. Yet, the group never made much of an impact in the UK. Their highest-peaking single – Who Can I Run To? – reached #31 in 1996, although a featured appearance on MC Lyte's Keep On Keepin' On fared slightly better (#27) the following year. So, while Xscape did have a presence here, it was a modest one and unlikely to create significant anticipation or momentum for any solo endeavours.
When the group split shortly after the release of their third album in 1998, Kandi and Tameka Cottle continued working together. They initially planned to launch as a duo; however, Kandi was instead offered a solo deal with LaFace Records, where she began work on her debut album. Yet, the rapid demise of Xscape left her feeling vulnerable, and she continued to write songs that would be pitched to other artists, which earned her credit on several hits in quick succession. Most notably, TLC's No Scrubs and Bills, Bills, Bills by Destiny's Child both reached #1 on the Billboard Hot 100; each also received a Grammy nomination for Best R&B Song, which No Scrubs ended up winning.
So, that undoubtedly was the angle likely to pique more interest when it came to Don't Think I'm Not. And this is, indeed, an excellent debut single. There are immediate familiarities with some of the production elements, particularly the Spanish-sounding guitar melody that accompanies the intro. It appeared in many R&B songs around this time but is distinctly reminiscent of No Scrubs. However, Don't Think I'm Not wastes little time in establishing that it's not merely a derivative and Kandi has something of her own to say. The slow-build first verse initially appears to frame the track as one of betrayal and heartbreak: "Now I don't have to question, where you were last night, 'cos I already know what you will say, I already know you'll lie". Everything is not as it seems, though…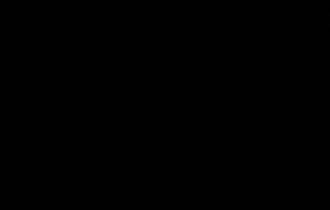 Kandi reveals she's been playing away in retaliation: "But I can't be mad at ya, 'cos there's something that you don't know, that when you're gone, I do my own thing, and I catch a bone while you're doggin' me" using a wittily crafted metaphor that evaded being censored but is really rather risqué! Yet, Don't Think I'm Not touches upon the dynamic of a complicated – and somewhat dysfunctional – relationship in ways that mightn't have immediately resonated with younger listeners. Kandi rationalises (without necessarily justifying) her actions: "Well, I couldn't put up with your scheming, and I couldn't put up with your lies, they say two wrongs won't make it right, but it's suiting me just fine", and touches on a broader social commentary that was starting to challenge perceptions of how should conduct themselves socially: "Don't be so surprised to know that sometimes women play the field, you may not believe it, but it's real, the game is so real".
Granted, it's never entirely clear what keeps Kandi and her partner together. Nonetheless, this feels like a song ahead of its time in the unspoken acceptance of a relationship that may not be conventional but is what it is with no apparent desire for change. That's succinctly conveyed in the chorus, which exists at a faster tempo to the verses and transitions through a rapid, ascending snare beat: "When you're out in the club, don't think I'm not, even when you're out making love, don't think I'm not, when you're feeling good, in somebody's spot, getting hot, don't stop, just don't think I'm not, 'cos I'm out getting mine". It's an immediate earworm, slickly composed and performed with a tight delivery that allows Kandi room to ad-lib smoothly. Don't Think I'm Not might never have become as ubiquitous as some of the songs she composed for other artists, but the chorus is memorable, and there's absolutely no mistaking which era of the charts it originates from.
Fittingly, the music video for Don't Think I'm Not exudes a suitably slick, turn-of-the-century vibe. The main narrative shows Kandi sitting in a lavish house while her partner gets into a car with another woman and kisses her on the cheek. Immediately, Kandi is on the phone, and before long, she's joined by a man with whom she plays video games and frolics by a swimming pool. He leaves just as the boyfriend returns, and – after sizing each other up on the porch – Kandi merely shrugs, knowing she is only doing what has been done to her. The sequence is intercut with a choreography-heavy club scene, which culminates in a dance battle where the men end up having their trousers pulled down by the women for reasons unknown.
If the video seems functional, then that in itself is an achievement, given the day before the shoot, Kandi was involved in an accident where her leg was crushed between two cars. During shots where she stands atop a circular platform in the middle of a box room, she's wearing a thigh-high brace, which is styled out to feasibly pass as a fashion statement. However, in hindsight, it then becomes glaringly apparent how static Kandi remains throughout the video (hardly surprising considering how painful it must have been). She stands but never actually walks anywhere, while her dancing is restricted to upper body movements only. Otherwise, she's sitting or lying down with an outstretched right leg. Kandi's full participation in the choreography (for which she'd rehearsed) probably is missed to some extent. Still, the visuals manage to disguise the extent of her injury – and any last-minute changes made as a consequence – impressively well.
Don't Think I'm Not peaked at #9 in the UK, far eclipsing any success Kandi previously had with Xscape. The song sold 118,000 copies at the time, making it the 131st biggest-selling single of 2000. That total is now at just over 150,000, thanks to digital sales and streaming. In America – where Xscape's profile had been much higher – Don't Think I'm Not didn't quite match the group's bigger hits; instead, the track was more of a slow burn, spending 24 weeks on the Billboard Hot 100 and eventually reaching a peak of #24. Kandi's debut album – Hey Kandi… – also struggled to step out from under the shadow of Xscape. It reached #72 in America (#129 in the UK), yielding just one further single, Cheatin' On Me, which failed to make any significant impact and wasn't released internationally.
In some respects, Kandi had a more challenging job than most artists in trying to establish a solo career. She didn't just have to prove herself against the legacy of Xscape but also her own record as a hitmaker for other artists. Thus, despite Don't Think I'm Not performing reasonably well, there would likely have been an element of LaFace Records looking at the artists Kandi had written for and wanting some of that critical and commercial acclaim to be kept for herself. That's ultimately not what happened, which isn't a criticism of Don't Think I'm Not or Hey Kandi… but more a reflection of how in-demand she'd become in a short space of time. Realistically, spending months promoting her own material was likely to be far less lucrative than a co-write on an *NSYNC album track (It Makes Me Ill appeared on the 14+ million-selling No Strings Attached). But that is, ultimately, why Kandi went about contingency planning her career in the way she did. Whatever happened, there was something to fall back on.
From a UK perspective, Kandi may well be regarded as a one-hit wonder, with Don't Think I'm Not very much a curio of the early '00s. However, she did release a second album – Kandi Koated – in 2010 and has maintained a fairly high profile in America as a reality TV star, having appeared in The Real Housewives Of Atlanta since 2009. The show is so popular it's generated several spin-offs, including The Kandi Factory, Kandi's Wedding, Kandi's Ski Trip and Kandi Koated Nights. More recently, Xscape have also reformed, albeit in an occasionally unorthodox way. The four original members toured extensively after reuniting in 2017. Kandi, however, opted not to join the rest of the group in recording new material, wanting instead to preserve their legacy. So, they temporarily went under the name XSCAP3 to denote her absence and released a new EP – Here For It – in 2018. More recently, Kandi has resumed touring, while LaTocha Scott has stepped back. Nonetheless, for all intents and purposes, Xscape are very much active as a group.
Despite being Kandi's biggest hit, Don't Think I'm Not is — commercially speaking — little more than a footnote in a career that has yielded such high-profile, award-winning tracks for other artists and a prominent television career. Yet, it's one of those songs that, while perhaps not always immediately remembered, remains consistently well-regarded when it is.
---