Released: 16th December 2002
Writers: Avril Lavigne / The Matrix
Peak position: #8
Chart run: 9-9-8-11-15-20-27-37-64
Billboard Hot 100 chart run: 72-47-34-23-15-11-11-10-12-12-13-17-20-26-39-56-63-63-75-85
---
The impact and legacy of Avril Lavigne's debut album never hinged on one individual single. However, if everything she – and Let Go – represented could be syphoned down into a three-and-a-half minute song, then Sk8er Boi would probably be it.
As much as Avril Lavigne was labelled the 'anti-Britney', Let Go succeeded, in part, because it arrived at a time when bubblegum pop was reaching the end of its shelf-life. Some acts split up or went on hiatus, while others sought out new writers and producers to evolve their sound. Thus, Avril Lavigne didn't need to be the anti-anything; she arrived with an album full of brilliantly crafted early '00s pop-rock hooks, which filled a gap in the market before anything else could. That's not to diminish what she achieved; her lyrics connected in a way that made punk, rock and emo-influenced music accessible to a new audience, essentially ushering it into the mainstream as the go-to sound for some time after that.
The album's introductory single, Complicated, earned Avril Lavigne a massive breakthrough hit with its sun-drenched beat and infectious hooks. But the bratty, precocious image she characterised in the music video never really translated to the song itself, which spent 16 weeks atop the Adult Pop Airplay chart. And that's where Sk8er Boi differs. Everything about it – right down to the of-its-time spelling – is an amplified statement of teen rebellion. The track initially caused some consternation for Arista Records, who worried it would alienate older fans. But that's precisely what Sk8er Boi needed to do to differentiate Avril Lavigne from artists like Michelle Branch and Vanessa Carlton. There were songs on Let Go with the potential for cross-generational appeal, but that was never the primary intention. Instead, the album is styled as having been lifted directly from a teenager's diary, right down to the artwork filled with handwritten lyrics, complete with mistakes scribbled out.
Yet, Sk8er Boi is a little different in that it's not an autobiographical account but rather one inspired by personalities and cliques that Avril Lavigne had encountered. Thus, it reads more like the pitch for an early '00s teen movie, where different worlds collide: "He was a boy, she was a girl, can I make it any more obvious? He was a punk, she did ballet, what more can I say?". Of course, they can't possibly be together despite a mutual attraction because that would result in social judgement: "He wanted her, she'd never tell, secretly she wanted him as well, and all of her friends stuck up their nose, they had a problem with his baggy clothes", so the titular character is given an abrupt brush off by the object of his affections: "He was a skater boy, she said, 'see you later, boy', he wasn't good enough for her; she had a pretty face, but her head was up in space, she needed to come back down to Earth".
Although the first verse and chorus set out a relatively conventional chain of events that changes when a time jump occurs: "Five years from now, she sits at home feeding the baby, she's all alone, she turns on TV, guess who she sees, skater boy rockin' up MTV", complete with some energetic, thrashing guitar kicks. It's probably best not to dwell for too long on trying to pin down the chronology of Sk8er Boi ('five years from now' suggests the song is peering into the future, but it soon becomes apparent that's not the case). Either way, the track remains grounded with the same real-world perspective as the rest of Let Go, where life doesn't, perhaps, always play out as intended.
The track pulls on a familiar moral trope, exposing the fickleness of peer pressure: "She calls up her friends, they already know, and they've all got tickets to see his show, she tags along and stands in the crowd, looks up at the man that she turned down". It's a sentiment that reflects the broader context of Sk8er Boi and the reversal of rock entering the mainstream, pushing pop to the periphery: "He was a skater boy, she said, 'see you later, boy', he wasn't good enough for her, now he's a superstar, slammin' on his guitar, does your pretty face see what he's worth". This would always have been a great track, but the timing of it and how chart trends evolved create an extra dimension where Sk8er Boi mirrors Avril Lavigne's own rise in popularity. The instrumental section before the middle eight, with its delirious, groaning guitar riffs, is the relentless highlight of the track; it's a perfect 15 seconds of pop-rock that feels utterly symbolic of the boom in skater culture during the early '00s.
There's then a twist as Avril Lavigne reveals her involvement in Sk8er Boi: "Sorry, girl, but you missed out, well tough luck that boy's mine now, we are more than just good friends, this is how the story ends…", which is a logical swerve but one that nonetheless comes out of nowhere. And things go entirely meta during the final chorus: "I'm with the skater boy, I said 'see you later, boy', I'll be backstage after the show, I'll be at our studio, singin' the song we wrote, about a girl you used to know", when Sk8er Boi becomes the song that's being performed within itself. It's daft, but without losing a sense of credibility, this still comes across as something that could have happened, albeit with more than a little artistic licence.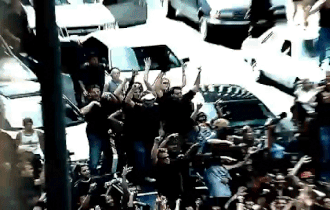 As a mark of how much Sk8er Boi captured the zeitgeist of the time, Paramount Studios was quick off the mark to try and adapt it into a movie. The following year, they hired David Zabel (one of ER's head writers and executive producers), while the Matrix were approached to create a soundtrack. The idea never went any further, which is quite surprising because even if the moment might have passed by the time the project got off the ground, the enormity of Let Go's success would probably still have made it worth capitalising on. And there's still a chance that could happen; in 2021, Avril Lavigne announced her intention to produce a Sk8er Boi movie, although nothing else has been revealed.
In the meantime, there is, at least, the music video, even if, despite Sk8er Boi having a straightforward narrative, it opts not to tell that story. Instead, the visuals open with the cryptic —unless you're familiar with the geography of LA —message "7th & Spring NOON" (with the second N reversed because rebellion) being circulated around the city on flyers, graffiti, email and…a the heavily-pixelated screen of a Motorola Timeport two-way pager. The location is an intersection where Avril Lavigne holds an impromptu gig on the roof of a car surrounded by fans. This is the very essence of what she — and the influx of guitar-wielding bands around this time — were all about; it's all carefully staged, dynamically shot and presented with slick, glossy visuals (plus some wanton violence thrown in for good measure, as Avril Lavigne smashes a guitar into the car windscreen while a police helicopter circles overhead). Yet, it represents music created at a grassroots level, away from the glitz and glamour of the preceding few years. That might not be how Avril Lavigne operated in real life but compare her performance here to the often awkward, stilted televised appearances. It underlines the message that she was a musician rather than a celebrity.
And that's true of the concept as well. In some respects, it might seem odd that Sk8er Boi deviates from a video treatment that pretty much writes itself. Equally, that's perhaps because it did come off the back of the bubblegum pop era, where songs were often – for better or for worse – interpreted in a very literal manner. What's presented instead is much more about Avril Lavigne than the song, and that's probably a better approach to maintaining relatability with her target audience.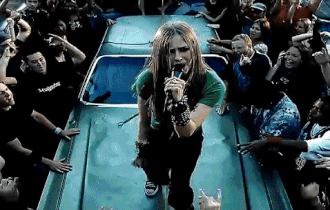 While Sk8er Boi is probably the song now most synonymous with this era of Avril Lavigne's career, the song's chart performance was comparatively modest and best viewed through the lens of the Let Go campaign as a whole. Even after just one single, the album had, by this point, already sold more than half a million copies and been in the top 20 for several months in the UK. Sk8er Boi was also released the same week that Girls Aloud and One True Voice competed for the Christmas #1. It's not wholly surprising, then, that the track debuted at #9, though it did, at least, climb to a peak of #8 a few weeks later. Total sales at the time – around 75,000 copies – have since been much improved by streaming to over 500,000 copies, making Sk8er Boi Avril Lavigne's second-biggest seller. Meanwhile, in America, the lack of support from adult contemporary radio did have an effect, even if it was an entirely expected one. The song consequently reached #10 on the Billboard Hot 100, ending up sandwiched between two much bigger hits (Complicated and I'm With You)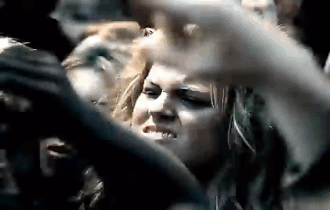 However, what Sk8er Boi did was propel Let Go to the top of the chart in the UK at the start of 2003. The album spent three weeks at #1 and didn't leave the top 20 until more than seven months later. In America, the impact was slightly less pronounced; Let Go achieved its peak position – #2 – around the time Sk8er Boi began its ascent up the Billboard Hot 100. More crucially, though, the track helped sustain album sales so that more than four million copies were sold by the end of 2002. If it hadn't already been evident that something had significantly shifted in the teen demographic, there was now irrefutable evidence.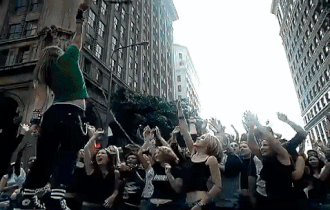 Complicated may well be the biggest-selling and highest-peaking single from Avril Lavigne's debut album, but in hindsight, Sk8er Boi has resolutely become the most defining one. The song succinctly communicates – musically and visually – what she represented, shaping it into a dizzying pop culture reference point that has deservedly endured.
---