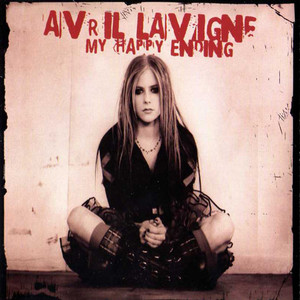 Released: 2nd August 2004
Writers: Avril Lavigne / Butch Walker
Peak position: #5
Chart run: 5-8-9-16-28-31-41-48-66
Billboard Hot 100 chart run: 70-46-39-34-31-23-18-15-13-9-9-9-9-11-12-14-17-19-30-33-41-43- 49-47-44
---
Although very much marketed as the anti-Britney Spears during her debut album campaign, Avril Lavigne nonetheless found herself in a similar predicament to her pop "rivals" when she returned with her sophomore effort and dared to – shock, horror – grow up a little.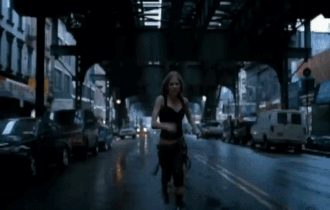 It would be remiss to suggest that pop stars who aren't heavily involved in writing their own material are exempt from the "difficult second album" phenomenon. But generally, in that case, where record labels found a formula that works, they'd go back to the same writers/producers and commission further material. Or try and source alternatives, if they so desired. But when it comes to an act like Avril Lavigne, it isn't quite so straightforward. She co-wrote every song on Let Go, and the album itself had a long gestation period, giving time for each song (potentially a life's work at that point) to be perfected. Thus, when it came to a follow-up, the onus was on her to try and do the same with a shorter turnaround and higher expectations. That's not an enviable position for any artist to be in.
And there really wasn't much time afforded to Avril Lavigne whatsoever; less than ten months had elapsed between the final single from Let Go and the first single from Under My Skin. It's also fair to say she didn't necessarily opt for the easiest route. The Matrix were pivotal in helping write and produce Let Go, but there was a sense that their involvement was more of a compromise on the sound than Avril Lavigne would have liked. For her second album, she opted for an entirely new team of collaborators, and the initial reaction was tentative. The hooks were more subtle, the sound was a rawer and overall this was a markedly different Avril Lavigne to the one who'd burst into the charts a few years earlier. However, if there's one song that perfectly captures her approach to this second album, then it's My Happy Ending.
It may seem like a backhanded compliment, but the intro of the song is one of the best bits, although it's certainly not the case that the rest of the track isn't up to much. The echoed "Oh, oh" over the backing beat is such a great little production flourish. It's typical of the less-is-more approach to the album in that it could easily have been more indulgent, but instead, it remains an addictive two-second tease for what's to come.
Once into the song proper though, Avril Lavigne is firmly in break-up territory. However, this isn't quite the raucous anthem one might expect. My Happy Ending bobs along with a gentle lilt; it's a contemplative number, albeit one with a barely concealed layer of seething contempt running underneath it. The song excels when it approaches its subject matter from an observational perspective, such as the second verse: "You've got your dumb friends, I know what they say; they tell you I'm difficult, but so are they". It's here that My Happy Ending is at its most relatable and that is perhaps the most crucial aspect of this single: it showed that underneath the bratty punk-pop persona, Avril Lavigne was a skilled songwriter, and not immune from the realities of teenage heartbreak. Furthermore, she could craft a solid tune that stood tall even without the polished production values of The Matrix. There's nowhere to hide on My Happy Ending; even the more climactic moments ("We were meant to be, supposed to be, but we lost i-i-i-it") consist of little more than Avril Lavigne just stretching the melody ever so slightly. But it works very well, indeed.
The music video for My Happy Ending is just about as emo as you can get, which is perfectly apt for the period in which it was released. Although perhaps not as immediately recognisable as the likes of Complicated or Girlfriend, it's nonetheless a strong visual. It takes place in an abandoned cinema and shows Avril Lavigne watching memories of a relationship that ended badly. It's framed beautifully, with scenes from the 'movie' transitioning back into the present day; the shots of her playing the piano as the film reels project around her are visually striking. Like the song though, the video is realised in a very modest manner, if not in the budget then certainly in the delivery. The concept could have been pushed a bit harder, and the piano scenes a little more indulgent. It's not a completely radical departure, as Avril Lavigne still plays into her stereotype a bit; there's an impressive array of scowling and casual vandalism littered throughout the video, as well as the obligatory scene where she jams with her band. But this feels like the toned-down evolution of everything that came before it, rather than a total departure.
In the UK, My Happy Ending matched the #5 peak of Avril Lavigne's previous single Don't Tell Me. But that's only half the story because looking at the single in the context of the album, it was a much more significant hit. Although Under My Skin debuted at #1, six weeks later it had already dipped to #33. The arrival of My Happy Ending saw a swift reversal in the album's fortunes, causing it to rebound back into the top 10 for a further six weeks. In America, it was a similar story, if a little more clear-cut, since this was the only single from Under My Skin to make the top 10 at all and again prompted a similar chart bounce for the album. It's entirely possible that without this single, the campaign would have been entirely front-loaded and then collapsed. Certainly, nothing else released from the album had such a direct and immediate impact.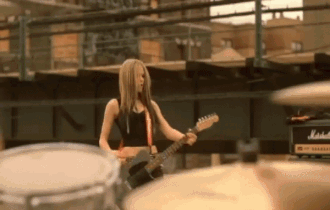 Perhaps even more crucially though, My Happy Ending helped Avril Lavigne transition through that difficult second album and prove without a doubt that there was much more to her than a "sk8er boi" gimmick.
---