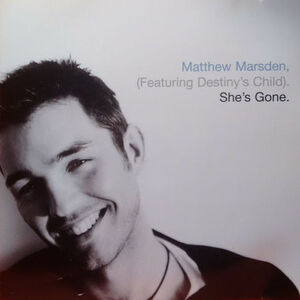 Released: 26th October 1998
Writers: Daryl Hall / John Oates
Peak position: #24
Chart run: 24-44-61
---
As collaborations go, She's Gone might not be particularly well remembered (which is something of an understatement), but it remains probably one of the most bizarre things to ever happen in pop music.
A few years before Destiny's Child were routinely topping the chart, selling millions of albums and winning countless awards, they featured – as backing vocalists, no less – on Matthew Marsden's second single. It seems preposterous, but with both acts signed to Columbia Records – and trying to secure a foothold in the charts – the decision to fashion a duet between them was not unreasonable. After making a strong debut with No, No, No (which peaked at #3 in America and #5 in the UK), Destiny's Child hadn't replicated that success with the follow-up, With Me, and their self-titled album failed to enter the top 40. Meanwhile, Matthew Marsden's music career got off to a reasonable start when The Heart's Lone Desire reached #13; however, Columbia Records might have hoped that his popularity playing mechanic Chris Collins in Coronation Street would translate a little more prominently. So, logic – and straightforward maths – would suggest that putting the two acts together and combining their respective sales onto one song may be enough to see them into the top ten.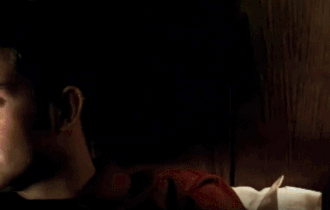 What's unavoidable about how the plan was executed is that it feels like a misuse of resources despite all the composite elements being good. She's Gone – a gorgeously soulful mid-tempo – was originally a hit for Daryl Hall and John Oates in 1976. It really suits Matthew Marsden's voice, for the most part, as well. But even making allowances for Destiny's Child pursuing a neo-soul sound at the time, if you're going to have Beyoncé Knowles and Kelly Rowland feature on a track (alongside original members LaTavia Roberson and LeToya Luckett), you'd expect them to do more than this. The result is something that doesn't seem like it would necessarily provoke any substantial response from either act's fanbase.
It would almost be understandable if She's Gone was a cover version quickly created out of convenience. But that's not the case since the song has – in parts – been reworked. Mostly notable with a new spoken introduction from Destiny's Child: "In order to keep me, this is what you got to do, you got to look at the bigger picture and what you need to do; I don't want the material things, all I want is me and you, so just follow your heart, and it will tell you what to do". It somewhat overstates their eventual role in She's Gone but is nonetheless a way of giving the group some investment and purpose in the track. The first verse is also shortened to remove some of the more abstract lyrics from the original ("Sorry Charlie for the imposition"), showing greater consideration about how the song's content would come across to a '90s audience than might typically be expected.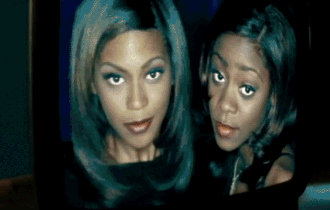 One thing unchanged about She's Gone is that it starts in a (very) low register. However, while Daryll Hall and John Oates could build harmonies, Matthew Marsden tackles them alone, which isn't necessarily where he's at his strongest. However, as the melody ascends ("Now I can see, love's taken her toll on me"), the quality of his voice emerges. Although Columbia Records seemed intent on trying to sell Matthew Marsden down the adult contemporary route, he's a terrific pop singer. The chorus: "She′s gone (she's gone), oh I, oh I, we gotta learn how to face it, (she′s gone) she's gone, oh I, oh I, I′d pay the devil to replace her, she's gone (she's gone), oh I, what went wrong" is delivered with a delectably smooth, likeable earnestness that avoids being unnecessarily showy. She's Gone strikes a delicate balance between a highly listenable performance and a gentle, undemanding arrangement, which works well when the final two minutes is mostly a looped chorus, yet never feels repetitive.
The effort expended on She's Gone is also evident in the music video. It features Matthew Marsden in a bedroom where everything around him appears and moves as though it's underwater. Some shots – like when he opens a fridge and the food inside is floating around inside or kicks off his shoes, which drift toward the ceiling – remain technically impressive. Other sequences, mostly involving a female love interest (with her nipples very visible through a white vest top, for some reason) do – inevitably – show their age a bit now in terms of the images being superimposed. All the same, there's a low-key effectiveness to the concept that is executed really well. And the video neatly gets around Destiny's Child being absent from the set by having them appear on a television in the bedroom, even if Matthew Marsden's reaction to them is somewhere between perturbed and disinterested.
Alas, the combined efforts of the two acts did not have the desired effect. Peaking at #24, She's Gone put Matthew Marsden and Destiny's Child in the considerably worse position of missing the top 20 for the first time. There's an inescapable sense that while this is a pleasant and readily enjoyable version of the song, even a more established artist would have had their work cut out because it's just not an obvious hit single by '90s standards. However, in the grand scheme of things, She's Gone wasn't a disaster as much as a reasonably forgettable curio that sounds more like a pop music urban legend than something that actually happened.
This isn't the only time Columbia Records tried such a strategy with Destiny's Child. The group also provided vocals for the Jessica Simpson track Woman In Me, which was included on her debut album, Sweet Kisses, in 1999. It works a little better, given sugary R&B feels a more natural crossover of their respective demographics. However, Destiny's Child weren't ever going to be in the background for long and soon began work on their second album – The Writing's On The Wall – which proved to be a real turning point.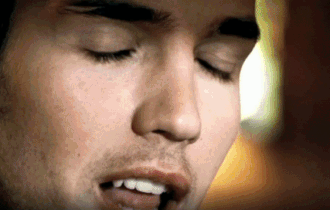 Preparations were also made for Matthew Marsden's third single, Walk My Way. A music video was filmed, remixes were commissioned, and promotional copies were distributed before the release was eventually cancelled. It might not have altered the overall trajectory of Matthew Marsden's music career. Still, the jaunty, guitar-based track presents a commercial and radio-friendly pop star, probably more in keeping with what people expected. Indeed, had Walk My Way been released instead of The Heart's Lone Desire or She's Gone, it would surely have been an easy top ten – if not top five – hit.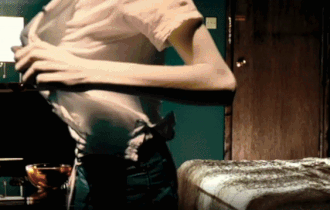 It wasn't to be, and – after parting with Columbia Records – Matthew Marsden went on to pursue an acting career, which has led to a consistent string of roles in movies such as Black Hawk Down, Rambo and Tenet. A return to the charts was never likely, but it is a shame because he's a great singer who was never truly given the right material to realise his full potential.
---