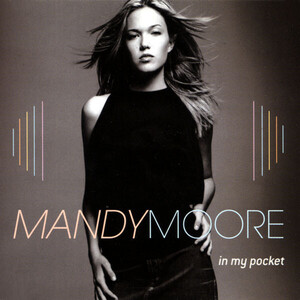 Released: 1st May 2001
Writers: Randall M. Barlow / Emilio Estefan, Jr. / Gian Marco Zignago / Liza Quintana
Peak position: N/A
Chart run: N/A
---
Mandy Moore's debut album campaign left her as an also-ran in the teen pop princess stakes, which is a real shame because the overlooked (or unreleased, in the UK) follow-up is easily one of the better efforts from this era.
Though certainly not without its highlights – Candy and I Wanna Be With You are terrific pop songs, albeit for very different reasons – Mandy Moore struggled to sustain momentum with her debut album, So Real, resulting in a hybrid reissue consisting of half existing material and half new recordings or remixes (this was the version later released as her international debut). Though she achieved some commercial success, her position never felt quite so assured as Britney Spears, Christina Aguilera or even Jessica Simpson. Thus, for Mandy Moore's self-titled follow-up, the intention was to expand her sound to put her in direct contention – if not ahead – of her rivals (of course, that presumed they would all remain static, which isn't what happened). And if nothing else, Mandy Moore was a significant step up in quality, offering a scintillating glimpse at how different things could've been if she'd had the right material right off the bat.
In My Pocket sends Mandy Moore down the Middle Eastern pop song route with hip-shaking beats and dramatic violin riffs. It was bang-on-trend – if not slightly ahead of the curve – for the time, arriving before many mainstream acts began experimenting with this style and incorporating it into their music. This is a terrific example, too (no surprise given it was co-written by Emilio Estefan, Jr.). Indeed, it's a mystery that Holly Valance didn't cover it for her debut album the following year, given how well it would have fit both sonically and lyrically. Because yes, there's no escaping it: In My Pocket has an entirely innocent lyric ("Nothing but pennies in my pocket") that can easily be misconstrued as something completely different thanks to the pronunciation and distorted vocals placed throughout the song. And once noticed, it's impossible to un-hear: "Nothing but panties in my pocket". Particularly since the following line: "Nothing but faith to keep me warm", does little to clear things up.
It's not as if In My Pocket is composed to be entirely innocent. There is a lustful, coquettish undertone here as Mandy Moore purrs: "Among the many muted faces, you try to find me in the spaces, you're drawn to my song, oh…". However, rather than cheeky suggestiveness, her performance instead conveys an aura of seductiveness that complements the mystique of the song: "Hoping the melody will leave you, you walk to where I might not see you, reach out to the wind; looking to catch it for a minute, but just to hold it, not be in it, I've been where you've been…". For all that In My Pocket leans on its style – the thumping middle-eight breakdown: "Your love…yeah, yeah, yeah…your love…nothing but, nothing but (nothing but, nothing but)" is an absolute thrill – there is substance here, too. Mandy Moore brings a perilous urgency to In My Pocket that gives a sense of something being at stake, even if it's never entirely clear what that is.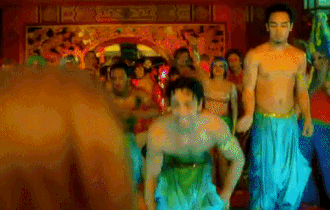 Though this single was intended to push Mandy Moore in a maturer direction, the video stops short of presenting her in an overly-sexualised way, which was rather refreshing for the time. Instead, she's shown strutting through a party which is choreographed and fashioned on the sound of In My Pocket, though there's probably a bit of creative cultural licence employed. It's a visual treat, flooded with vivid, neon colours. Furthermore, the editing creatively disguises Mandy Moore's (self-professed) limited dancing ability by framing her against a backdrop of extras and dancers while keeping her involvement to shimmies, shoulder shakes and some obligatory hand fan action. Instead, In My Pocket succeeds – tremendously so – thanks to her screen presence, which more than compensates for any shortcoming elsewhere. Mandy Moore sells the song for all it's worth, bringing intensity, awe and liberation to the proceedings around her. As a package, this doesn't just feel like a comeback; it felt like the arrival of a star.
Alas, rather than make up ground on her rivals, In My Pocket widened the gap further still for Mandy Moore. The track failed to chart in America, going no higher than #2 on the Bubbling Under Hot 100, which was disastrous given Britney Spears and Jessica Simpson had both released the lead singles from their second albums and scored top 20 hits on the Billboard Hot 100. Even Christina Aguilera reached #18 with The Christmas Song (Chestnuts Roasting On An Open Fire) from her festive effort, My Kind Of Christmas. It wasn't an enviable position to be going last(ish); still, the momentum from I Wanna Be With You – which was a big airplay hit – coupled with solid video rotation should surely have been enough to see In My Pocket perform better than that. The song did, at least, peak at #11 in Australia. However, that didn't seem to offer enough incentive to pursue a wider international push for the campaign, and it ended up skipping most territories – including the UK – altogether.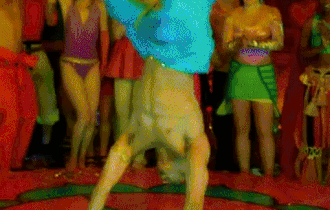 Consequently, Mandy Moore didn't exactly get off to the best start, debuting at #35 in America. There was, at least, a consensus this time that the album was on a par with, if not better than, her rivals were offering. And a broader strategy involved one of the songs – Cry – being tied to the 2002 teen movie A Walk To Remember, which starred Mandy Moore in her first lead role. If the film was successful, the hope was that it could potentially reignite interest in Mandy Moore. And things initially went according to plan: A Walk To Remember opened a few weeks before Britney Spears' Crossroads, proving so popular with audiences that it ended up grossing more at the American box office, despite having a much lower profile. However, fans of the movie didn't flock back to the album. If anything, they bought the soundtrack, which did, at least, contain several Mandy Moore songs. When Cry failed to create any significant impact, the campaign ended.
Ultimately, despite the marked improvement on her debut – quality-wise, at least – this still wasn't the direction Mandy Moore wished to pursue. So, while the album may not have succeeded in the traditional sense, A Walk To Remember laid the foundation for what would come next. That said, it's still a shame Mandy Moore and In My Pocket didn't attain the commercial recognition they deserved because both are worthy products of the teen-pop era. Quite possibly among the best, in fact.
---