Released: 5th June 2000
Writers: Michele Chiavarini / Summer Burkes / Tracy Kilrow / Michael Marz
Peak position: #18
Chart run: 18-24-26-35-45-59-56-62-65-75-51-48
---
The old adage goes that if you can't say anything nice, then don't say anything at all. But Daphne & Celeste most definitely did not subscribe to that sentiment because if they did, U.G.L.Y. would have been little more than a few seconds long.
Where do you even start to unpack the enigma of Daphne & Celeste? Taken at face value, they were two precocious teenagers thrust into the charts when bubblegum pop music was running riot, and any semblance of quality control had gone out the window. To many people, no further explanation was needed. However, despite their vibrant, cartoony veneer, the duo – Karen DiConcetto and Celeste Cruz – were entirely switched on to the sheer absurdity around them. They were also astute enough to recognise the thinly veiled contempt with which some media outlets treated pop music in general. Disinterested interviewers got disinterested answers; patronising questions were met with deadpan responses. Daphne & Celeste didn't fall in line with the way pop stars were expected to speak and behave, although neither did they necessarily go out of their way to be disruptive. They merely behaved like most teenagers who'd been thrust into the spotlight would: brimming with excitement, bravado and no filter whatsoever.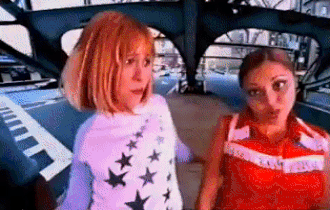 The duo's debut single Ooh Stick You! perfectly encapsulated all of those things. It was bratty, daft and incredibly catchy, earning Daphne & Celeste a top ten hit. A follow-up was all but inevitable, not least because Universal already had several songs – including U.G.L.Y. – written before auditioning anyone to sing them. Audiences now knew what the pair were all about, which is really important when it comes to this single and something that still needs to be acknowledged here. The song is completely tone-deaf by today's standards. That's not to say there wasn't criticism at the time, either. People called it out for having the potential to encourage bullying, which was a reasonable possibility as far as an impressionable audience were concerned.
Thus, U.G.L.Y. feels a little uneasy and awkward to listen to now, and that's not necessarily a bad thing because the lyrics haven't changed; we have. Everyone will have their own level of tolerance for how much enjoyment and humour – if any – can still be gleaned from the track (no judgements here). And it's not to suggest that anyone went into the creation of U.G.L.Y. with genuine, intentioned malice; this was clearly intended to be light-hearted. But if you were on the receiving end, it may not have been all that funny.
Daphne & Celeste were just about able to get away with it precisely because they didn't fit in. Their whole schtick was built around being pop music's irritating younger siblings who weren't hated by their peers but seemed to be tolerated more than anything else. The duo largely operated in their own little bubble; so, while on paper U.G.L.Y. is essentially a three-and-a-half-minute string of insults, the way Daphne & Celeste natter back and forth with pitch-shifted chipmunk vocals is akin to two friends chatting gibberish: "When looks were handed out you were last in line, your face looks like where the sun don't shine, did you fall off a building and land on your head, or did a truck run over your face instead". The production adds further layers of wackiness; there are cartoony sound effects (screeching tyres, tooting horns), and the track adopts a pseudo-Country & Western style during the chorus as a banjo frantically plays in the background. The whole thing is more convincing as a comedy interlude on a sketch show than an attempt to be genuinely offensive.
Indeed, there was wider context to the song's existence. The refrain: "U-G-L-Y, you ain't got no alibi, you ugly! Ey, ey! You ugly" had its roots in a funk/ska track titled Ugly, performed by Fishbone on their self-titled EP in 1985. It originated as a political statement but became more widely known as a cheerleader chant from the movie Wildcats (hence Celeste saying: "OK, I'm a cheerleader now" during the intro). As was typical of the '90s/'00s, the songwriters took that concept and pushed it to the extreme: "What you really need is to wear a mask, and book that plastic surgeon fast (girl), you're scary, you're hairy I heard about you, you're the main attraction at the city zoo".
It's not as if there wasn't some mileage in the idea, though; Lolly had landed a top-five hit after covering Toni Basil's Mickey less than 12 months earlier, and U.G.L.Y. is – in many respects – a cruder riff on that. The track develops the core hook to create some equally catchy melodies, such as the: "Get busy, get busy (yo mama says you're ugly), get busy, get busy (yo mama says you're ugly)…" middle-eight breakdown. Underneath an unashamedly puerile veneer lies a composition executed remarkably and consistently well in terms of meaningfully extrapolating one phrase to create a whole song.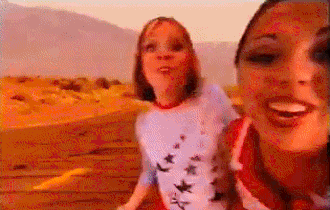 Given how vividly descriptive U.G.L.Y. is, it's a relief to find that the music video – which would pretty much have written itself – opted not to take the literal route. Rather than wheel out a series of offensive and exaggerated stereotypes, the visuals prominently push the cheerleader angle, along with Y.M.C.A.-esque choreography. There's a chaotic energy running throughout, with a flurry of time-lapse backgrounds (vaguely related to some of the lyrics), double-speed performances, rapid jump cuts and camera zoom effects. Despite appearing to have been put together on a modest budget, U.G.L.Y. positively revels in the sheer disarray and disorder that the editing creates. The overall effect is one wholly befitting of the zany, vexatious personality Daphne & Celeste projected; anything slicker or more polished just wouldn't feel like them anymore.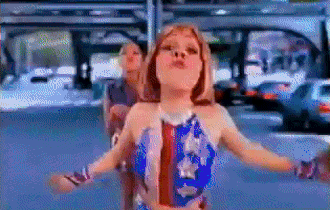 The duo enjoyed a fair amount of exposure – and a bit of criticism – during the promotion of U.G.L.Y., so it might initially have been seen as a bit of a disappointment when the song only reached #18 in the UK. Nevertheless, it did cut through into the public consciousness more than would be expected from a track that scraped into the top 20; not quite to ubiquitous novelty hit levels, but it was undoubtedly well-known enough, nonetheless. Indeed, U.G.L.Y. spent an impressive 12 weeks in the top 75 overall, which was evidence enough of Daphne & Celeste's underlying appeal to warrant a third single. Alas, the duo couldn't quite generate the same degree of interest in their debut album, which arrived a few weeks later. We Didn't Say That! peaked at #140 despite some surprisingly good (or at least, not outright dreadful) reviews.
In hindsight, U.G.L.Y. provides some important perspective. Daphne & Celeste don't need to disown the track, but would they – nay, any pop act – record it now? Unlikely. It's far less an example of things being worse at the turn of the century than it is an ample demonstration of how much more mindful we are now. And that's really not a bad thing.
---