Released: 6th September 1999
Writers: Mike Chapman / Nicky Chinn
Peak position: #4
Chart run: 4-8-10-16-20-27-33-43-60-74
---
It's fair to say that Lolly may have taken a few people by surprise when her debut single, Viva La Radio, peaked at #7 in the UK. For the follow-up, she used that reliable tool in any budding pop star's arsenal: a well-timed cover version.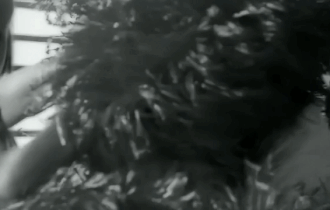 Mickey is actually a cover of a cover. The song originates back to 1979 when it was recorded by Racey, although their version was called Kitty. The track was subsequently popularised in 1982 by Toni Basil when the lyric was changed to Mickey, and the: "Oh Mickey you're so fine, you're so fine you blow my mind, hey Mickey" chant was added. The single was a huge success, peaking at #2 in the UK and #1 in America. Yet, Toni Basil's music career was brief, and she scored no other significant hits, which left Mickey as a largely forgotten curio of the early '80s. Thus, as cover versions go, it was an inspired choice for Lolly to record in 1999 because the sound of Mickey fitted perfectly into the style and image that she had established with her debut single.
Indeed, there wasn't much that needed doing with Mickey to get it ready for another assault on the charts. Sure, the production needed updating a bit, and Lolly has a higher pitch than Toni Basil, so it was shifted into a different key. But otherwise, the song remains largely the same as the original, and that's not a problem because any changes made would likely have been for change's sake. The updated production alone is a glorious enhancement; considering there aren't any backing vocalists credited on the song, we'll presume that the low hum in the background of the melody hook is just an additional synth line. Either way, it's so good and gives Mickey a real sense of giddy pop euphoria.
The other crucial element that makes this single such a success is Lolly herself. She delivers a performance that is endearingly irrepressible and playful. Lines like: "You're giving me the chills baby, please baby don't" are invested with heaps of character and personality. There's even a hint of a throaty growl on the teasing: "Now if you take me by the who's ever gonna know, every time you move, I let a little more show". It might have taken two decades for Mickey to end up in Lolly's hands, but it's given such an animated and vibrant makeover that one could reasonably believe the song had been written for her. The track is often overlooked as a catalyst for spearheading the revival of cheerleader chant pop music: Ugly by Daphne and Celeste, Hollaback Girl by Gwen Stefani, Girlfriend by Avril Lavigne. Would those songs even exist had Lolly not brought Mickey back into the public consciousness?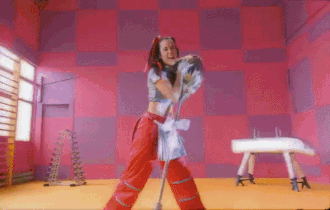 Mickey itself was an excellent enough pop package, but it also came with a terrific B-side: Sweetheart that deserves acknowledgement. It just might be one of the best songs Lolly ever recorded and is the perfect complement for the single. The track features dramatic synth stabs and a: "Woah, woah" hook dripping in so much vocoder that it makes Cher's Believe look like an acoustic performance. In hindsight, Sweetheart actually has a lot in common with the '00s electro-pop wave from a production perspective. It's a wonderful little song and well worth seeking out if you're into that sort of thing.
The music video for Mickey pays homage to Toni Basil's original by recreating the whole cheerleader concept. Although, in fairness, few others would make sense, given the song is mostly based around the chanted refrain. There's a charming sequence at the start of the video where the gymnasium set is in black-and-white – apart from a collection of pom-poms – which the dancers pick up, causing everything to explode into colour as the melody hook plays out. The subsequent colour scheme is, of course, ridiculously garish; what else for the late '90s? There's pink and purple panelling on the walls and luminous orange flooring. Evidently, there wasn't much left over for furnishings since the equipment consists of a weights rack, a pommel horse and a punch bag stand (wrapped in tin foil, of course), which seems relatively niche as workouts go. Nonetheless, Lolly makes the best of it, even roping in some male dancers for an American Football dance sequence. The music video is suitably frivolous but looks great, considering it was shot on what was presumably a reasonably modest budget.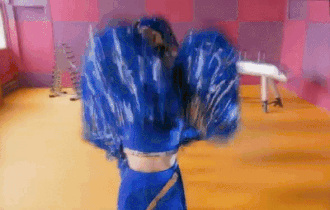 Mickey went on to become Lolly's biggest hit in the UK; it peaked at #4 and spent three weeks in the top 10. That was an impressive performance for an act whose target audience was still somewhat difficult to define. A few weeks after the single charted, Lolly's debut album – imaginatively titled My First Album (it does what it says on the tin) – entered the chart at #21. Sure, she might not have been a market-leading headline act, but Lolly was nonetheless establishing herself as a steady chart force.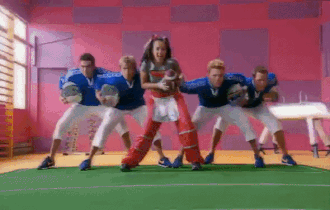 Having now enjoyed success with an uptempo and a cover version, the next step was inevitable – particularly with the festive season looming on the horizon – but could Lolly pull off a ballad?   
---