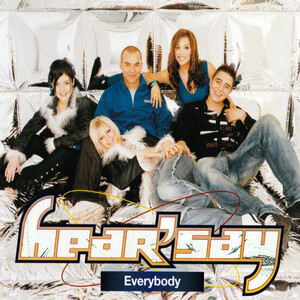 Released: 26th November 2001
Writers: Martin Harrington / Ash Howes / Richard Stannard / Julian Gallagher / Andy Caine
Peak position: #4
Chart run: 4-12-19-23-20-22-44-52-68-53-56
---
There's really no way to sugarcoat this. From their second single onwards, Hear'Say's career was hopelessly mismanaged as the group stumbled through a catalogue of disasters and unrealistic expectations, the worst of which was probably Everybody. But although a lot of criticism was thrown in their direction, none of this was Hear'Say's fault whatsoever.
As early as The Way To Your Love, it was clear that something had gone awry with ITV's Popstars concept. The idea had been to create a documentary-style show (there was no public vote here) showing the inner workings of the music industry as a new pop group was assembled. Of course, the fact that it was accompanied by a chart-topping single and album was no coincidence, but somewhere along the line, people started to lose touch with what success looked like where Hear'Say were concerned. When their second single reached #1, there was a ripple of disquiet about the fact that first-week sales of 75,514 were far less than the 549,823 of Pure and Simple. Of course they were; there was no three-month primetime TV show this time around, and the group's album – Popstars – had already sold over half a million copies. Now was when Polydor needed to step in and manage the situation to set realistic expectations moving forward. Hear'Say were going to miss the #1 spot at some point; that should never have been perceived as an alarming prospect since most acts experienced a healthy fluctuation in chart peaks. Instead, they did probably the worst thing possible: abandoned Popstars and released a brand-new album after just eight months.
Even where it appears there is some logic to this approach, it was still based on a questionable foundation. During the summer of 2001, Hear'Say kicked off their UK arena tour. After the initial eight dates sold out within hours, an additional 28(!) were added, with subsequent press coverage reporting empty seats within some venues. However, the main issue wasn't even an absence of scaling to demand; the group just didn't have enough material to fill a two-hour gig. Thus, it made sense (in a nonsensical way) to start expanding Hear'Say's repertoire and send them back to the recording studio.
A rush job though this was, Polydor assembled some hefty talent to contribute tracks for the group's second album, including Biffco, Cathy Dennis and Stargate. However, when Everybody was unveiled as the lead single, it became clear that Polydor were simply throwing anything and everything at the wall to see what would stick. Make no mistake, this is a delightfully effervescent, breezy song with a mean hook, but it feels like precisely the kind of track that Popstars intentionally went out of its way to avoid. For the most part, Hear'Say's brand had been built on slick pop fused with cool R&B-lite production values, so Everybody doesn't come across as a logical step forward. If anything, it was the opposite.
Despite that inconsistency, this is a cracking song. It draws a lot of inspiration from Five's Keep On Movin' – not least because it shares some of the same songwriters – which is an excellent basis from which to work. The recurrent: "Da da-dun da da-dun da, da da-dun da da" refrain that links the song together is a total earworm and precisely the kind of crowd-pleasing singalong moment you could imagine anthemically reverberating around stadiums. That atmosphere is carried through the chorus: "That everybody, needs somebody to love, be the one tonight; just anybody, won't shine the light that burns, only you are right. I can't imagine, how my life would be if I spent it without you, 'cos everybody needs somebody to love…and I want YOU", which is deceptively well composed. At first glance, it all appears a tad reductive, but as the production becomes more involved, the track is embellished with electric guitar riffs, record scratches and the white noise of a crowd cheering. Suddenly – and quite unexpectedly – Everybody proves itself to be an exhilarating, rousing little pop song that will leave you grinning from ear to ear.
One of the most interesting aspects of Hear'Say was how they rejected the convention of mixed-sex pop groups, which often relied more heavily on female singers. Up until now, there had been a concerted effort to distribute the vocals and emphasise the fact that every member could sing. The balance isn't entirely maintained here, but it tips in the other direction, featuring Noel Sullivan and Danny Foster as lead vocalists. It's not that Kym Marsh, Suzanne Shaw and Myleene Klass are left with nothing to do; they harmonise and ad-lib along the way. The pre-chorus is pretty terrific in that respect: "I want to tell the world and shout it out, that what we have is real, I know that this is what it's all about, 'cos I feel…", and ensures this never sounds anything less than a group effort. Nonetheless, it is striking to hear a dynamic where the male voices are noticeably higher in the overall mix and how well it works.
The music video for Everybody works very well from a functional perspective. It takes place within a futuristic space capsule (although the interior looks suspiciously like an Ikea showroom), flitting between Hear'Say playfully messing around and performing the song on a giant domed stage. Taking the visuals at face value, it fits with the bubblegum aesthetic of the time. However, it's impossible to ignore how knowingly – and persistently – it's been constructed to try and smooth over the ongoing rumours about tensions within the group. In light of what was to come next (this was Kym Marsh's last single with Hear'Say), Everybody is the epitome of forced fun; it's filled with wacky facial expressions and seems intent on trying to retroactively insert a chemistry into the group that may well have existed at one point, but almost certainly didn't anymore.
Such is the ludicrous benchmark Hear'Say were being held against; the press frenzy that accompanied Everybody peaking at #4 in the UK was entirely predictable. However, that it came as the group was jumping straight into new material made it almost impossible to spin positively. Everybody peaked at #4 in the UK, which – objectively – is hardly a disaster, but it did immediately raise questions to which there was no easy answer. The truth is this doesn't sound like a chart-topping single, as triumphant as it is. A top-five finish feels about right, and Polydor completely misread the situation by presuming Hear'Say's fanbase had only a transient interest in their music and would simply lap up any new material tossed in their direction. Of course, none of that nuance translated to the mainstream media who merely ran with the story they'd wanted to tell all along: that the group's new single had flopped.
To make matters worse, when their second album was released a week later, it reached #24. The writing didn't need to be on the wall at this point, but everything was feeding into that narrative. In many respects – be it the tour, the album, or the singles – the fundamental issue is that there was no sense of perspective. Yes, Hear'Say had opened their career with impressive sales figures, and yes, they had a platform quite unlike any other pop act (at the time). But they still needed a chance to settle and grow their catalogue of material organically. Trying to take shortcuts was doing them no favours whatsoever. Although Polydor inevitably wanted to capitalise on the lucrative festive market, Hear'Say just didn't have the commercial clout to hold their own. In the end, it all became a bit of a self-fulfilling prophecy.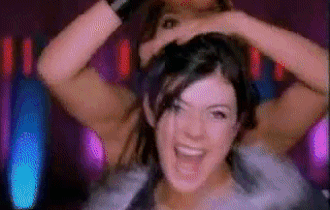 Perhaps more frustrating than anything is that there was still mileage left in Popstars. It might not have yielded any more #1 singles, but there was a decent run of hits to be had (Carried Away, Not The Kind, and I Didn't Want You Anyway all had potential). The same isn't true of Everybody, which sounds precisely what it was: a hastily recorded stopgap. If Polydor were dead set on new material, then a better thing to do would've been to take the better tracks (Angel In My Heart is gorgeous) and release a deluxe edition of Popstars. It still would've been perceived as a bit of a cash grab, but it was no worse than many other acts and – most importantly – it wouldn't have meant a decent album being tossed aside for literally no good reason whatsoever.
Either way, things were about to be derailed spectacularly as Kym Marsh quit Hear'Say less than two months later after a series of rows with her bandmates. Things were so bad that she announced her departure through a newspaper, sending the entire group into a tailspin from which they never really recovered. The timing could not have been worse; further promotion of Everybody was abandoned, along with Hear'Say's forthcoming arena tour. And from there, they just couldn't catch a break. The press adopted the stance that it was only now a matter of when – not if – the group would split up, and when Liberty X made a triumphant comeback with Just A Little, the discourse became altogether more unpleasant.
Everybody was a largely inconsequential single in the grand scheme of things, given everything else happening around it. There's a lot to enjoy here, though, even if some of it was muted by the sheer amount of baggage the track was carrying. It will always be hard to justify that it was worth launching an entire new album for the sake of one song, however good. Indeed, if there's a lesson to be learned here, it's that regardless of the way Hear'Say formed, treating pop music as a commodity rarely ends well. The group – and their fans – deserved better.
---