Released: 9th November 1998
Writers: Max Martin / Kristian Lundin
Peak position: #55
Chart run: 55
---
Although created by Lou Pearlman as a female counterpart to the Backstreet Boys and *NSYNC, Solid HarmoniE had yet to experience the same exponential spike in popularity. But surely this was to be their moment as they unleashed another Cheiron banger…
Throughout 1998 it seemed as if Solid HarmoniE were constantly on the cusp of a breakthrough. Their first three singles in the UK peaked at #18, #16 and #20, respectively, which left a bit to be desired compared to the Spice Girls and All Saints, who were still routinely topping the chart. However, Jive Records appeared to be looking less at other girl groups for a point of comparison and were eager to emulate the trajectory of the Backstreet Boys and *NSYNC. Neither was a hit straight out of the gate but gradually built their profile across Europe and eventually America. Solid HarmoniE followed – quite literally – in their footsteps, joining them on tour. And they did amass a few top ten singles along the way. What they needed now was that one song which could push them to the next level.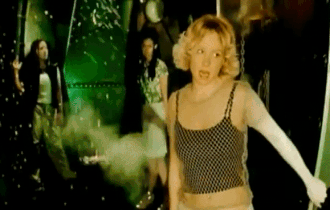 To Love Once Again is about as a perfect an example of the late '90s era of Cheiron, where the studio had established a distinctive and commercially successful sound but weren't quite at the stage of global domination. The first verse is full of pensive melancholy: "Remember when we said goodbye, to give each other time, we said that we should live apart, only for a while; now it feels like it's all I'm waiting for…", which is effectively complemented by mournful keyboard and guitar chords. The beat starts to kick in during the chorus signalling there's about to be a shift in tone, before the bouncy production crashes in for the second verse.
That Cheiron were capable of writing a mean hook was – by this point – no surprise to anyone. Even so, To Love Once Again is a terrific example of how they were pulled in from every direction. The chorus is jammed with catchy riffs: ("To love once again, I'd do anything, oh yeah-eah-eah…)that extend the melody, with the addition of punctuated backing vocals later in the song ("I. Would. Do. A-a-a-nything. Just. To. Love. Once a-a-again") adding a further layer to the composition. Despite the presence of a familiar-sounding swoosh into the middle-eight: "Now I'm waiting for a sign that leads me closer, to lo-o-o-ove…again", the subsequent key-change into a jangly breakdown, complete with ghostly harmonies is pure bubblegum pop that'll leave you grinning from ear to ear.
For its release, To Love Once Again was furnished a radio mix where the most significant change came from the fact that the final chorus was cut out. It was a somewhat unusual move given the album version clocked in at three and a half minutes, so it's not as if the track was excessively long to start with. A few synth kicks were also added, mirroring a production gimmick that was beginning to become more pronounced in Cheiron's work. And in many ways, that's what To Love Once Again represents; this feels like a track that could have been recorded by the Backstreet Boys or *NSYNC at this time. Furthermore, it's not remotely inconceivable that either act could have enjoyed a reasonably big hit with, either.
It's evident from the music video for To Love Once Again that Jive Records were still invested in Solid HarmoniE. Considering the group had yet to score a top ten hit in the UK, they got better visual treatments than some acts who had racked up several. The concept was inspired by 20,000 Leagues Under The Sea, and the set – modest in size though it is – looks impressive and readily believable as one that belongs within a fictional submarine. Pipes are hanging from the walls, almost every surface is covered in metal rivets, and the colour palette uses muted greys, greens and browns. Even the water 'outside' looks like it's being disturbed by a vessel that is in motion. While the bursts of flame and sparks showering the group would, presumably, be concerning in an actual submarine, here they are slowed down and used stylistically to add a flourish of drama to the shots.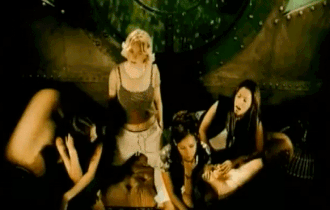 That's about as far as To Love Once Again goes in terms of incorporating any actual narrative from 20,000 Leagues Under The Sea. However, there were greater ambitions for the video to do so. Establishing shots featuring a scaled model of the Nautilus were filmed (at the Sea Life Centre in Birmingham) to provide some context but were abandoned allegedly at Solid HarmoniE's behest. Plans to have a male love interest who had sunk to the bottom of the ocean – a nod to Titanic – were also abandoned when it transpired that the person who'd been hired had to wear a nose clip and couldn't stay underwater for longer than 10 seconds. Despite these setbacks, the video never comes across as one with apparent gaps in the sequencing, and the whole thing comes together really well.
Having spent 1998 consistently charting within the tail-end of the top 20, Solid HarmoniE weren't a lost cause by any means. Nonetheless, To Love Once Again was probably the song that needed to make a decisive move for them. And it did…in the wrong direction. The track peaked at #55 in the UK, and there isn't really any way to soften that blow. In most cases, you could probably make an argument for diminishing returns given this was the fourth single from their self-titled debut album, but even that had never risen further than #111. In all, it was a bit of a disaster, and this would be Solid HarmoniE's final appearance in the UK charts as things started to unravel fairly rapidly.
So, what went wrong? Mariama Goodman departed (again) to join the Honeyz; meanwhile, Melissa Graham quit to launch a solo career, which yielded several singles but ultimately didn't make much of an impact (Hello World is pretty good as turn-of-the-century jangly guitar pop goes, though). Rebecca "Beki" Onslow and Elisa Cariera remained in the group and were joined by Jenilca Giusti to work on their second album. However, this never materialised (not officially, at least) as Solid HarmoniE were soon dropped by Jive Records, which isn't entirely surprising given the acts they had on their roster and how prolific they became. It's difficult to see how there could be any inclination for the label to keep investing in a group that seemed to have hit a dead-end when they had so many other options available. Solid HarmoniE did stage a comeback in 2014, though, when Melissa, Beki and Elisa reformed to release Circus.
In retrospect, perhaps the most significant issue here is one of timing. Although Solid HarmoniE were created with *NSYNC and the Backstreet Boys in mind, neither ever had a direct girl group counterpart. Indeed, it's only with the launch of Britney Spears that Jive Records really nailed how to market a female pop star, and it was not by pitting her in direct competition. To Love Once Again is easily on a par with most Cheiron's output in the late '90s – as were Solid HarmoniE's other singles – it's just that they never quite seemed to be quite so clearly marketed in a way that could, perhaps, have seen them achieve a little more given the quality of the material they had.
---