Released: 29th December 2003
Writers: David Frank / Mic Murphy / David Conley / Alisha Brooks / Everett "Jam" Benton
Peak position: #3
Chart run: 3-7-14-20-33-39-49-59
---
Despite being the only solo Spice Girl to maintain a 100% record of top ten singles, Victoria Beckham's pop career was never that straightforward. Yet, despite being under constant media scrutiny, she quietly delivered some brilliant singles. This Groove was perhaps the most eyebrow-raising as it attempted to re-position her as…a hip-hop artist?
The story of Victoria Beckham's second album has become the stuff of internet folklore. Exactly what went down remains shrouded in mystery; in some accounts, she recorded a pop album – Open Your Eyes – but was dissatisfied with the results and instead opted to pursue an R&B/hip-hop sound with producer Damon Dash. In other versions of the tale, that album – Come Together – was instigated by Victoria Beckham and recorded first, without her label's knowledge. When Telstar found out, they were allegedly alarmed at the prospect of trying to market such a product and pulled together a clutch of pop tracks for her to record instead. Whichever set of events is accurate, what's known for sure is that both Open Your Eyes and Come Together exist (they've since leaked) and that there was a tug-of-war over which direction Victoria Beckham would take. Because it all played out with the release of this double-A side – This Groove/Let Your Head Go – consisting of a song pulled from each project to see which would gain more traction.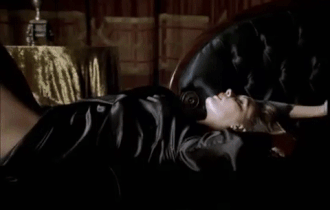 Of the two tracks, This Groove was always going to be the one which drew more attention. The prospect of Victoria Beckham creating a hip-hop track had been subject to months of media speculation – and a fair amount of derision – amid ridiculous tabloid stories about how she was declaring herself the female Eminem (she wasn't). And while This Groove most certainly moves in a new direction, it isn't easy to classify exactly what it is. Ostensibly the track is indeed an R&B/hip-hop flavoured mid-tempo, but if it was supposed to be a po-faced, credible attempt at breaking into the genre, then it fails miserably. Yet, Victoria Beckham never took herself as seriously as other people did; therefore, what exists is a light-hearted, playful subversion of the genre. And in that respect, This Groove is an utter triumph.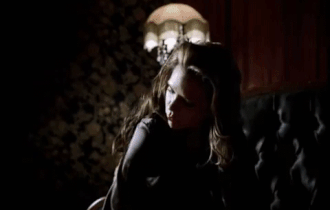 It opens with that classic trope: a (one-sided) sexy telephone call, and it is utterly iconic: "Hi, it's me. You wouldn't believe what I'm doin'…come on then. Well take a little bit…it feels good. What're you doin'? Come on, let me hear you". Yes, there are some inconsistencies, like the chants of: "Keep your eyes on me", which – as anyone who had a mobile phone in 2003 will attest – would not have been possible. Most didn't even have a camera (definitely not a front-facing one), and those that did were very low-resolution. The intro is so silly; it's hard to believe Victoria Beckham wasn't in on the joke, not least because it sounds like she's barely able to keep a straight face throughout. But quite frankly, even if she wasn't, it's something of a moot point because she's married to one of the sexiest men in the world. If anyone is in a position to demonstrate how to conduct a booty call, it's Victoria Beckham. 
The track itself is based around the melody from The System's Don't Disturb This Groove, which reached #4 on the Billboard Hot 100 in 1987. Although, that would likely have been lost on the audience for this single because the track wasn't a hit in the UK and the duo achieved very little recognition here. As shimmering '80s synth-pop goes, it's an absolute treat and a little later in the decade may have been reinterpreted in a very different way. However, here it's transformed into a brooding late night slow-jam as Victoria Beckham mumbles her way through the quick-fire verses. In the places, the lyrics are slightly clunky ("You see I made the decision to give you a call, 'cause sex is written and the scribbled writing's on the wall"), and in others, they don't make sense ("Why don't you check the reflection in my mirror frame"). But that endearing clumsiness is all part of the charm with This Groove. Ironically, in a song that is – apparently – supposed to be portraying a cool new persona for Victoria Beckham, she winds up sounding more relatable than ever before.
It's during the second verse where you start to suspect that This Groove is, in fact, merely a showcase for her wry sense of humour more than anything else: "I want you to come and listen to my body sing, wanna hear my bell ring (BIDDY BONG BING)". It's as brilliant as it is utterly ludicrous, and it's difficult not to be thoroughly amused by the absurdity of it all. Particularly when the middle-eight is serenaded with chants of: "BING BONG". And that's where This Groove becomes a bit of a quandary. It's not a 'joke' record; there are times when it makes a successful – and perhaps even credible – stab at being a sensual R&B slow-jam. But tonally, the whole thing feels like a knowingly tongue-in-cheek caricature of everything people thought Victoria Beckham was trying to be. In that sense, it's insightful witty and just a whole lot of fun.
The biggest giveaway that this might be the case comes from the music video. While Let Your Head Go took a more direct approach with its whacky observational humour, This Groove is a little less 'out there'. It's basically three-and-a-half minutes of Victoria Beckham writing around in her lingerie. Needless to say, she looks terrific (legs for days!), but it's never quite so laden with hubris as the concept implies. As the video progresses, her movements become less teasing and more frantic, to the point where it appears at times as though she's clawing maniacally at her face and torso. Then, having rubbed her lovely satin nightwear very thoroughly down the wall, across the chaise longue and onto the bed, she starts crawling under the bed. It's a delightfully silly send-up of the genre, which firmly reinforces that if there was a joke to be had with This Groove, then Victoria Beckham was very much in on it.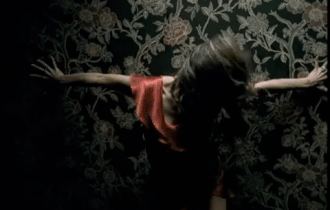 A notable aspect of this single was the strong association it had with Top Of The Pops. The BBC show was undergoing a revamp in response to a ratings crisis and attempted to rebrand itself as a magazine show focused on viewer interaction. The first subject of the experiment was This Groove/Let Your Head Go, and it tied in nicely to the narrative of the single. The audience was encouraged to vote for which track they would prefer to see Victoria Beckham perform on the revamped show, which would give both she and Telstar an insight into the direction the album campaign might take. Somewhat unexpectedly, This Groove emerged victoriously. It was a deserving winner (and thank goodness something finally went Victoria Beckham's way), but Let Your Head Go had felt like the more obvious option. On paper, this was a coup for the single, guaranteeing it weeks of intense publicity ahead of its release. But this new direction for Top Of The Pops wasn't well-received, and with good reason. Performing on the show was supposed to be a measure of success. Bur the revamp appeared to confirm that its star power was now significantly weaker than that of those appearing on it, such was the airtime that they dedicated to this single. So, it's somewhat unfortunate that Victoria Beckham became the face of a Top Of The Pops format which left a bitter taste in many peoples' mouths.
Nevertheless, This Groove/Let Your Head Go peaked at #3 in the UK. It was the highest new entry that week and scored a victory of sorts by finishing well ahead of Sophie Ellis-Bextor's I Won't Change You, which reached #9. But it was not the much-coveted #1 hit that Victoria Beckham allegedly craved and was therefore deemed to be yet another disappointment. In fairness, the situation wasn't helped by the obscene amount of coverage that the BBC lavished upon the single during the Top Of The Pops re-launch. It was not unreasonable to presume that a song which earned three separate live performances (plus another for Let Your Head Go) should have topped the chart or at least been a notable success. Victoria Beckham may have been a coup for the show, but maybe, just maybe, if she'd been allowed to release the single without such a fuss, the expectations for it would have been a little more measured.  
In terms of contingency planning, This Groove/Let Your Head Go seemed like a smart idea. After all, by 2003 plenty of pop acts had committed to a new direction and then found themselves furiously backpedalling – if they even still had a record deal – when it didn't go well. So, this appeared to be a measured compromise. Except Telstar had committed beyond their means by facilitating Victoria Beckham to record two albums with the intention of abandoning one of them. Shortly before the release of a follow-up single called My Love Is For Real in 2004 (which would steer her firmly in a pop direction) the label went bankrupt, leaving her without a record deal. At this point, Victoria Beckham called time on her music career, and This Groove/Let Your Head Go was a perfect summation of the underlying reason. By this point, people were more interested in talking about the concept of her material rather than the content. No-one could ever say that Victoria Beckham didn't throw absolutely everything into this single. Still, there just wasn't the goodwill beyond her loyal (but small) fanbase to shift the preconceived judgements that had been formed.
Indeed, at the root of it all, the truth is that she never really recovered from Out Of Your Mind peaking at #2. In the eyes of the public and the press, Victoria Beckham's career was defined as little more than a quest to top the charts. Every time she failed to do so reinforced the notion that she wasn't cut out to be a pop star, despite a clutch of singles – including this one – that proved quite the opposite.
---