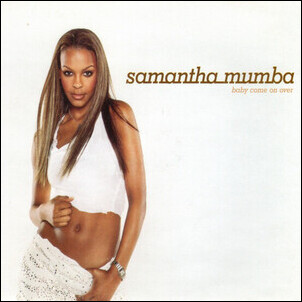 Released: 10th September 2001
Writers: Anders Bagge / Arnthor Birgisson / Samantha Mumba
Peak position: #5
Chart run: 5-11-19-25-31-48-55-68-72-69
Billboard Hot 100 chart run: 68-68-64-50-49-54-64-72-72-74-84-83-94-92-95-100-99
---
Samantha Mumba was no stranger to successfully incorporating a sample of a major hit to craft a brand new track. So, with this – her fourth single – she turned her attention from David Bowie to…Kool & The Gang.
The release of Baby Come On Over was a significant moment for Samantha Mumba's debut album campaign. Despite yielding several top-three singles – including a big international hit – the album itself had fared modestly, peaking at #17. A re-issue had already seen it reach #67 in America, so hopes would be high for a similar bounce here, and it was preceded by this single. Baby Come On Over wasn't a brand new track – it featured on the original tracklist – but this version was as good as, having been reworked to such an extent that it was almost unrecognisable. Fundamental to this change was the addition of a sample from Kool & The Gang's Ladies Night, which shifted the entire focus and energy of the song. Such is the extent of the transformation that in America – where this served Samantha Mumba's second single – it was titled Baby, Come Over (This Is Our Night). Although that was in part to avoid confusion with Christina Aguilera's Come On Over Baby (All I Want Is You), it's also a more accurate reflection of the two composite elements.
Boasting five(!) producers, Baby Come On Over sits somewhere between the slick, punchiness of Gotta Tell You and the anthemic euphoria of Always Come Back To Your Love. With so many hands on the production, there is a sense that the track doesn't quite know what it wants to be, and that comes through in the way that it veers unpredictably from gear to gear. Make no mistake, this is an exhilarating ride of a pop song, but it must have been an absolute headache to know where to try and market it, particularly in America. The jaunty punctuated opening: "Baby come on o-ver…to-night, we can make it…all right, take a piece of…my heart", is consistent with the original album version, which is a pleasant – but unremarkable – slice of jangly teen pop. Then there's an immediate shift to the deep bass and throbbing synths of the verses, which projects a much cooler, late-night commercial R&B vibe. And it does feel like Baby Come On Over really wants to hit that demographic as Samantha Mumba silkily dissects the motives of her soon-to-be lover: "You say that you need me, to be more than just your friend, so I've thought about it, and maybe you're right, I've been checking your records, and they seem all right".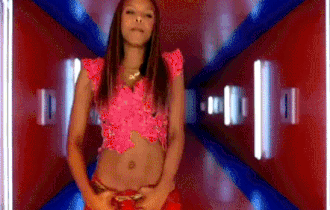 Inevitably, the track is never explicit in what it's actually referring to (although Baby, Come Over (This Is Our Night) is hardly subtle). But Samantha Mumba works the 'if you know, you know' angle well and comes off as a little more street-smart and astute than some of her peers. If the chorus feels a bit bombastic by comparison, then it barely matters because she soon loses interest in the core melody anyway, as the song becomes more ad-lib than chorus. Whether it's a drawled: "Baby I'm waiting, there's no hesitating tonight…" or a simple: "I-yi-yi, I-yi-yi", Samantha Mumba seems determined to cut her own path through Baby Come On Over.
It's around the two-minute mark, however, where things start to get really interesting; a timely reminder that if anyone ever says: "Check it" in a pop song, then they mean business. There's a juddering, squelchy breakdown – which might be one of the most turn-of-the-century things ever committed to record – before the track launches into the sampled: "This is our night tonight, everything's gonna be alright" hook. Thematically Ladies Night – or, this part of it, at least – is an excellent fit for Baby Come On Over. But the magic happens when the sample is interwoven with the chorus; the two work so well together, and it's a shame that for all the build-up, that particular part lasts no longer than ten seconds. The final third of the song feels incredibly busy and a little chaotic, but there is so much to enjoy here, including a colossal key-change ("YEEEEEAH-YEAH-YEAH"), which wasn't there before. But it all feels so short-lived; as if the producers – having taken the track in a new direction – just wanted to curtail it as quickly as possible. Sometimes less is not more, and another 20 – 30 seconds to indulge in the euphoric hot pop mess that had just been served up would not have gone amiss.
Of course, if Baby Come On Over was to give Samantha Mumba's album a kick up the backside, then it needed to look the part, and in that respect, the music video goes in hard. It's very much the antithesis to the effective simplicity of her debut single, as it strives to hit almost every trope you'd associate with a track that was attempting to position its performer alongside the flagship American bubblegum pop acts of the time. The video takes place inside a CGI building with Samantha Mumba's name emblazoned across the front. Inside…well, not an awful lot is happening besides a series of flashy sequences. There's a slick dance-arena breakdown, moving corridor shots, judicious application of the fish-eye lens, and an impractically fashioned Escher-esque CGI walkway upon which the backing dancers are statically positioned (because, technology). The entire thing is so very of its time, but that's precisely the point. It gave Samantha Mumba a credible shot at becoming a major chart star in America, and based on this video, it was readily believable to everyone else that she had already made it.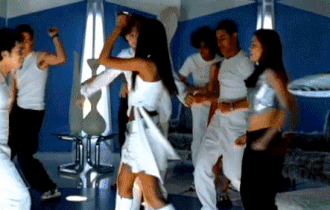 It would be dismissive to suggest that Baby Come On Over wasn't a decent hit in the UK; after all, it peaked at #5 and continued Samantha Mumba's run of top five singles. But at the same time, it feels like the plan was for it to be much, much bigger and provide another defining moment in the album campaign. The track never quite felt so significant, although it did see the re-released Gotta Tell You back into the chart and up to a new peak of #9 – even if it was only a brief resurgence. Over in America, Baby, Come Over (This Is Our Night) reached #49 on the Billboard Hot 100. Again, it would be easy to call it a disappointment following a top ten hit, but considering how many acts tried – and failed – to crack the States, Samantha Mumba achieved more than most. It also probably didn't help that it took almost a year to release the track there either, killing whatever momentum might have been built up.
It's a real shame that Baby Come On Over – or Baby, Come Over (This Is Our Night) depending on your location – feels like a mostly forgotten hit from Samantha Mumba's short career. This is a brilliant example of reworking an existing track and creatively using another to breathe life into it. It's easy to see why so much faith was put into it as the saviour of the Gotta Tell You album campaign, even if its ambitions to be a hit single were never quite realised in its commercial performance.
---