Released: 13th March 2000
Writers: Dave James / Derek McDonald / Sheppard Solomon / Tommy Clark
Peak position: #33
Chart run: 33-55
---
It's time for another game of pop roulette. You hear that distinctive stamping clop-clop intro – what song is about to play?
It could be Where Did Our Love Go by The Supremes. No, it's still not that.
It could be Always Have, Always Will by Ace Of Base. But no, not this time.
It could be Automatic High by S Club Juniors…but we've already talked about that.
In which case, there's only one possible option left: It Must Be Love by Mero. The brainchild of Simon Cowell, the duo burst into the charts in 2000 with their credibly retro-inspired debut single and seemed destined for big things. After all, there weren't many gaps left in the market for pop acts, but Tommy Clark and Derek McDonald had little direct competition. Comparisons to Wham! would have been reasonably inevitable, but it was far more likely that Simon Cowell was looking to emulate the success he'd enjoyed in the mid-'90s with Robson & Jerome. After overseeing their first two million-selling albums, the duo had declined to record a third. Thus, there's no doubt that Mero represented unfinished business for him.
Although the Motown styling of It Must Be Love feels a bit random, there was a good reason for it. The duo had been working with Lamont Dozier for their debut album; this was a man responsible for iconic '60s classics like Baby Love, Stop! In The Name Of Love and the aforementioned Where Did Our Love Go. Essentially, the man is a Motown legend, and while that doesn't quite explain how he came to be working with two teenagers from Scotland, it does give It Must Be Love some much-needed context. However, despite his hefty credentials, Lamont Dozier's involvement with Mero wasn't really factored into the promotion of the duo, since it was exposition that would be mostly unimportant to the market they were aimed at. As a consequence, it perhaps left the track sounding a tad gimmicky, mainly since Mero's aesthetic was one of a much more current act.
Gimmick or not, It Must Be Love does what it does, and does it very well indeed; this is the epitome of sunshine-drenched, feelgood pop music (perfect for March, then). From a production perspective, the track follows through on the intro and works the Motown angle into every aspect of itself as – alongside the beat itself – Mero are accompanied by cascading drums and spiky horns. It's a celebratory throwback to the past, albeit presented through a '00s lens with a much cleaner, shimmering sound. Structurally, the duo successfully emulates the Motown genre; the: "Every moment, every day that passes by, it's no wonder, you elevate me to a place I can't describe, baby" pre-chorus, in particular, is a masterclass. The melody rapidly escalates by playing with the pacing and emphasis of the vocals to create a sense of happy urgency.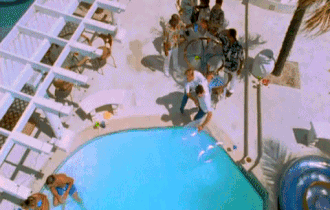 It Must Be Love is just about the perfect introduction to Mero. Of course, it is possible to know someone a bit too well and the duo, it seems, are not afraid to overshare some of their more personal habits: "Somehow you hold the remedies, you read my thoughts, you know my motions". That aside, the track works its way to the chorus perfectly and is precisely everything you'd hope for. It's short, snappy and essentially one achingly catchy hook: "It must be love, it must be you, it must be everything I wish for; it must be us, it must be true…". It's a shame that It Must Be Love might have come across as a bit of a reductive pastiche because it's no easy feat to compose a song that authentically echoes such a significant, iconic era of pop music.
The accompanying music video is essentially a modest re-telling of Club Tropicana; it's a vivid, shiny affair featuring the duo performing the track poolside. Even the styling is very Wham!-of-yesteryear, particularly with the pair decked out in denim jeans and baggy white t-shirts – and later matching white trousers and sky-blue shirts – like brothers who've been dressed identically to avoid any arguments. There are some cutaway shots to the pair casually trying to spell out "Mero" with giant inflatable letters (a sizeable chunk of the budget, no doubt) which feel more personality-driven, and that's the odd thing about the video. Considering the intention was, presumably, for Derek and Tommy to drive young pop fans into a rabid frenzy, the majority of it is squeaky clean. Sure, Derek gets pushed into the pool, but there's little gratuitous semi-nudity here; instead, it's all very polite and parent-pleasing, like an extended performance sequence from Miami 7. If the intention was for the video to act as a homage to Wham!, then de-sexualising almost every aspect of it misses the point. It's not a bad aesthetic, per se, it just seems a little muddled as to who it's trying to appeal to and what image it's trying to convey.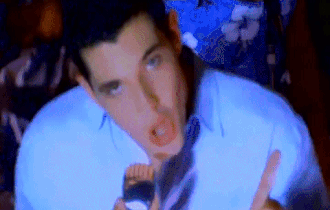 Before It Must Be Love had even been released, there was a threat to Mero emerging behind-the-scenes as Simon Cowell's priorities shifted to the upcoming launch of Girl Thing. The duo, therefore, had to impress not only pop fans in a heavily saturated market, but also win back the attention of their record label. A lot was riding on It Must Be Love, but it debuted at #33 in the UK, which definitely wasn't what Mero needed. Whether the rumours that Simon Cowell wasn't particularly enamoured with Tommy and Derek were true or not, the performance of the single meant the writing was on the wall almost immediately for the duo. It's a real shame because this is a great track. But considering the great strides that pop music was making in redefining itself, this was probably the wrong time for a retro-tinged song like It Must Be Love, which is more about looking backwards than forwards. Nonetheless, it's a lot of fun and perhaps most frustrating for Mero is that similar sounding tracks managed to obtain greater success beforehand (Always Have, Always Will) and a few years later (Automatic High).
This wasn't quite the end of the story though; two years later, Derek McDonald rebranded as DMAC (see what he did there) and launched a solo career with The World She Knows. With a show of remarkable consistency, the single peaked at #33, and…well, you can probably guess what happened next.
---