Released: 8thJanuary 2007
Writers: Billy Steinberg / Josh Alexander / Ruth-Anne Cunningham
Peak position: #4
Chart run: 22-6-4-4-6-7-9-17-20-32-39-52-57-62-73
Billboard Hot 100 chart run: 90-77-69-66-3-7-14-8-7-7-9-11-15-17-22-28-34-35-33-25-33-45
---
Everyone loves an unexpected comeback. But few in the mid-'00s shook pop music to its very core like JoJo and the triumphantly defiant Too Little Too Late.
It wasn't so much the length of time between JoJo's album campaigns that was unorthodox because a two-year turnaround wasn't particularly excessive. However, It was more the way in which her career launched as a bit of a whirlwind (two singles in the space of two-and-a-half months) and then almost immediately fizzled into nothing. When she returned 18 months later – and longer again in the UK – there was little, if any, momentum remaining. But that made Too Little Too Late even sweeter, for it was an immediate reminder of JoJo's phenomenal talent and rapidly picks up where she left off – thematically and vocally – while pushing things even further. Essentially, it does everything that a comeback single should do, with the added element of surprise that it even happened at all.
Too Little Too Late could not be better positioned for the mid-'00s; it covers all bases by fusing a slow-jam R&B beat with a mellow strummy guitar melody and a huge pop chorus. By never leaning too heavily into one genre, the track deftly toes the line between all of them at the same time. With the charts in the grip of an identity crisis, Too Little Too Late managed to be everything to everyone and had impressively broad appeal. It smoothed out some of the precociousness from Leave (Get Out) which – while instrumental in the single's success – certainly had a bratty edge to it that some may have found objectionable. Here, JoJo – now aged 15 – sounds jaded after being wronged by her beau. In truth, she should have little business performing a song like Too Little Too Late, but the key to JoJo's success was that she both looked and sounded older than her years. That is certainly true here and allows her to deliver lines like: "Come with me, stay the night, you say the words, but boy it don't feel right" without it feeling icky. Sensibly, the song never sends JoJo too far down the path of singing explicitly; instead, she's able to find truth in the lyrics that resonates as much with those in their mid-teens as it does those in their mid-20s.
Too Little Too Late is brilliantly crafted; one thing that stood out at the time was that the song knew exactly what it wanted to be, something that wasn't always true of pop music in the mid-'00s. It doesn't try to be clever or over-inventive; the verses have a toe-tapping calmness to them that is bookmarked with sing-song refrains of: "You know it's just too little too late". The gentle looped guitar melody allows JoJo to really inhabit the track, and she gets it. Her performance feels almost like a spring that is coiling tighter and tighter as the verses progress; you sense her frustration growing and her anger seething as she snorts with derision. By the chorus, it feels almost more like a therapeutic release, which opens out with soaring triumph:
It's just too little too late
A little too wrong, and I can't wait
But you know all the right things to say
You know it's just too little too late
You say you dream of my face
But you don't like me, you just like the chase
To be real, it doesn't matter anyway
You know it's just too little too late
It's incredibly well written and does everything a big pop chorus should; there's an ebb and flow from line to line, and the whole thing flows effortlessly with nursery rhyme-esque simplicity. It felt almost like a distant cousin to the growing family of songs that used the quiet verse-shouty chorus structure.
Although Too Little Too Late is awash with tremendous pop hooks, it's the performance that elevates it to another level. The maturation of JoJo's voice is subtle in her lower register but is certainly imbued with a bit more soul than before. However, her growth as a singer only really becomes clear during the final minute. It makes everything from the first album sound like a gentle warm-up as JoJo throws down the gauntlet. There are some beautifully frantic ad-libs: "You just like the chase BA-BAY-YEAH" and a whole lot of Mariah-esque warbling, including a vocal run ("I can't WAIT, no no-OOOH-OOOH") that culminates in a dog-whistle note. But that's what was nice about Too Little Too Late; it's not simply a technical performance for the listener to sit back and admire. It was a song that resonates thematically; most people can identify with the sentiment and JoJo is on their side, almost gesturing from the mic stand for the listener to join her on stage and sing along. The final minute, however, is all hers and JoJo seizes that opportunity to re-define herself.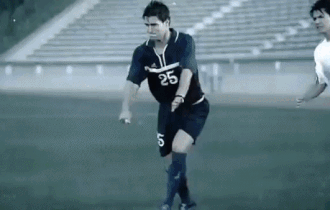 What Too Little Too Late needed to complete the package was a music video that captured everything happening in the song. It needed a strong identity. It needed drama. It needed a torrential downpour and wind machine. Success then, because all three are included. Again, the video pitches JoJo slightly older than her age, which is probably wise because 21-year-old Mike Zaher played her love interest (a real-life footballer, no less) and we see their relationship through flashbacks when she would have been…14? Anyway, JoJo has been wronged; she's witnessed her beau putting the moves on another girl at a party and is having it out with him in the car, which involves a bit of light acting ("It's just disrespectful David"). This introduces the sting of the video: JoJo is given a ticket (to a football match, it later transpires). But will she be there on Saturday, as requested by David? To cut a four-minute story short, the answer is no. No, she won't. As she wanders the halls of her swanky house, reminiscing about her time with David, JoJo defiantly bins him, and the gifts he's showered upon her.
Her actions are interwoven with the drama of a football game – actual football, not American soccer – which David is playing in (hence Mike Zaher taking the role). As rain thunders from the sky, he misses a crucial goal, while JoJo stands in her garden drenched and serving vocals. Admittedly, football doesn't work awfully well in this context because the scoreline would only have been a 1 – 1 draw, which, while better than a loss, is also not a victory either. That aside, however, the video does a perfect job of realising all the key elements of the track and creating an aesthetic that complements it.
Tracks like Too Little Too Late serve as a reminder that not all of the changes to the chart in the last decade or so have been bad (even if trying to retrospectively quantify streams as sales still seems very wrong). Staggered release dates were nothing new, but in the digital era, they had become increasingly difficult to justify. Too Little Too Late was a prime example of a song whose impact in America – where it was released in July of 2006 – was felt here, but could not be mirrored in the UK charts until some five months later when, to some extent, the moment had passed (see also: A Public Affair by Jessica Simpson). If the desire was to steer consumers away from illegal downloads, then strategies like that were completely self-defeating. The single still peaked at #4 in the UK and became one of the first songs to take full advantage of the relaxed rules surrounding downloads. However, it was still the physical release that drove the chart position, so there was little justifiable reason for waiting so long. Too Little Too Late was still a top-five hit in the UK and America, plus many countries besides. But what could – and should – have been a globe-conquering comeback ended up feeling a tad diluted with chart peaks scattered throughout 2006 and 2007. It never quite felt like the consolidated moment that Too Little Too Late truly deserved.
Nevertheless, the track remains JoJo's biggest hit, and rightly so. It's everything that a comeback single should be; it takes the elements of what came before while pushing her sound in a bigger, bolder and more broadly appealing direction.
---