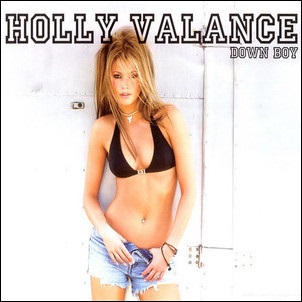 Released: 30th September 2002
Writers: Rob Davis
Peak position: #2
Chart run: 2-7-14-19-29-44-55-55-47-52-63-X-66-69-74
---
Holly Valance as a popstar was an exciting – and sometimes challenging – concept. Having served the obligatory three-year contract served to aspiring young actors on Neighbours, she wanted to spread her wings. And there is undoubtedly a star quality about her that meant she was never at risk of fading immediately into obscurity. Yet, it often seemed that she'd fallen into the music industry because it was an established career trajectory for teen soap stars. Holly Valance, by her own admission, didn't necessarily have a burning desire to be a musician, nor did she express any unrealistic claims about her vocal talent. Even if she didn't necessarily want to be a singer, what rapidly became clear was that Holly Valance was a bloody good pop star, regardless.
Of course, that was evident to some extent from Kiss Kiss. But we subscribe to a school of thought which says that song was destined to be a hit regardless of who fronted it. There were no such guarantees with the follow-up, and thus Down Boy was a significant moment in establishing what sort of artisté Holly Valance was going to be. The title alone more or less confirmed exactly what route we were going down here. And a quick glimpse at the tracklist of her debut album, featuring the likes of Tuck Your Shirt In and Harder They Come, put things beyond any doubt. We were in full-on smut territory, and thankfully Holly Valance's record label had the good sense to back it up with some decent tunes.
To that end, there's nothing remotely flaccid about Down Boy. True, compared to Kiss Kiss, it was initially a bit of a grower. But the track has strong credentials behind it, having been produced by Nellee Hooper. He isn't necessarily a name you'd immediately link with an act like Holly Valance; but having notably contributed to albums by Madonna, Massive Attack and Bjork in the past, his presence indeed lent some credibility to her endeavours. Around that time, he was also working on No Doubt's Rock Steady album, which gives quite a good indication of the direction that Down Boy took. Indeed, there are vague parallels to be drawn with Hella Good, if not melodically then certainly in the way they present themselves.
One of the most immediately striking things about this track is how claustrophobic it feels; there's a closeness about the production that is almost stifling at times. It retains the same middle-eastern flavour as Kiss Kiss, but this time it's an altogether darker, broodier affair. We love the way Holly Valance's vocal is worked into the song; her voice sounds inextricably part of the pounding beat and pulsing synths, rather than a separate entity. She's never at risk of being drowned out, but there are times where her vocal merges into the production. Most notably during the second verse: "I know how much you need me, just want to get it up", where it momentarily sounds like Holly Valance has been struck with a bug zapper, causing her to emit only electrical distortion. There's no doubt that she completely gets the track, mind. Her performance oozes teasing sexuality from the first purred: "Doooown boy, keep you doooown boy" intro. Even the audible mouth-clicks feel intensely alluring, particularly with the heavy production magnifying their presence. In many ways, those are the most sensual aspects of the track, more so than the huffing, puffing and panting that punctuates it.
The more you see, the more you want
The more you taste, it just gets better
The more you get, the more you like it
Don't go too far, I won't let you
Where Down Boy deviates from the usual pop music formula though, is towards the very end. After the final chorus, we're treated to a half-minute instrumental coda. It doesn't add anything new to the melody, but merely provides the opportunity to soak in the galloping production and synth stabs with minimal distraction. Holly Valance isn't wholly absent; as the track closes, she gives a wry chuckle, which very nicely bookends either side of Down Boy.
When it came to the music video, there was – on paper, at least – a bit of a problem; Holly Valance had already bared all for her previous single (ok, it was the ever-reliable flesh-coloured bikini, a '90s and '00s pop staple), which left limited options for upping the ante. The approach was actually to rewind a bit and create a more suggestive visual that enhanced the song by drawing on the dark, brooding sound. There are some great aesthetics in the video; particularly the shadowy, neon-drenched motel exterior, which feels almost Blackout-esque in its realisation. Holly Valance also looks stunning in the shots where she's looking in the mirror and running her hands through her bouffant hair. And of course, who can forget the styling during the dance choreography. Never let it be said that Holly Valance isn't a risk-taker: a zip-up hoodie, red short shorts, white sweatbands and an afro is…well, it's a look. It's not one we could – or should – ever have attempted to pull off, but we admire it as a rather bold statement. There's only one real downside and if we're honest, it's the shots where Holly Valance is lying on a bed surrounded by men and women having what looks like a fully clothed orgy that consists of little more than heavy petting and prick-teasing lesbianism. We get why they're included and what they're trying to achieve in terms of titillating a heterosexual male audience that definitely wasn't there for the music. But it lacks the cool, edgy mise en scène of the other visuals, and just feels a bit cheap and tawdry.
Down Boy peaked at #2 in the UK, and although it spent only five weeks in the top 40, the single stabilised in the lower reaches of the chart, eventually totalling three and half months in the top 75. Perhaps contributing to the track's initial decline was the arrival of Holly Valance's debut album: Footprints, which was a modest success, peaking at #9. In hindsight, neither of the singles released beforehand jump out as album-sellers, regardless of how good and/or successful they were. But there was still a degree of momentum from Kiss Kiss that was unlikely to be equalled by any other track on Footprints, so it would be hard to argue that there was a better time to release the album, or that it was ever likely to perform better than it did.
---