Released: 10th September 2001
Writers: Peter Cunnah / Jamie Petrie
Peak position: #12
Chart run: 12-23-37-53
---
When the allSTARS* released Things That Go Bump In The Night as their second single, they didn't just set a new benchmark for seasonal songs. They redefined the genre – and indeed Halloween itself.
Despite having experienced a resurgence in recent years, there was a dry spell when pop acts shied away from seasonal songs. The most lucrative genre is Christmas; get it right, and you can enjoy a recurrent hit year after year – get it wrong, and it's quickly swept under the rug and forgotten. Perhaps sensing that they didn't have the commercial prowess to attack the winter market just yet, the allSTARS* instead opted for a much less serviced seasonal genre: Halloween. As an additional marketing strategy, Things That Go Bump In The Night was attached to the Scooby-Doo movie soundtrack alongside songs from Shaggy, Outkast, Baha Men and, er, Kylie Minogue (an eclectic mix, then). This was small fry though when we consider that allSTARS* were about to turn Halloween on its head and drop a genre-defining bop.
The track sets out its stall immediately; it opens with the voice of the undead, who warns: "Beware of the full moon, stick to the path. Out come the creatures, a spine-chilling laugh". The ominous foreboding is followed by a whole ten seconds of nothing but sinister laughter and eerie, creaking doors – one certainly can't fault the single's commitment to its theme, even if at that moment it appears to forget that it is supposed to be an actual song. From there though, Things That Go Bump In The Night explodes into life, sounding like Everybody (Backstreet's Back) and The Addams Family produced a lovechild containing elements of both songs – and pretty much every Halloween-related sound effect in existence. It's subtly serenaded by a: "Bump-bump-bump-bump" bassline hook. Whoever reasoned 'less is more' may well have reconsidered if they'd encountered this track, which goes out of its way to be an all-consuming Frankenstein's monster – and benefits immensely from doing so.
Taking the lead on the song is Becky Hunter, and she certainly gets into the spirit of things. There's a slightly eerie lilt to her voice – like a narrator recounting a ghost story – which perfectly complements the production. And what a tale Things That Go Bump In The Night has to tell; not content with merely attaching itself to the Scooby-Doo movie, the track goes one better and includes the eponymous mutt in its lyrics: "Tell me who's spookin' who (who's spookin' who), it's very Scooby-Doo (Scooby-Doo)" – what a brilliantly bonkers moment in pop music. It's a relief that with so much going on, the track doesn't end up being all style and little substance; as it works its way into the pre-chorus, there are some mean hooks at play: "They're out to get you, to capture you and make you…spellbound; howling and prowling, you're shivering, quivering…spellbound". And listen to the way that the production ascends alongside the vocals, giving them an other-worldly aura. The sinister laughter re-appears and reverberates around the track – all of which perfectly sets the song to go off when it hits the chorus.
You cannot run
And you cannot hide
Yeah, you gotta face it, baby
Things go bump in the night
Wherever you run
And wherever you hide
Yeah, you gotta face it, baby
Things go bump, bump, bump in the night
And Things That Go Bump In The Night doesn't disappoint on that score. Like the very best Halloween anthems, it offers up a joyous chorus that is utterly effortless in its execution with a melody that is almost nursery-rhyme-esque in its rhythm and tempo. It's genuinely not far from the accomplished simplicity of Ghostbusters, with its head-nodding bouncy, squelchy beat. But even away from the chorus, there are so many subtle little touches that work so well. The barely audible: "Who's spooking who" chant during the instrumental middle-section, the: "Things that go bump, they go bump, they go bump, they go" hook – Things That Go Bump In The Night is a rich tapestry of elements – but curiously unindulgent about them (excluding the 10-second laughter, of course). The track zips along at such a pace that it's quite easy to overlook some of the more nuanced production elements.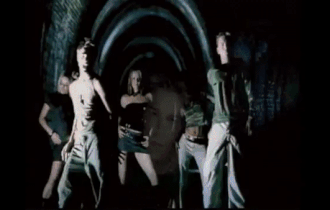 The music video for Things That Go Bump In The Night goes full-on method acting, which feels entirely appropriate for a song that has such a strong theme. It sees the allSTARS* driving a camper van similar to the Mystery Machine – but presumably for copyright purposes unbranded – that breaks down in the woods. Interspersed with Blair Witch-esque handheld camcorder footage and an unsettling underscore, the intro culminates with the group vanishing. As the song commences, we find the allSTARS* have fled through the woods (via a little more stylised footage) and taken shelter in a dimly-lit tunnel. It's unclear how this will help them fix their van, and you'd be forgiven for thinking that it's not the most reassuring place to escape to. But at least it provides a suitable environment for the song to be performed; it's simply executed but in places extremely effective as the group flit in and out of the shadows. Somewhere towards the end of the video, the narrative thread gets a bit lost, and the events at the start don't ever really culminate into anything. Well, unless you watched it on The Box. That version contains an additional scene implying that it was all a dream. Ah, those pesky kids and their narrative shortcuts…
Timing is everything – and that's very true in pop music. Therefore, one may well question whether releasing Things That Go Bump In The Night in September – two months after Scooby-Doo hit cinemas and a whole six weeks before Halloween – was a sensible approach. We can't fault the optimism at play here; after all, we now live in a perpetual cycle where seasonal celebrations start about a week after the previous one ended. And Halloween is a much bigger deal in America, where the celebrations run through most of October. Even with that in mind, it was asking a lot for the song to find a big enough audience that would sustain it in the chart from mid-September through to October 31st. In a parallel universe, that's precisely what would have happened – Things That Go Bump In The Night would have been a Halloween party staple and rebounded up the chart. But back in the real world, the single entered the chart at #12 and dropped like a stone – exiting the top 75 a fortnight before Halloween arrived.
Needless to say, the underperformance of Things That Go Bump In The Night was a minor pop disaster – and for a long time, there seemed to be no way back. But if ever there was a second chance for a song to find its audience, then Spotify was it. Except the track only recently (i.e. this year) found its way onto digital platforms. Better late than never, this could be the year when Things That Go Bump In The Night is finally celebrated as the modern Halloween classic that it is.
---