Released: 26th July 1999
Writers: Steve Du Berry / John McLaughlin
Peak position: #11
Chart run: 11-28-36-44-67
---
It can be tough to make a fair assessment of a song by tween singers because as soon as you factor age into a measure of the song's qualities, any conclusions drawn start to lose meaning, and at worst come across totally patronising. So, while it's impossible to ignore that aspect of Marvin and Tamara – both aged 13 years old when Groove Machine was released – it's also worth pointing out this isn't just a good pop song "considering their age". It's a bloody brilliant track by any measure, and an impressively accomplished debut, at that.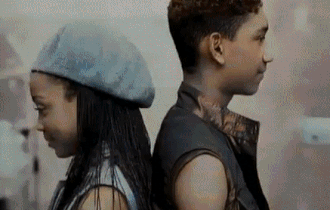 The distinctive intro is vaguely reminiscent of the Rugrats theme tune, and what finer influence could there be in the late '90s? Once the song bursts into life though, it shows far broader influence; there are elements of funk, disco and even Jamaican reggae (safe to say no one saw that coming). And of course, it's all wrapped up in a very slick bubblegum pop veneer. As a production, Groove Machine could so easily have sounded like a dumbed-down kiddie version of its core elements, but that's never the case. That said, it's fair to say some aspects work better than others. Marvin's rap verse does genuinely sound like Shaggy has reverse-aged 20 years, and while it's an impressive feat of imitation, it's also a moment where the duo's age becomes a bit of a distraction. Away from that verse though, it works quite well; Marvin's energetic cheerleading of "Uh" and "Check it" ad-libs throughout the track are pivotal in keeping up the energy.
The real triumph in Groove Machine is the rapid realisation that it has hooks for days, and the interplay between Marvin and Tamara sells them. The musicality of the pre-chorus at the climax of the second verse is a thing of beauty: "DJ hit me with the beat, kick the bass (let's shake up the place), check it: 1, 2, 3 (here we go)". Such moments exude natural vocal chemistry that extends far beyond something you can simply manufacture. And then there's the chorus itself: G to the R double-O, V, E, hit on that groove machine, let's get this party jumping, pumping; G to the R double-O, V, E got all my crew and me, here we go for the whole weekend", which is an absolute earworm.
Groove Machine feels like it has the disco classics of yesteryear in its DNA, with an elated chorus that shifts in tempo and momentum until the latter third of the song. From there Marvin and Tamara essentially jam back and forth for a minute amidst a deconstructed refrain. It's a great way to bring the track to a close, and where the song excels far beyond the age of its performers.  
Indeed, if Marvin and Tamara's age is ever an issue in Groove Machine, then it's probably only in the fact that their approach is a little bombastic. In itself that's not a bad thing; what they may have lacked in experience, they more than compensated for with enthusiasm. But there are moments where you'll almost be urging the duo to really get under the skin of the melody and bring it home by pushing the melodies and hooks just a little bit harder. Groove Machine never quite attains the degree of soul that it might have with a slightly more experienced vocal, and arguably to aim for it would likely have been wildly overambitious at this stage in Marvin and Tamara's career. Had they been around for a bit longer though, there's little doubt they'd have delivered some phenomenal performances of Groove Machine as they grew into their voices.
The music video for Groove Machine is slick and draws immediate comparison to the likes of Cleopatra's Theme in that it could easily have been used for an international launch had the need arisen. Marvin and Tamara are both brimming with personality, to the point where it almost seems a surprise that this isn't the spin-off from a television pilot. There are so many great little moments in the video; from the springy mic stand (literally one of the best ideas ever) to the giant microphone pendulum (Tamara casually booting Marvin in the back as she swings past) and everything else in between. If the action within the foreground isn't enough, it's also worth keeping an eye on the backing dancers because there's rather a lot of smiling through gritted teeth occurring. Overall though, it's very on-brand and turn-of-the-century Nickelodeon-esque, staying just the right side of precocious. Considering (or perhaps because of) the duo's age, there's remarkable confidence about Groove Machine that transforms what could have been a run-of-the-mill performance video into something much more appealing.
Marvin and Tamara took Groove Machine to #11, which was a slightly perilous achievement in the '90s, falling into that grey area where there are only two options for a follow-up: go hard or go home. In hindsight, though, this single was a hard sell. As a general rule, kids don't make pop music for adults, yet the mainstream market is precisely where Groove Machine was aimed. So, in actuality, #11 should be considered a pretty good outcome for Marvin and Tamara. Its success was well-deserved too; taking Groove Machine purely on its own merits, this is a superb debut single as confident and assured as anything else it was up against in the charts in 1999.  
---