Released: 5th November 2001
Writers: Cher / James Thomas / Paul Barry / Mark Taylor
Peak position: #8
Chart run: 8-17-22-30-49-60-69-56-59-75
---
Few artists find themselves in the position of scoring their biggest-selling album and single after almost four decades. But after pulling off a triumphant comeback in 1998, Cher now had the unenviable task of following up Believe…
Although Living Proof is the next album Cher recorded after Believe, it's not the first she released. Somewhat inevitably following the renewed interest in her career came If I Could Turn Back Time: Cher's Greatest Hits in America (featuring earlier material up to 1991's Love Hurts) and The Greatest Hits in Europe and Australia (a more comprehensive collection including the recent singles from Believe). Cher also took the opportunity to release an album of songs recorded in 1994 that were ultimately rejected by her label. not.com.mercial was, however, only available online and thus never intended as a mainstream follow-up. Indeed, when it came to Living Proof, surely only one direction for the album would ever have been in consideration. Cher might have reinvented herself several times across her career, but she'd also experienced significant commercial and critical slumps. Now was most definitely not the moment to break with a winning formula.
Yet, while Living Proof is very much conceived to sit alongside Believe sonically, it's far from an album that goes through the motions in an attempt to merely do more of the same. A few returning songwriters, most notably Mark Taylor and Paul Barry – who co-wrote all the singles from Believe – are credited on several tracks, including The Music's No Good Without You. But Living Proof draws from a far more diverse line-up of contributors than its predecessor, although that's perhaps unsurprising given Cher now commanded a significantly higher profile.
The major shift this time around, though, occurred in how the campaign was rolled out. Unlike Believe, which had near enough the same release date – give or take a few weeks – across all major territories, a staggered approach was adopted for Living Proof, which delayed the American launch until February 2002, three months after it came out everywhere else. Moreover, The Music's No Good Without You wouldn't be the lead single there (Song For The Lonely was chosen instead and positioned as a tribute to New York after the September 11th terror attacks). It meant Living Proof could never be compared directly with Believe, and there was merit in that. Yet, this approach also meant the album would never likely have a chance to realise its full potential with the momentum split between different songs at different times.
In some respects, particularly at the time, The Music's No Good Without You felt like it had to be the first single. This is a big statement of a song that takes many of the production elements now synonymous with Cher – namely autotune – and amplifies them. The voice is still distinguishable as hers, but it's now drowned in distortion and manipulation, which feels like the next logical, perhaps even inevitable, step in making the Believe formula sound bigger and bolder. With that came a risk that The Music's No Good Without You would be perceived as style over substance, which is, indeed, how some critics regarded it. But the effects aren't superfluous; they give the song an ethereal quality that is engrossing and hauntingly evocative; without them, it just wouldn't be the same.
The production complements – and helps emphasise – the aura of a slightly fantastical, other-worldliness painted so vividly by the lyrics ("You were the centre of attention, the eye of the storm, a whirlwind from outer space, like a twister on the scene"). Unsurprisingly, given its title, The Music's No Good Without You is drenched in melancholy and tells of an attraction intensely felt but which can't be contained: "Mesmerize them when we danced, 'cos you sparkle next to me, we sit along the razor's edge, but you were crazy to be free". Even with her voice distorted and surrounded by whirring and zapping noises, there's a beautiful sadness conveyed by Cher: "I agonise 'til you come back, and we'll dance that close again, I miss you boy, I really do, come back to me, come back to me…" that manages to remain profoundly human.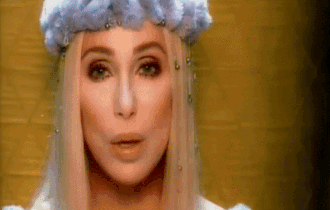 The emotionally resonant core always present within The Music's No Good Without You is used to create moments of drama. Before the second chorus, a breakdown ensues: "'Cos my world stopped spinning, nothing I can do, so I pray that a DJ lifts my heart…" where Cher's filtered vocals end up so consumed by the production that they become little more than an electronic wail. It evokes a sense of turmoiled pain that would be impossible to recreate by any other means. Similarly, an aching mournfulness underpins the chorus itself: "The music's no good without you, baby, the music's no good at all, the music's no good without you, baby, come back to me (come back)…" with its hypnotically catchy, shimmering synths. The real gut-punch, though, is delivered by a spoken outro: "But I know you don't need me anymore (the music's no good), and it's no good dwelling in the past (the music's no good), I have to live each day (come back), like it was my last…" as the pulsing instrumental fades into eternal nothingness.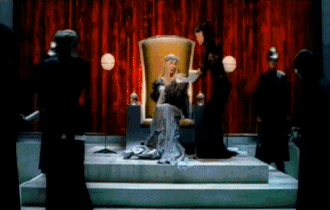 Given The Music's No Good Without You shared some of the same co-writers as Believe, it's likely little coincidence that Nigel Dick, who directed the music video, returned to work on this single too. The concept is so intrinsically linked to the song that it's difficult to discern whether the sense of unearthliness it exudes influenced – or was influenced by – the visuals being set in outer space. Cher is presented in a celestial palace, sombrely watching from her throne as dancers perform an extensively choreographed routine. The set, bathed in cool blue lighting, feels perfectly symbolic of the underlying loneliness within The Music's No Good Without You.
Throughout the video, Cher is presented with scrolled parchment, which she signs nonchalantly. After conjuring a (very early-'00s-looking) hologram of a man, she writes one final letter, puts it in a bottle and posts it into a chute. The final shot pans across space where hundreds of similar bottles are floating, yet to reach their intended recipient, if indeed they ever will. It's an effective – and slightly heartbreaking – way to depict that Cher isn't willing to let go of the relationship entirely, and her hope now spans the vastness of space.
It feels almost impossible to gauge what the commercial expectation would or should have been for The Music's No Good Without You. Objectively speaking, a peak of #8 and total sales of 64,000 copies in the UK (the 178th biggest-selling single of 2001) might be considered slightly underwhelming given the level of interest following Believe, not to mention that the track had been heavily promoted in the UK. Yet, Cher was also in uncharted territory, becoming the first female solo artist to achieve a top-ten hit in five different decades. She'd be joined by Lulu in 2002, Diana Ross in 2005 (although without diminishing that achievement, they did do it by collaborating with Ronan Keating and Westlife, respectively) and Kylie Minogue in 2023. It's such a rare thing to happen that trying to place an arbitrary benchmark on what constitutes a good peak position and sales in those circumstances is essentially a moot point.
It's probably fair to say, though, that Living Proof did underperform in the UK, where the album debuted at #46. Even making allowances for the competitive time of year and Believe not peaking (at #7) until five months after it was released, Cher probably should minimally have been able to secure an entry into the top 40. And that's about as far as the Living Proof campaign went in the UK. Song For The Lonely was a minor club hit, and promotional copies of Alive Again were distributed, but there was never any concerted push behind a second single.
The album fared better in America, entering at #9 and earning Cher her highest-ever debut (though it's since been bettered by Closer To The Truth and Dancing Queen). A lack of hits undoubtedly compromised the longevity of Living Proof, although Song For The Lonely did reach #85 on the Billboard Hot 100. But then, the focus of the campaign never seemed to be on that. Instead, Cher kicked off the Living Proof: Farewell Tour in mid-2002, which, having started as a 59-date tour, eventually ran for almost three years and more than 300 shows. It quickly evolved past any semblance of accompanying the album (Living Proof was later dropped from the title). Nor, indeed, was it Cher's final tour in any way whatsoever, having been followed by two more since, as well as two Las Vegas residencies.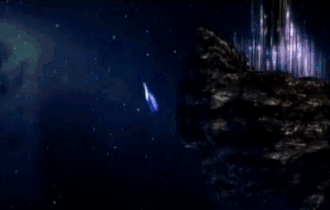 Realistically, a commercial comedown from Believe had to happen, regardless of quality. So, the legacy of Living Proof and The Music's No Good Without You is, perhaps, that they instead became a small part of a much broader strategy. The scale and longevity of the accompanying tour – and indeed all of those that followed – ensured Cher's success remained ongoing, regardless of whether she was still routinely topping the chart or not.
---