Released: 1st November 2010
Writers: Arnthor Birgisson / Ina Wroldsen
Peak position: #10
Chart run: 62-49-22-25-24-22-25-22-10-15-20-20-31-35-45-42-35-43-54-65
---
Having deprived The Saturdays a first chart-topper in 2009, Flo Rida collaborated with the group eighteen months later for a rap feature on their ninth single. Was this going to be what they needed to go one place Higher and finally reach #1?
Although they'd scored an impressive seven top-ten hits in two years, The Saturdays found themselves in a predicament when their second album – Wordshaker – underperformed in 2009. A contingency plan came in the shape of a stopgap EP called Headlines!, which scooped up the singles – plus one remixed track – from the album, added five new songs and retailed at a budget price. It was a smart move (and one that had already recently been successfully employed by the Pussycat Dolls with Doll Domination – The Mini Collection); rather than try in vain to salvage Wordshaker, it could be swept aside without abandoning it altogether, while Headlines! afforded The Saturdays a do-over without the cost of creating an entirely new album.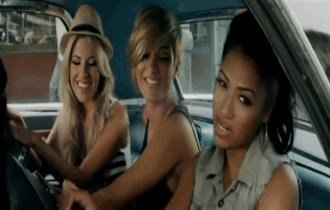 The first single from the EP – Missing You – had been on course to top the chart but reached #3 the same week that Flo Rida claimed his third #1 hit with Club Can't Handle Me. The group subsequently made light of this being the second time it had happened (albeit ignoring that Eminem and Rihanna were also ahead of them) after Just Can't Get Enough was beaten by Right Round the previous year. The solution they proposed was to collaborate with Flo Rida rather than compete against him. And it was an offer he quickly reciprocated. The groundwork had been knowingly laid, and less than a fortnight later, Higher was confirmed as the second single from Headlines! with a newly-recorded rap feature courtesy of Flo Rida.
It's a testament to the quality of the song that there's a solid case to make for both versions as being the definitive one, something fans have debated since 2010. The original contains a middle eight: "I'm gonna lift it, lift it…when you go higher, I go higher, I'm gonna lift it, lift it…yeah, you can try, but I go higher, I'm gonna lift it, lift it…" culminating in what is arguably the vocal crescendo of the track: "The only thing boy all that you can do is listen…so LISTE-E-E-E-EN", courtesy of Una Healy. To remove that entire section is a bold choice because it doesn't feel expendable. And while doing so is not necessarily detrimental, it does shift the momentum of Higher.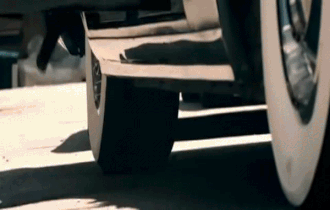 Removing the middle eight would be far more of a contentious change were it not for the fact that Flo Rida proves a surprisingly worthy replacement. There was every chance a rap feature conceived belatedly and recorded separately would come across as superfluous. Despite some abstract moments ("Got my head in her bandage, girl follow your mouth, I'll be taking the bandage"), Flo Rida is threaded into the track well. It at least sounds like he's actually listened to Higher enough to play off some of the lyrics, so that end of the chorus: "…And you keep on messing up the words", leads logically into the first line of his rap: "She said I'm messing up the words…". Similarly, the new name-check intro: "Hey Flo Rida…Frankie…Mollie…Una, Vanessa, Rochelle, what you doing Saturday girl?" affords The Saturdays some status while also setting up the first verse ("I'm doing nothing…") perfectly.
Even without Flo Rida's spoken introduction, Higher is immediately recognisable thanks to a synth-siren that remains audible for much of the song. It's such a distinctive production choice. And for a group who'd appeared to lose something during the Wordshaker campaign — even if it's unclear what that was — having a song with such an unmistakable, irrevocable identity is just what they needed. The Saturdays bring so much personality and attitude to Higher, setting the terms for a relationship in which they're being undermined. At times, their retort is laced with biting sarcasm ("I'm doing nothing, 'cos then at least I'm doing nothing wrong…"), while others make the point more bluntly: "'Cos I am sick of playing games, and I'm not gonna say no names, but you and I know who to blame". The group are nearly always at their best when assertive and uncompromising (Up, Ego); Higher fits cohesively within that bracket.
The Saturdays stand firm on reconstructing the power dynamic of their relationship: "And you can tell 'em, yeah you can say whatever, I don't care, yeah, and if you wanna play it cool, then I got news for you, it's getting hotter, hotter in here" in every respect, including a thinly-veiled subtext of self-gratification: "'Cos I am finishing myself, and I do not need your help, I'm gonna do this, do it right". Fittingly, the chorus is a hook-laden statement of intent: "So when I speak, listen, this is my decision, and you keep on messing up the words (oh-oh, oh); so when I speak, listen, 'cos you keep on pushing, like I need permission to be heard (oh-oh, oh); I'm gonna lift it, lift it higher, I'm gonna lift it, lift it higher; so when I speak, listen, this is my decision, and you keep on messing up the words" that is as relevant to the broader context of a group rallying after a commercial stumble as it is the context of the song. Higher is easily among the group's very best work. Indeed, when the moment hits right, it's an unparalleled work of joyous pop perfection in their ample back catalogue.
The music video for Higher is set in New York (though it was filmed on a studio backlot in Los Angeles), where The Saturdays are stuck in traffic and ditch their car to strut through the city instead, before returning at the end. As expected from a major Hollywood shooting location, the visuals look terrific; it's a significant step up in aesthetic quality (there's lens glare aplenty) and probably the first time the group feels genuinely positioned as an international prospect. Although there are some neatly choreographed sequences – like one where they put their arms around each other in one direction, then cross their legs in the other – for the most part, The Saturdays are left to navigate the city of their own accord. It allows them to convey a level of charisma and friendship that certainly existed before but had never quite been captured as naturally as it comes across here. The group were always likeable; here, though, they are as much a selling point as the song.
Two versions of the video were created, one featuring Flo Rida and one without. He's shown inside a gridlocked vehicle, which has glaringly whited-out windows to disguise that he wasn't on the same set. Though it's never particularly convincing, his scenes are integrated well. There's a particularly neat moment of editing where Frankie and Vanessa blow a kiss towards the car windscreen, and the camera – which is inside – spins around to Flo Rida in the back seat. It's a seamless transition, further demonstrating the effort (and production values) invested in Higher.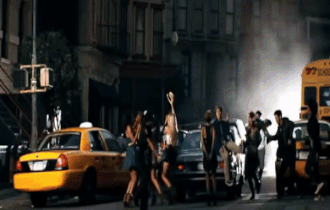 Despite all the talk — even if it was partly in jest — of a collaboration with Flo Rida being The Saturdays' route to a #1 single, Higher didn't even come close. Indeed, this ultimately became one of the group's lower-peaking singles when it reached #10. But that belies just how big a hit the track actually was. Several weeks after debuting at #62, it climbed into the top 40 on downloads alone, remaining there until the physical and digital release of the Flo Rida version two months later. That was enough to push Higher into the top 10; however, the organic, slow-burn nature of its success meant it never enjoyed one definitive week of combined sales in the way that many of The Saturdays' other singles did. Nonetheless, it eventually sold 330,000 copies to become the group's fourth biggest-seller overall and the 89th highest-selling single of 2010.
It was a similar story as far as Headlines! was concerned. Having debuted and peaked at #3, the EP spent five weeks in the top 20 but remained a consistent presence in the top 75 for the rest of the year. Total sales of 208,000 copies represented a significant improvement – more than double – on Wordshaker, further underlining what an astute move it had been. Indeed, after a re-release added three more tracks from the previous album, plus the new version of Higher, Headlines! wasn't even an EP anymore and pretty much what the follow-up to Chasing Lights should have been in the first place. Curiously, despite having gone to the (relative) effort of ostensibly turning Headlines! into a full album, no further singles were released from it. Instead, The Saturdays turned their attention to recording a follow-up.
Higher might not have earned The Saturdays that elusive #1 single, but it did give them one of their most enduringly popular hits and – true to its name – helped put the group back on an upward trajectory.
---