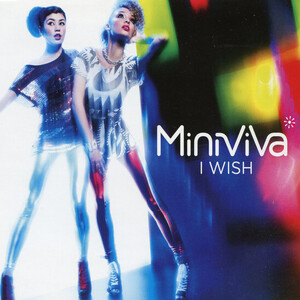 Released: 14th December 2009
Writers: Miranda Cooper / Brian Higgins / Tim Powell / Lisa Cowling / Owen Parker / Morgan Mackintosh
Peak position: #73
Chart run: 73
---
Mini Viva were bursting with potential after scoring a top-ten hit with their debut single. But any chance of Xenomania's latest protégés repeating that success with I Wish was quickly squandered due to a questionable release strategy.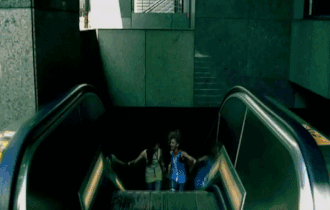 With Girls Aloud finally earning the mainstream critical and commercial acclaim they deserved during the late '00s, so too did Xenomania's unique brand of pop music, which gave the group their sound. Offers were subsequently flooding in from labels wanting acts to work with them – especially since Girls Aloud were now on hiatus – but the team had a different take on how they should be operating. Rather than wait to be approached, Xenomania believed they were better positioned to develop their own pop acts and pitch the finished – or near enough – product to major labels instead. That's precisely the route taken with Mini Viva. Britt Love ("Mini") and Frankee Connolly ("Viva") spent the best part of two years being mentored by Xenomania before signing with Geffen Records UK. It seemed this approach had merit when the duo's debut single, Left My Heart In Tokyo, peaked at #7.
Arriving a few months later as the follow-up, I Wish immediately drew comparisons to Girls Aloud's Call The Shots. And, though Xenomania were not in the business of recycling songs, the two are drawn from the same pool of achingly wistful, shimmery electro-pop. I Wish, however, offers a bouncier take on the formula that is consistent with Mini Viva's sprightly persona and continues to showcase what they were all about. The track is wrapped in melancholy ("I was one with you, breathing, and was close to you, in your sleep, and I don't deny, waiting, for the little light from you") but not – for the most part – the sort that delivers a resonating gut-punch. Instead, a sense of youthful, wide-eyed sincerity is present in the way Mini Viva approach I Wish; they're experiencing heartbreak: "I was watching you, leaving, didn't know that love cut so deep, how was I to know baby, all the tears I cry for you", but with a likeable positive resilience yet to be worn down.
So ingrained was Xenomania's willingness to play with traditional song structures that the main deviation in I Wish – a double chorus – could almost be considered customary by their standards. It is, nonetheless, terrific in selling an eagerly whimsical view of love being the product of idealistic hopes and dreams: "And I wish that I had tried, mmm baby I now wished that 'us' away, oh no, if I wish that hard enough, would love come home, home again", which is endearingly cute. The killer hook, though, is the second chorus: "And I go o-o-oh…n-o-o-o…he could be the one who hits the light inside my so-o-o-oul, oh baby this could be the last of my control", transitioning with an ascending rush, it gleams upliftingly, and is crafted with a warmth that fills I Wish with heart.
The middle eight does, however, peel back the pulsing production to reveal a hint of sadness behind Mini Viva's eyes: "Feels like starry-eyed I'm alone, alone on a slowly, lonely ride; each time I decide to get off I drop in rolling, holding (holding, holding…)", their optimism flickering for just a moment. Set against a backdrop of whooshing, twinkling effects, it's beautiful and a great example of Xenomania's ability to move between emotions and convey so much while saying comparatively little.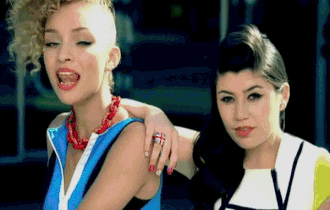 The music video is arguably the most triumphant part of the overall package for I Wish (although the Cahill Remix runs it a close second). Not so much as a portrayal of the song's lyrics; there's little coherency in that regard. However, if ever there was a snapshot of the status with which Xenomania – and Mini Viva, by association – were regarded, this is it. Filmed in Los Angeles, the duo are shown wandering through the city, which lights up with vivid colours superimposed on various surfaces – tiles, bricks, entire skyscrapers – around them. Although not a low-budget video (due to location, if nothing else), this is, fundamentally, a simple idea executed terrifically well. It's almost like watching a piece of modern art in motion; everything is thoughtfully designed, right down to Mini Viva's surroundings, initially mirroring the blue and yellow of their clothes before gradually introducing different colours into the scheme.
Amidst the aesthetically pleasing visual effects are the duo themselves. Frankee Connolly and Britt Love exude great energy with natural coolness and occasional offbeat quirkiness (such as their not-quite-synchronised dancing). However, neither is pushed to such an extreme that it comes across as feigned; there's an authentic sense of affinity between them, and the video sells Mini Viva's friendship – the kind where two people are totally on the same wavelength in how they perceive the world – in way that is as polished as it is utterly joyous.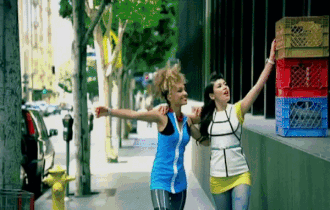 I Wish had so much going for it, but the single was almost immediately put on the back foot when Geffen UK released it to coincide with the festive chart. As usual, The X Factor dominated headlines in the race for Christmas #1, although not necessarily for the right reasons this time (Rage Against The Machine's Killing In The Name Of had been mobilised as a protest track and ended up beating Joe McElderry). Yet, despite there being more attention on the outcome than usual, that isn't the root cause of the challenge for Mini Viva. Left My Heart In Tokyo might have given the duo a foot in the door regarding promotion and airplay, but both came at a premium in December. Despite being A-listed by Radio 1, I Wish struggled for exposure during one of the busiest times of the year for the music industry and subsequently entered the chart at #73. Things never recovered from that point, either.
It remains such a bafflingly overconfident move by Geffen UK when the outcome was so predictable. There was nothing to lose by waiting a few weeks into January when the charts are typically less busy. Regardless of the positive buzz surrounding Mini Viva's affiliation with Xenomania, nobody expected they'd step into Girls Aloud's shoes. The duo weren't yet big enough to compete on that scale, and what's more frustrating is they didn't need to. If there had been an album out at the same time, then maybe – just maybe – it would've been worth the trade-off to try and squeeze a few extra sales out of the festive market. But that wasn't the case. Furthermore, Geffen UK never acknowledged the circumstances under which I Wish had underperformed. Rather than try to regain momentum, they seemed to panic; it took five months to release Mini Viva's third – and final – single, which fared worse still.
There's no knowing how big I Wish could have been if a cautious – yet realistic – approach had been taken so that more people knew the song existed. It certainly wasn't always the case that this would have sounded like an obvious top ten (or even top 20) hit, but in a world where Xenomania enjoyed mainstream success, that seemed a far likelier outcome than the track barely scraping into the top 75. Admittedly, Geffen UK's intent with this single probably wasn't to provide a working demonstration of how to snatch defeat from the jaws of victory, but that's exactly what transpired from a situation largely of their own making.
---