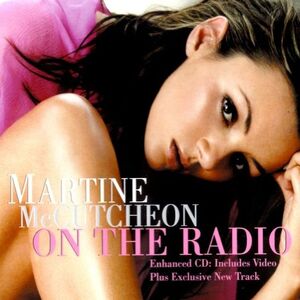 Released: 22nd January 2001
Writers: Donna Summer / Giorgio Moroder
Peak position: #7
Chart run: 7-14-21-32-44-47-56-68
---
On The Radio was the second – and final – single from Martine McCutcheon's second album, which saw her take the Donna Summer classic into the UK top ten for the first time.
Martine McCutcheon's debut album, You Me & Us, was – for the most part – a decidedly middle-of-the-road affair, which flexed her vocals over a series of ballads and gentle, toe-tapping songs. It was reasonably successful – peaking at #2 and selling around 300,000 copies – yet this was not necessarily the direction many imagined when Martine McCutcheon quit EastEnders to relaunch her music career. So, the follow-up, Wishing, took a slightly different approach, introducing more uptempos and tracks than fit the bubblegum pop brand of the time, perfectly demonstrated by the (brilliant) lead single, I'm Over You. And there was a concerted attempt to further establish Martine McCutcheon as a potential dancefloor diva with her next single: On The Radio.
The song was first released by Donna Summer in 1979 when the disco genre had dipped in popularity. Hers, however, had not; she bucked the commercial decline experienced by many other acts who'd thrived during the '70s, and the track became a top-five hit in America, eventually reaching #5 on the Billboard Hot 100 in 1980. It was comparatively less successful in the UK – peaking at #32 – though is inarguably far better known than the chart position would suggest. On The Radio is notable as one of Donna Summer's final disco recordings in the purest sense. It was composed for the movie Foxes but also added to her first greatest hits compilation (On The Radio: Greatest Hits Volumes I & II), which arrived at a point where she was looking to evolve her sound on a different record label.
When it came to Martine McCutcheon recording On The Radio, nobody was approaching this with any expectation of it superseding the original; such is the song's legacy. Some may even argue this is a cover version that didn't need to exist. Nonetheless, the track is something of a karaoke standard. Martine McCutcheon had already proven herself as a very competent singer, so there's nothing wholly objectionable about a functional update being created for a new audience less familiar with the history of On The Radio. And that – fundamentally – is what this is.
While the album version remains faithful to the source material, the radio mix does – at least – acknowledge that it can't pull off the same surprise as the original, which disguises itself as a ballad for over a minute before the tempo finally picks up for the first chorus. So, that notion is readily abandoned after two lines: "Someone found a letter you wrote me on the radio, and they told the world just how you felt", as if the frantic, shimmering bassline wasn't already a giveaway of precisely where On The Radio is headed. Yet, that's the most significant deviation from the original; most of the other frills added by the radio mix are merely a by-product of the track being reinterpreted as a thumping early-'00s disco anthem.
When taking on a song by an icon such as Donna Summer, it's always a risk that any substitute for her will be disregarded as inferior. But accepting few – if any – singers could match the original doesn't mean Martine McCutcheon isn't still very well-qualified to handle On The Radio. There's no question that the technical quality of her voice is more than capable. Still, crucially, she also possesses an ability to bring the fanciful narrative – a couple reuniting after their unresolved feelings are broadcast over the radio – to life and sell it convincingly, just as Donna Summer did. Not to the same extent, perhaps; nonetheless, there are shades of tortured emotion as she muses: "Don't it kind of strike you sad when you hear our song, things are not the same since we broke up last June, the only thing that I want to hear is that you love me still, and that you think you'll be comin' home real soon…". Even as On The Radio thunders through a distorted breakdown ("Oh yeah it kinda made me feel proud when I… oh yeah it kinda made me feel proud when I… oh yeah it kinda made me feel proud when I…oh yeah, oh yeah, oh, oh, oh") and some frantically bombastic backing vocals ("SAIDITREALLYLOUD! SAIDITONTHEAIR!"), the track never surrenders to frivolity, even if it comes perilously close at times.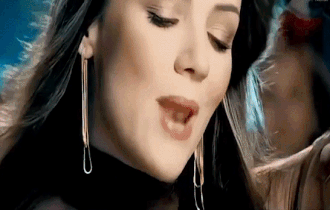 And that's no mean feat when the chorus is composed with such deceptive simplicity: "On the radio, woah-oh-oh-oh, on the radio, woah-oh-oh-oh, on the radio, woah-oh-oh-oh, on the radio, woah-oh-oh-oh". It was entirely accidental; Giorgio Moroder was simply using the words to fill out a melody he'd written, and they ended up sticking. Yet that same line – repeated again and again – remains as much a statement of triumphant elation here as it ever did, thanks to the likeable sincerity of Martine McCutcheon's performance, which is that of an artist fully aware of the enormity – and legacy – of the song, yet relishing every moment, regardless.
The music video for On The Radio avoids going intentionally or overtly retro, instead opting for some classic pop music visual staples. At the same time, Martine McCutcheon exudes a presence quintessentially – and quite appropriately – diva-ish for the song. Many of the sequences feel innately familiar: she's shown driving a car at night (featuring close-ups of her shifting the gearstick and – of course – turning the radio on) while gazing through the windscreen, then later wandering forlornly through the street under an umbrella, until eventually reuniting with a former lover who's been standing in the torrential rain waiting for her. Throughout the video are shots of Martine McCutcheon – or her dancers, at least – tearing through choreography in a club with dazzling lens flare and floodlights spinning around the room.
There might not be many new ideas here. Still, the production values complement the aesthetic and help thread it neatly together (at one point, Martine McCutcheon drives past a shop window display with multiple televisions showing the dance sequence, which then zoom cuts to full screen). The styling is also great, with some striking outfit choices (red gloves contrasted against black clothing) and Martine McCutcheon's side fringe, which leans very gently into the disco origins of On The Radio but doesn't look dated for the early-'00s. It adds to an overall sense of the single treading a fine line where it can function in a respectful, contemporary capacity while paying homage to the original without veering into pastiche.
Even if commercial comparisons between Martine McCutcheon's and Donna Summer's versions of On The Radio are largely meaningless given the context of their respective releases were vastly different, that doesn't detract from the fact that Martine McCutcheon did – inarguably – improve on the peak of the original. The track debuted at #7 in the UK to become her fifth consecutive top-ten hit. It was roughly consistent with earlier singles such as I've Got You and Talking In Your Sleep/Love Me – which both reached #6 – but was also her lowest-seller by a significant margin, with total sales of 81,200 copies (which placed it at #145 on the year-end chart). The decision to wait until January – when sales are typically lower – was a safe strategy for securing a top-ten single. However, On The Radio also seems like an obvious party record that might've gained a bit more traction before Christmas, even if it peaked slightly lower.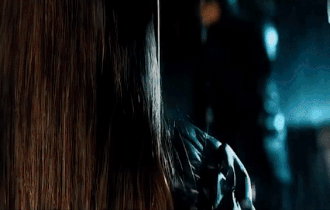 The track had a modest impact on Wishing, which hung around the lower end of the top 75 for a few weeks longer than it might otherwise have, and there was certainly scope to extend the campaign. The album may not be widely revered, but it was a perfectly competent early-'00s effort, and several songs (Tonight, Everytime) could've served as potential singles. However, any further plans were curtailed when Martine McCutcheon was cast as Eliza Doolittle in a revived stage production of My Fair Lady. It was a role that brought acclaim – winning her a Laurence Olivier Award for Best Actress in a Musical – along with a fair bit of negative press when an ongoing illness meant she appeared in less than half the shows she was contracted for.
Although Martine McCutcheon released two further albums – Musicality in 2002 and Lost and Found in 2017 – On The Radio remains her final top 75 single. All things considered, even the most ardent Donna Summer fan would probably find this inoffensive at worst. And for everyone else, the song does enough to justify its existence in the shadow of the original.
---